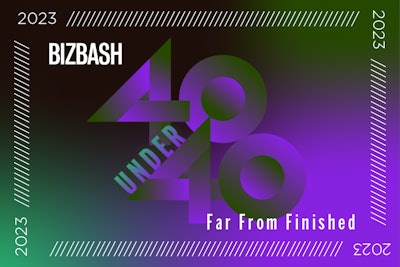 This list is sponsored by VDA, a Massachusetts-based experiential marketing and event design agency that specializes in custom live, hybrid, and virtual experiences designed to drive business growth through client collaboration and creative thinking.
---
For BizBash's 2023 40 Under 40 list, we've highlighted 40 standout event professionals—from corporate planners to experiential designers and marketers, sales managers, incentive organizers, and more—who have founded companies, won awards, closed contracts worth millions, and so much more…all before even celebrating their 40th birthday.
Despite the varied backgrounds of the event profs on this list, they share many experiences and sentiments. Take the fact that in this industry, no day ever looks the same. And when it comes to good 'ol bad weather, keeping calm as a leader is vital.
In addition, you'll find that this successful bunch also prioritizes self care, whether that means hitting the Peloton at 6 a.m. before a day of meetings or turning off email notifications when they're OOO. In short, there's a lot to get inspired by in these 40 profiles.
And while these industry leaders and touted trailblazers have made an early mark on the meetings and events industry, the best part is that they're surely far from finished. Keep reading to get inspired by their career journeys, how they've averted complete event disasters, what keeps them inspired, the advice they would give their younger selves, their ideal day OOO, and more.
Adam Berrios
Vice President of Sales and Services, Little Rock Convention and Visitors Bureau
Allyson Leff
Director of Conference Operations, National Association of Manufacturers
Amy Grigg
Manager, Creative Services, VDA Inc.
Amy Sant
Regional Director of Sales and Events, Bell Harbor International Conference Center
Anna Nicholson
Event Manager, Yahoo
Ashley Patton
Manager of Event and Trade Show Operations, Kastle Systems International
Ashley Woody
Executive Producer, Best Events
Ben Goldberg
President and Founder, Food Truck Promotions
Brett Hyman
Founder and President, NVE Experience Agency
Brittany Saylor
Manager of Events and Campaigns, SpotOn
Char Pavlik
Vice President of Sales and Marketing, Gladiator Productions
Connie Samuels
Director of Events and Education, National Association of Professional Employer Organizations
Dan Carter
Senior Vice President of Creative and Design, Freeman
Dan Noyce
Senior Sales Relationship Manager, IMEX Group
Dan Wender
President and Co-Founder, The Umbrella
David J. Knee
Chief Operating Officer & Executive Vice President, IDEKO and NYFF Events
Delisha Fields
Executive Director of ForbesLive Events, Forbes
Elizabeth Brochhausen
Director of Partnerships and Experiential Marketing, SiriusXM Pandora
Jacquelene Clarke
Founder, The Well Connected
Jamie D'Attoma
Partner and Executive Vice President, SHADOW
Jenna Nelson
President, Maverick Events & Consulting as well as Adaline's Playroom
Jordy Freed
Director of Brand and Business Development and Head of Partner Marketing and Strategy for Video and Sound Products, Sony Corporation of America
Juliet Tripp
CEO and Coach, Juliet Tripp | The Events Coach
Kate MacCoy
Director of Operations and Programs, Destination South Meetings and Events
Kate Wolff
Founder and CEO, Lupine Creative
Melanie Zelnick
Owner and CEO, Glow Events
Michael Barrett
Regional Vice President, Sodexo Live!
Myeeka Ferguson
Founder, Tag Team Entertainment
Nazy Gavahi
Founder and Creative Director, NGK Agency
Nilo G. Low
CEO, Kapture Vision
Rachel Russell
Assistant Director, Field Marketing, EY
Ranee Turner
Global Head of Marketing, BlackRock Inc.
Rebecca Springer Moskowitz
Senior Manager of Events, Hulu Originals at The Walt Disney Company
Russell Wyman
Co-Founder and CEO, GruupMeet
Ryan Peddigrew
Director of Business Development, Quest AV
Samantha Gillstrom
Travel Account Manager, Maritz Global Events
Sara Beth Raab
Global Events Manager-Contract, St. Jude Global
Sarah Bailey
Senior Creative Director, [INVNT GROUP]
Sarah Lemmers
Senior Convention Sales Manager, Destination Madison
Tawnia Politis
Senior Event Planner, Redstone Agency
---
About the 40 Under 40 process: Nominations are submitted by colleagues and peers through BizBash's website. They are then reviewed by our editors, and finalists are vetted before the final list is selected for publication. Honorees must be under the age of 40 as of April 1, 2023. Job titles and responses reflect the honoree's status as of February 2023.
While our features may be sponsored by standout companies, to ensure the list remains impartial, sponsors do not have the ability to review or curate any part of the list themselves.