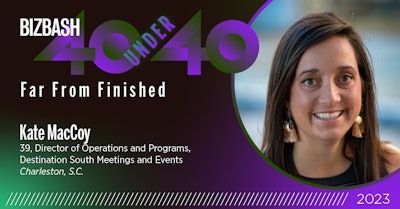 Kate MacCoy, 39, is the director of operations and programs for event management company Destination South Meetings & Events. She's based in Charleston, S.C.
What my day-to-day looks like:
My day-to-day starts out early as I have two little ones, a 17-year-old dog, and a needy cat who all need something before 6:30 a.m. Once my husband gets the girls off to school, I head into the office to start jumping into client emails, designing out proposals, attending conference calls with updates or new events, and supporting my team on anything that pops up throughout the day.
My career journey:
My career started at a young age of nine, when my best friend and I hosted a neighborhood kids camp for parents to get a few hours away from their little ones. From that point forward, I found my love for events and the pure joy of clients at the end of the day. I attended the University of South Carolina for hotel, restaurant, and tourism management. Fast forward through college, I worked for a wedding venue selling, designing, and operating, which led me to meeting a friend in the destination management world in Charleston, S.C. That was 15 years ago, and I would never change it for the world!
My greatest career accomplishment:
Hands down it would be opening our Destination South Coastal office. The past four years have been filled with the opening of our doors, getting hit by the COVID tsunami, and producing one of the most successful years for our company.
My leadership style:
Providing my team with a positive and encouraging work environment. I hope to be a leader that can give them confidence in their careers and provide respect and gratitude to give them the skills and tools to be successful.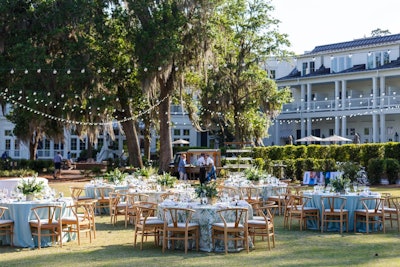 My most memorable event:
One of my most memorable events took place on a remote barrier island off the coast of Charleston, S.C. This evening started hours before guests arrived as our biggest challenges were some of the most simple everyday things—power, water, and transportation. All of these things can't be found on this island. It was with the help of our amazing partners that we were able to transfer guests and vendors by boat to produce a phenomenal dinner beachside. We also had one of the most amazing sunsets for guests to enjoy on the way back to the docks from dinner.
A time I averted a complete event disaster:
One of the most stressful moments in my career revolves around pouring rain, power outages, and the happiest day of a couple's life. The day started with us preparing for light rain and a beautiful wedding filled with candlelight and formal garden ceremonies. Within 30 minutes of the ceremony, the weather started to turn. It was with the approval of the bride and groom that we made the executive decision to host the wedding ceremony and reception inside the same building. It wasn't too much later that our building completely lost power, shutting off our catering equipment, musical entertainment and, of course, the lights.
Due to the location of the property, we didn't have cell phone service and there was zero information on when we could expect things to be turned back on. It was nothing that I had been trained on before, but I knew I had to get to the generator for power. Standing in the pouring rain, I gave a few hard pulls and flips of the switch to get the generator up and running. This gave us enough power to provide the kitchen with a small lantern and the band one speaker and microphone. We utilized every candle in-house to provide light for the guests and give guests a memorable evening they would never forget. We all made the best of the situation and turned around a total disaster to one of the most beautiful weddings to date.
What inspires me:
My husband is a huge inspiration to me, along with my girls! Through the long days and nights of the event planning industry, they always provide me with positive encouragement and a listening ear.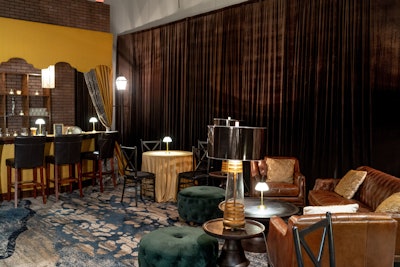 The advice I would give my younger self:
Open your eyes and ears to those around you. Absorb as much information as you can from those around you. Ask all the questions, as there is no such thing as a dumb question. Take initiative to do more and excel your career to the next level. Be confident! If you can't find the confidence, then study what you need to know to get there.
My ideal day OOO:
Getting on a plane or hitting the road seeking out adventure with my husband and kids. This could be a hike, trying a new restaurant, biking, swimming at the beach, or skiing down a mountain. I am not one to sit down and relax as there is so much out there to taste, try, and learn.
What's next for me:
My next steps are to grow my local team as well as our network of partners and clients. I would also like to try and go for my CMP (Certified Meeting Planner) certificate!
---
BizBash's 2023 40 Under 40 list is sponsored by VDA, a Massachusetts-based experiential marketing and event design agency that specializes in custom live, hybrid, and virtual experiences designed to drive business growth through client collaboration and creative thinking.