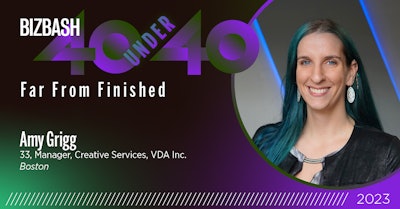 Amy Grigg is the 33-year-old manager, creative services at experiential event design company VDA Inc. She's based in Boston.
My career journey:
The path that we all take to meet our creative journey is just as unique as events. It all started with a love of photography and parlayed into a degree in visual communications at Endicott College. I originally thought I was going to work at an ad agency and make advertisements and started to weave my path freelancing for sign shops, North Shore Magazine, and a party planner until I was hired as an assistant art director at Art of the Event. While I was there, I learned a lot about the social side of events, communication with clients, and working with corporate branding teams. This position prepped me in floorplans, layouts, renderings, scenic lighting, and the needs for physical application of graphics.
VDA took me on seven years ago and set me up for success and continued development. I feel proud of where I have come in my tenure, now being a primary event designer and managing the creative team. I went from graphics processor to graphics lead to manager, then creative services, and I continue to grow and develop.
My greatest career accomplishment:
The pandemic was a terrible time for the events industry and I felt thrilled to be an integral part in developing our VDA virtual platform during the pandemic. This platform was the lynchpin for keeping all VDA staff on the roster and translated the creative team's knowledge from physical builds to virtual designs.
It kept a strong hold in our industry as a Top 100 Agency, according to Event Marketer, building immersive experiences for clients to translate their physical engagements to unique 3D designs. I had the ability to work nimbly designing gamification, trade show booth engagement, and livestream applications by transitioning my website knowledge and adapting quickly to any new programs. This is now still a staple in our business and helps to continue to grow VDA as an agency as we are now in a living-with-COVID landscape, and virtual is now a part of our DNA.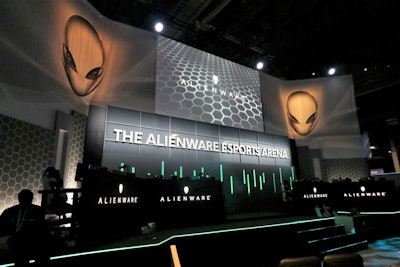 What inspires me:
Inspiration is an interesting question. I am inspired by leaving a mark for the better and this crosses over to my personal life, being a teammate and official for competitive volleyball and my work life.
When it comes to foundations and nonprofits that I work with, my goal is to help them succeed by putting in the time and effort to create impactful events focusing on their KPIs and brand impact. The success I feel will help to drive others to succeed. By doing my best, I will help people be able to leave a mark for the better, and I am inspired by their successes.
My most memorable event:
There are a lot of instances that stand out to me; however, I believe that one of my early designs of the Alienware Esports Arena would be my most memorable. It began with my idea of a simple solution of showcasing the top gaming computers of Dell Technologies at its annual trade show just outside its Expo Hall as an engaging experience for attendees.
I quickly realized that my simple idea required many hours of research on esports and technology integration as well as guidance on how to design while still being able to be physically produced. So, through many long hours and revisions, I was able to successfully design a complex that allowed for two teams of four to compete on stage, an area for two announcers, a back of house for all the technicians running the show, a front of house, theater seating, a Swag Shop with some storage, a product demo station, and exterior gaming options for attendees. The finished design was a 60-by-70-foot space on the show floor that included a full schedule of matches and show calling—some even aired on Twitch with professional esports athletes.
Some impressive stats I'm responsible for:
Creating more than 6,700 printed graphics; 3,000-plus virtual graphics; and countless renderings for successful events. In addition, continually increasing the number of cups of coffee I've drank to more than 10,000.
One of the event design stats I'm particularly proud of was for a local food rescue, Lovin' Spoonfuls, where more than $300,000 were raised in total from its event. In turn, this helped to rescue 699,541 pounds of good food to help battle food insecurity across Massachusetts. I know that I was not solely responsible for causing them to be successful, but being able to assist in the mission through VDA fills me with joy.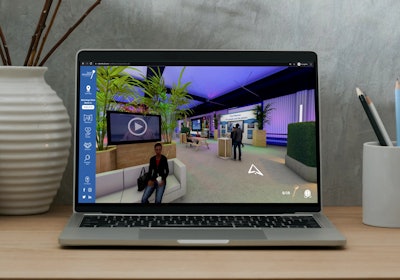 The advice I would give my younger self:
Keep learning about all of the sides of events. Obviously, focus and grow the job you are hired to do. But don't be hesitant to ask questions, improve processes, and learn about how other departments function. Expanding your knowledge only allows for you to be able to more successfully contribute, or you learn something to improve your workflow. This also sets you into an opportune position to ideate the next big concept.
What's next for me:
I want to continue to design events and experiences at a large scale, and continue to support the organizations that help others. It is very rewarding seeing the engagements that attendees have, and if there is an opportunity to try and add in more positive good in this world, I'd like to continue to be a part of that.
My ideal day OOO:
My ideal day—despite my busy schedule—does not include relaxing at home or on a beach. I would prefer to be playing a sport or traveling and exploring the world. These all sound like fantastic options: snowboarding, playing volleyball, hiking up in Acadia, or traveling back to Florence, Italy—where I was able to study abroad—and eat gelato.
---
BizBash's 2023 40 Under 40 list is sponsored by VDA, a Massachusetts-based experiential marketing and event design agency that specializes in custom live, hybrid, and virtual experiences designed to drive business growth through client collaboration and creative thinking.