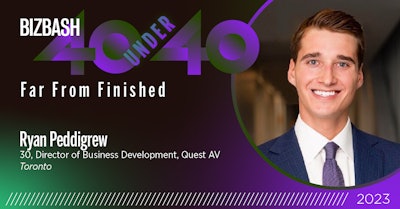 Ryan Peddigrew, 30, is the director of business development for full-service audiovisual company Quest AV. He's based in Toronto.
My career journey:
I originally went to school for marketing and started off my career as a marketing coordinator with a hotel management company based out of Toronto. From there, I moved over to sales and was hired by a Toronto-based AV company. For the last five-plus years, I have been working with the team at Quest AV in a number of different roles—originally as an account manager before I transitioned into the director of business development.
My greatest career accomplishment:
My greatest career accomplishment is securing contracts with a global event producer and having worked on events in three different continents, and more than five countries.
My most memorable event:
TPM (the Trans-Pacific Maritime Conference). It's the must-attend conference for the trans-Pacific and global container shipping and logistics community. It welcomes more than 3,000 attendees, and occurs annually in Long Beach, Calif. at the Long Beach Convention Center.
My leadership style:
I manage a team of five, and I try to inspire my team through vision, passion, and results. I try to foster a positive and motivating work environment, and act as a mentor to members of the team.
I do this through trustworthiness, communication, accountability, and adaptability. Trust and communication are key to a team's success, while taking responsibility for one's actions and holding others accountable for their own is crucial to building a culture of respect and trust. And in today's fast-paced business environment, teams must be able to adapt to changing circumstances quickly.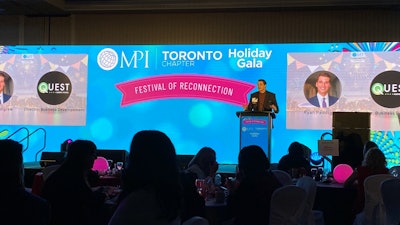 Some impressive stats I'm responsible for:
Attending 50-plus networking events a year and managing more than $5 million in sales opportunities. Additionally, sitting on the MPI Toronto board of directors as the director of strategic partnerships and acting as the co-chair for the Humber College event management program advisory council.
A time I averted a complete event disaster:
Overcoming language barriers and foreign currency issues while dealing with international venues and suppliers is often when I have to avert a complete event disaster. In order to avert disaster and manage stress levels for all involved, I utilized resources such as technology and the assistance of local translators and employees of the hotel. My advice to all is to conduct your research well in advance before traveling and conducting business overseas.
What inspires me:
Passion. Creativity. Purpose. Travel. Problem-Solving. Trying new things. Meeting new people.
The advice I would give my younger self:
Get out there and network! Meet as many people as you can and strive to make a meaningful connection with each. You never know who might be able to help you out in the future!
My ideal day OOO:
Start the day off with an early morning golf round (maybe even two, depending on how the first went) followed by a quiet, relaxing meal either at a new restaurant in the city or trying a new recipe at home.
What's next for me:
Continuing to innovate and provide creative solutions for our clients at Quest AV!
---
BizBash's 2023 40 Under 40 list is sponsored by VDA, a Massachusetts-based experiential marketing and event design agency that specializes in custom live, hybrid, and virtual experiences designed to drive business growth through client collaboration and creative thinking.