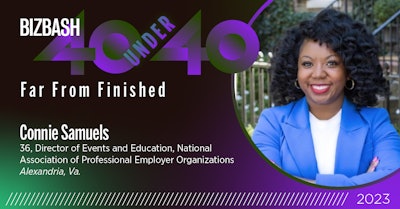 Connie Samuels, 36, is the director of events and education for the National Association of Professional Employer Organizations (NAPEO). She's based in Alexandria, Va.
What my day-to-day looks like:
A typical day in my world is never the same. My day can include coordinating logistics for a quarterly board meeting, hosting one of our many virtual events, reconciling invoices, creating a marketing email, leading my organization's next-Gen initiatives, or participating in a committee or board meeting for my local PCMA chapter. It's never a dull moment, and that's why I love what I do!
My career journey:
I graduated college during the Great Recession in 2009 when there weren't many job opportunities. I was fortunate enough to find a job with a hotel management company as a hotel sales manager, and moved to Austin, Texas sight unseen. My initial (and humble) start in the hotel industry built the foundation of my career, understanding the importance of vendor management, the sales process, and customer service. I still use the skills that I learned in that very first job in my current position to help service our members on a daily basis.
My greatest career accomplishment:
Aside from completing and achieving my MBA, CMP, DES, my greatest career accomplishment was moving not one, not two, but three times so far in my career for various opportunities that expanded my network and aided in my success in each job following the next. Moving to unfamiliar cities and subsequently starting over allowed me to learn a lot about myself. It is in the state of discomfort that you grow the most as a person. Gaining confidence personally indirectly translated to "I can do anything!" attitude in my career.
What inspires me:
Industry leaders and mentors inspire me, knowing that they have paved the way for young leaders like me to make our own mark on the events industry. My family also inspires me daily as we are a group of tenacious go-getters. My mom and nana are my biggest cheerleaders, and knowing the risks they took to better themselves only inspires me to work that much harder to be successful in whatever I choose to do.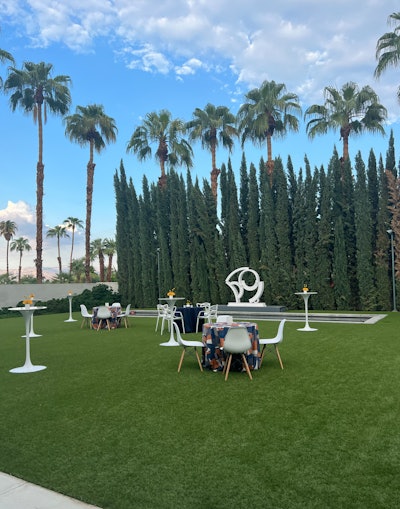 My most memorable event:
My most memorable event was an executive retreat in Scottsdale, Ariz. It stood out because it was a very high-touch event with the executives of our member companies. This meeting had several components (off-site events, transportation, interactive speakers, guest programing, and more), and we also had several engaging speakers, including an IBM executive who explained the importance of AI technology and how it can be used, plus the founder of Beyond Beef, Ethan Brown. We also had an off-site event that was a great hit that included different interactive stations for the participants (like bull riding, leather brandings, whiskey tastings, and more). It was memorable because it allowed me to be exposed and visible to a group of members that I previously didn't interact with, and it was executed well as a team of one.
Some impressive stats I'm responsible for:
I've managed a $1.5 million meetings portfolio and increased virtual event participation by 27% year over year (2021 vs. 2022).
A time I averted a complete event disaster:
I handle stress very well; I may be freaking out on the inside, but I consistently remain cool, calm, and collected on the outside. The event disaster that I experienced occurred during my first job when we oversold our hotel by 10-plus rooms. We had an in-house group that extended their stay for an additional day, and unfortunately (and fortunately), we had another group checking in that day. The hotel was in a high-traffic area with several corporate offices, so we had high demand consistently during the week.
Luckily, I built solid relationships with neighboring hotels where we were able to walk them for the one more night. When they were able to come back to our property, I was overly apologetic. We gave everyone breakfast for the two additional nights they stayed on property, I sent a handwritten note, and purchased additional points for the group contact.
The advice I would give my younger self:
I would say to learn as much as you can. Meet as many people as you can. Absorb as much as you can, these skills will help you be the leader that you wish to be and guide your team successfully. With that said, live in the present moment and have fun. Don't be so serious—you have your entire life to grow. Success never happens overnight.
My ideal day OOO:
My ideal day OOO includes sleeping in (anytime past 9 a.m.), walking down the street to my local Starbucks, and grabbing a hot tea and egg bites, then catching up on a few shows on Netflix. If I'm really feeling good, I will take a romantic stroll down the aisles of Target and buy a lot of unnecessary things.
What's next for me:
My professional goals for this year include working towards my PMP (Project Management Professional) and CAE (Certified Association Executive); additionally, seeking out more speaker opportunities for conferences and events to fine tune my public speaking skills.
---
BizBash's 2023 40 Under 40 list is sponsored by VDA, a Massachusetts-based experiential marketing and event design agency that specializes in custom live, hybrid, and virtual experiences designed to drive business growth through client collaboration and creative thinking.