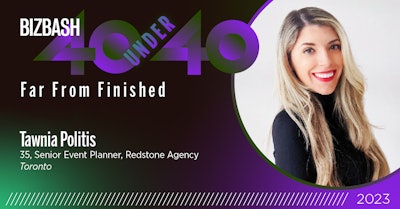 Tawnia Politis, 35, is the senior event planner for events and association management company Redstone Agency. She's based in Toronto.
What my day-to-day looks like:
No day is the same and all my tabs are open. (Bookmarked and organized by client, of course.) My team and I are constantly collaborating, shifting gears, and taking on whatever comes our way, sometimes with very little turnaround time. It's true what they say about event planners—we wear a million hats! We're Excel wizards, virtual DJs, creative geniuses, negotiators, fire extinguishers, client whisperers, and just about everything in between. Not all heroes wear capes, right?
My career journey:
I attended post-grad for public relations but ended up gravitating more towards the event management aspect of the program. Though I began my career in media relations, I soon shifted over to events and became "the wedding planner." I have 10-plus years of combined experience within the event planning, marketing, and communications industries, and have supported a wide range of events. I even started my own venture, which offered services in event planning and brand development. My path has since led me to Redstone, where I have experienced accelerated learning and growth from the day I started. I'm fortunate to work with such a passionate and dedicated team!
My greatest career accomplishment:
Witnessing my own venture come to life, as well as being an integral part of an event venue rebrand, were both very rewarding experiences. More recently, shifting over to the virtual event world during the pandemic where I had to learn numerous platforms proved to be a powerful reminder that I can adapt and do whatever I set my mind to.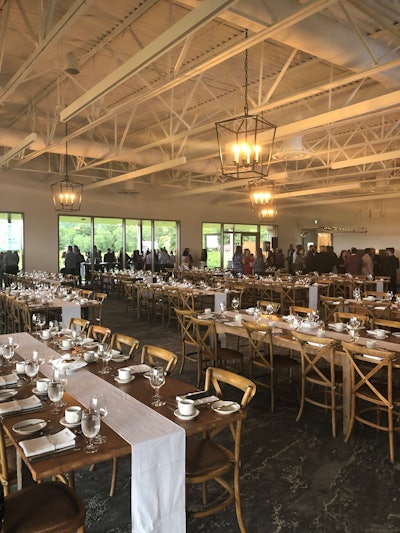 What inspires me:
I'm inspired by the arts, community, culture, perseverance, ambition, and love (just to name a few). I love a good challenge and the power that comes from conquering my fears. My friends and family are also a great source of inspiration for me. I'm surrounded by people that are committed to their growth and wellbeing, as well as mine, and I am so grateful for that.
My most memorable event:
The first hybrid event my team and I executed post-pandemic was very memorable for multiple reasons. It was the first time we developed a hybrid critical path, for starters. It was during the time when COVID restrictions were constantly changing, and we weren't certain if we could plan an in-person event given the state of the world and the timeframe we had to plan it. Long story short, just over a month to the event date, it was decided that we were moving forward with the hybrid event. It was such a rush and race to get all the logistics in order in so little time. It was especially rewarding to see the event translate so well both virtually and in-person. From the amazing AV production to having an additional moderator for the virtual audience—everything came together seamlessly, and it was a proud moment for the team.
A time I averted a complete event disaster:
I've had to put out a few fires throughout my career, it's almost hard to pinpoint just one. There have been technical issues out of my control, speakers I've had to wrangle, unpleasant hotel surprises, last-minute COVID contingency plans, and bad weather. During these times, we must buckle up and throw on one of our many hats. In terms of stress management, I try my best to be solutions-oriented, organized, and remain very calm. Our energy as event planners can affect others, so it's important to be mindful of that.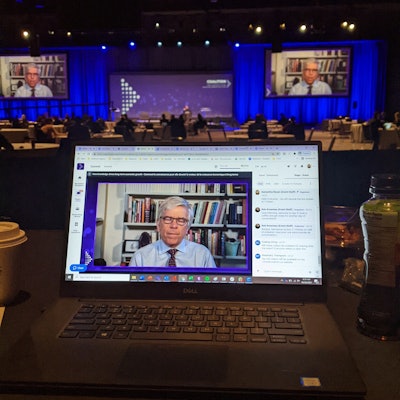 The advice I would give my younger self:
A mantra of mine is, "you only see obstacles when you lose sight of your goal." Lead with curiosity and humility, be open to new opportunities, network as much as you can, and always know your worth!
My ideal day OOO:
Sleeping in past my natural alarm clock, going for a nature walk, and pampering myself!
What's next for me:
Stepping out of my comfort zone, setting new goals, and a long overdue vacation.
---
BizBash's 2023 40 Under 40 list is sponsored by VDA, a Massachusetts-based experiential marketing and event design agency that specializes in custom live, hybrid, and virtual experiences designed to drive business growth through client collaboration and creative thinking.