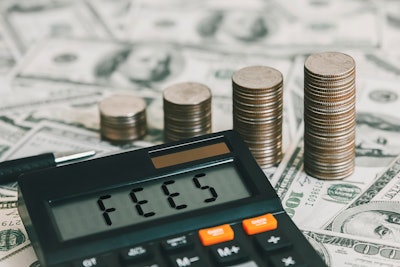 Photo: Shutterstock
All planners have likely faced hidden event fees before, especially in their contracts with venues. Since the COVID-19 pandemic, it seems as if they've only increased.
"They range from small things like charges for receiving boxes prior to a certain time out from your program to service fees that can add exponential costs to your program," said Sarah Buchbinder, regional director of the meeting broker division for Meetings Made Easy.
Here are four things, sourced from two event experts, you should know about hidden event fees right now.
1. So far, Biden's "war on junk fees" hasn't reached the event industry yet.
Last year, President Joe Biden called for all agencies to reduce or eliminate hidden fees, charges, and add-ons for everything from banking services to cable and internet bills to airline and concert tickets. He has since widened this "war on junk fees" to the rental housing market. So, where does the event industry fit in? Both Buchbinder and Colleen Simmons, director of supplier relations for Maritz Global Events, agree that an impact hasn't been felt yet.
"I have spoken to a number of other brokers and planners, and while we all got excited when we heard the possibility of eliminating resort fees, we haven't seen any actual movement," Buchbinder said.
Simmons added, "We haven't seen it impact our group RFPs. This has more to do with the online booking/renting and full disclosure of the daily/weekly/monthly/yearly rate with all fees/taxes associated spelled out for the individual in order to make a fully informed decision to book/rent."
2. Some of the most prevalent hidden event fees today include service fees and shadow fees.
Buchbinder says the most common hidden fees tend to be "service fees and administrative fees that go to no one except the establishment—I've seen up to 27%." Planners might also find resort fees in their contracts, which are "no longer just for resorts," Simmons said. "This type of bundled fee for services can be part of other hotel types." Both Buchbinder and Simmons also mentioned shadow fees, which can entail hourly labor fees for "monitoring" a group's preferred audiovisual partner.
Other prevalent nondisclosed fees to look out for include:
Destination fee
Recovery fee
Patch fee
Taxes on fees
Overtime fee
Required bellman fee
3. Ask about them upfront prior to signing a contract—and know that you can negotiate.
"To negotiate [hidden fees], you first have to know they exist," Buchbinder said. And the key is asking they be disclosed before you finalize a contract. "You don't want to be surprised on site when you have no leverage."
Typically, in Buchbinder's work, she'll ask a client's shortlist of hotels to provide a list of any fees or surcharges for things like branding, setup/tear down, lighting, union, Wi-Fi, and bellman/housekeeping, or any required or possible charges to the group.
"We include clauses in the contract that no unauthorized fees will be charged that are not agreed upon and disclosed within the agreement," she explained. "Find out which departments in the hotel are union and what any fees would be. It's more difficult to negotiate out a union fee because often the hotel has no control over it, but if it's not union, you can often reduce or eliminate."
Maritz also believes in complete transparency. "Our advice: It's important to ask for full disclosure at the time of RFP," Simmons said. "This allows us upfront knowledge of all the fees, surcharges, taxes, etc., being presented by a supplier. We suggest setting up a meeting with the supplier to discuss, define, and negotiate them (if the supplier cannot waive or make complimentary, ask for a reduction in the fees) and then provide the client with a transparent budget."
4. Always plan for the unexpected.
Buchbinder advised planners to work a contingency amount into their budget, to heed the unexpected. "Most importantly, read your contract," she said. "If anything is unclear or ambiguous, call it out. Don't hesitate to ask for clarification on any contract terms. It's better to get everything in writing."
Other helpful tips from the experts:
"Some hotels will include a link in their contract to their policies. You want to make sure that any policies are written in the contract and not as a link, because the hotel can change any information on that link after your contract is signed." —Buchbinder
"Before you present to your client, be sure to ask, 'What other fees or surcharges am I missing?'" —Simmons
"Include clauses that service charges or fees will be locked in and will not increase between the time of signing and your event. I had a group sign for a meeting two years out, and when we contracted, service fees were 22%, and by the time of the meeting, they had increased to 25%. We had a clause in the contract protecting them from increases so they were grandfathered in for that meeting." —Buchbinder
"Ask for all 'mandatory' and 'nonmandatory' fees to be disclosed during the RFP process." —Simmons
"Utilize the services (usually free!) of a contract expert such as a meeting broker who is there to protect your interests." —Buchbinder