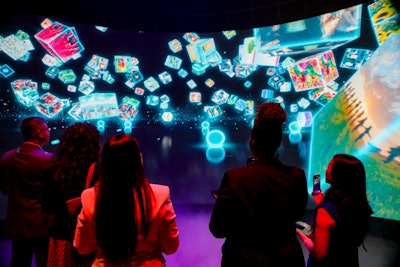 Photo: Courtesy of Encore
Since IMEX America is a week away, we thought it was time to highlight some of the most notable things going on at the international trade show this year. When the show returns to the Mandalay Bay Convention Center Oct. 17-19, attendees are sure to notice a few unconventional formats for education, plenty of buzz around AI and other tech, and speakers from outside the business event world.
Here are six things to expect at this year's trade show...
1. Sustainability strategies
In August, IMEX Group announced the latest step in its journey toward a net-zero business. The company publicly launched its Net-Zero Strategy, which aims to be IMEX's road map to deliver net-zero events and operate a net-zero business by 2030. The strategy focuses on reducing greenhouse gas emissions in the course of producing both IMEX Frankfurt and IMEX America shows each year. IMEX plans to gradually increase the percentage of reusable and sustainable materials used in building each show.
"Our ethos is always to share what we learn, and never more so than now, and we'll be using our ongoing reports to disclose progress," said IMEX CEO Carina Bauer in a press release.​ "Our road map isn't just about IMEX achieving net zero, but encouraging and leading others to do the same. Our vision is to support a thriving global events industry focused on positive change. This positive change can only happen if organizations look beyond their own journey to net zero and recognize that we're all part of a wider ecosystem that needs to work together."
So what can you expect as far as sustainability at IMEX America 2023? The show has an entire webpage dedicated to tips and tricks on how to be a more sustainable attendee this year, from resources on how to use public transportation in Vegas to how to build sustainable event booths. When it comes to education, visiting the IMEX | EIC People & Planet Theater, supported by Destination Canada, allows attendees to find inspiration and learn about best practices in sustainability.
2. New formats for education
This year, IMEX will present EventProfs Unplugged, a series of interviews with senior industry leaders in a talk show format. Tahira Endean, head of programming at IMEX, said in a statement, "We're experimenting with some new formats at the show, and this is one of them. We don't know what's going to happen, and that's what I love about it—it's going to be dynamic and surprising. This is where education meets entertainment, which is vital in an age of sound bites, memes, and TikTok trends."
There will be two sessions of EventProfs Unplugged, Oct. 17 and 19, and speakers include Bauer, Choose Chicago's Dustin Arnheim, LaJoy Plans' Melva LaJoy Legrand, and BizBash's David Adler. See more info for the sessions here and here.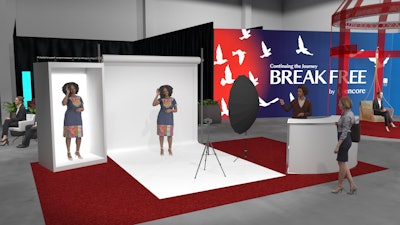 3. Tech talk
AI, event tech, audiovisual—IMEX has sessions on all of it this year. For those wanting a deep dive on AV, try a front-row seat at Encore's Fireside Chats, which will be located in the area between the company's booth and the Inspiration Hub. Speakers will pop by for 25-minute interactive chats with the audience to go deeper on a certain topic, including doing more with less when it comes to AV budgeting. Between all three days of the conference, there are dozens of sessions that pertain to AI and event tech, from NFTs to ChatGPT to the metaverse.
Looking for some immersive tech? Encore will bring back its "Break Free" activation, this time in a theater-style format to "continue the journey" that was explored last year. The activation will be located at booth F600 and run Tuesday through Thursday every 30 minutes from 10 a.m.-noon and every 30 minutes from 1-3 p.m. Along with that, Encore will have a hologram activation, where attendees can stand in front of a white screen and become their own hologram.
4. Google Xi's CoLaboratory
For this year's show, Google and various exhibiting partners and speakers have designed a special program of sessions and spaces focused on "experience design and the principles of belonging."
Take Hello! Destination Management's booth, for example. The DMC is one of several companies saying goodbye to traditional trade show stops this year by creating a multisensory destination. It's part of a larger collection of color worlds constructed in collaboration with Google Experience Institute (Google Xi). Acclaimed designer Lori Weitzner has brought the odes to color idea to life with Hello!. But the idea goes far beyond just standing out. The ultimate goal is to demonstrate Hello!'s ability to build inclusive and engaging environments for clients. Think of the booth as the physical embodiment of an immersive VR experience.
Kate Walsh, vice president of team member experience for the DMC, stresses the importance of a multisensory approach that opens the color worlds to all attendees and clients. Visitors can take a color test to get a better understanding of their own touchpoints. "It's really thinking about how to democratize the experience," she says.
The CoLaboratory will also host a talk from acclaimed disability advocate Maayan Ziv, founder and CEO of tech company AccessNow. She's part of IMEX America's AVoice4All program in association with Destination Toronto, a series of discussions on inclusivity in events and in business. AccessNow is a mobile platform that allows anyone, regardless of their ability, to search for, review, and discover information about the accessibility of places and experiences around their city. A partnership with Google Maps allows users to search for a location and see if it's accessible, based on AI technology, business-provided information, and user reviews.
5. Tips for first-timers
If this is your very first IMEX, the show has a plethora of resources this year to help make it a smooth experience, from getting started to planning your time at the show.
"We recognize that our sector has evolved, bringing with it many new faces, in particular," Bauer said in a statement. "So, this year we're helping first-timers come together. We're offering support, advice, and ideas covering everything from how to plan meetings at the show, how to dig into education or decide what to wear, where to eat, and who to meet."
New hosted buyers have also been invited to take a quiz that will select show activations and education sessions to match the way they like to learn and interact with others. This was developed in conjunction with Storycraft Lab. Once the quiz has been completed, buyers can select their personalized guide to the show around connecting, education, and well-being.
6. Speakers from outside the business event industry
Perspectives from those out of the business event industry can be extremely valuable. If you're looking for a session with a different kind of expert, try "Addressing Real Risks for Small to Mid-Size Meetings and Events," led by Kevin Coffey, a former LAPD officer at LAX who will discuss proactive, easy-to-implement risk strategies that require minimal staff and financial impact.
There will also be education with Precious Williams, the CEO of Perfect Pitch Group. She'll offer fast-moving "escalator pitch" sessions where attendees can volunteer to give a raw pitch to the audience and then "ride the escalator" for a brief coaching session.
For a bit of travel education, Simone Davis of the TSA will lead the session "Are Your Clients Ready to Fly? How to Prepare for the REAL ID Deadline." On May 7, 2025, domestic travelers will need to present REAL ID-compliant identification in order to fly. It's likely your event attendees are among the more than 100 million U.S. travelers with driver's licenses that are noncompliant. In this session, learn how to educate your clients about REAL ID for a better trip experience.
—with additional reporting by Matt Swenson