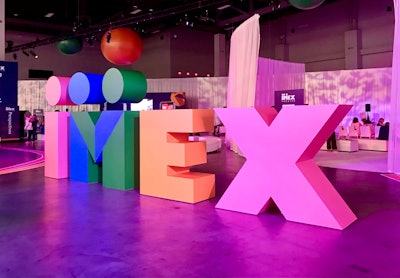 Photo: Claire Hoffman/BizBash
LAS VEGAS—If you need proof that the business event industry is back in full force, look no further than last week's edition of IMEX America. The 12th edition of the show, held at the Mandalay Bay Convention Center in Las Vegas, was the largest edition in its history, drawing almost 15,000 attendees and hosting more than 80,000 pre-scheduled meetings over three days.
The impressive numbers don't stop there. The show's "Inspiration Hub" zone drew more than 2,000 people, who attended 150 educational sessions across six tracks. In terms of exhibitors, there were 360 total booths—an increase of 9% over last year.
Many conversations throughout the week centered on the industry's resilience and quick bounce back from the COVID-19 pandemic. "The global business events industry never fails to surprise in its ability to recover quickly from a setback," said IMEX Group CEO Carina Bauer. "In a world experiencing so much turmoil, it's incumbent upon us to focus on the underlying impact of our industry—bringing people together for deeper human connections and mutual benefit."
The BizBash team was on the ground in Las Vegas during the show, chatting with attendees, attending educational sessions, conducting interviews—and clocking a cool 20,000 steps a day exploring the massive show floor. Here are the biggest trends we observed throughout the week.
1. Designing for inclusivity—including neurodivergence
Inclusivity and accessibility have long been topics of conversation in the meeting industry, and more recently, the conversation has expanded to include neurodivergence, personality types, and learning styles. IMEX's content area, for example, was redesigned to be more accessible for people in wheelchairs, and a bare floor with different colored carpet "dots" to delineate learning zones and activations was created with neurodivergent attendees in mind. Other developments at last week's show included more seating and rest areas, plus a dedicated Quiet Space Lounge and a Resilience Room presented in partnership with The Neu Project and Marriott International.
Several panels also touched on inclusivity. The takeaway? Designing inclusive events lies in having open, honest conversations with a wide range of voices. "If I want to understand how to make an inclusive, welcoming event that cultivates belonging, I should probably be talking to the people that I want to invite and welcome into those experiences," said Megan Henshall, global events solutions strategic lead at Google, in a panel. "It starts with focus groups and transparent conversations. We want to ask, not assume."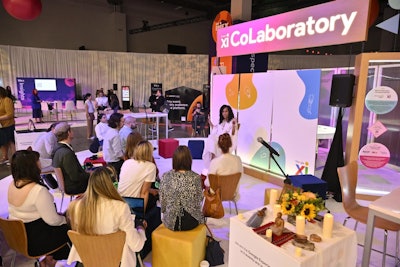 Another key lesson of the week was that the process of defining and designing an inclusive event isn't a one-stop shop: Topics of accessibility and DEI require continuous examination and updates. "It's crucial that we champion inclusivity in our sector as a means to driving economic and social progress," said Amy Calvert, CEO of the Events Industry Council. "DEI needs to be embraced by organizational leadership to be effective. Results from our 2022 Equity Benchmarking Study underscore there's still room for improvement, particularly in advancing ethnic diversity, gender inclusivity, and equity in leadership and influential positions."
To help, IMEX recently teamed up with Skift to launch A Guide to Creating Equitable and Inclusive Event Experiences. Also new this year? Experience Profiles, a quiz attendees could take to better understand their own learning styles.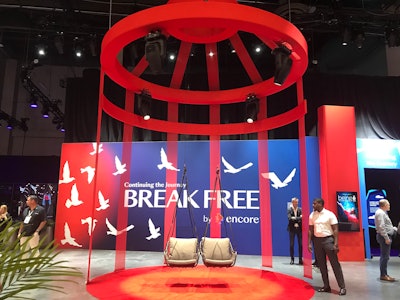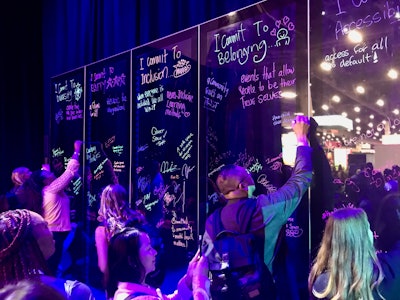 2. Event tech advancements designed for convenience
Many exhibitors showcased their new event tech and digital integrations; event management OS Bizzabo, for example, used its booth to spotlight its new wearable on-site solution Klik, while Hilton's media reception kicked off by spotlighting its new digital solutions—Hilton for Business and the newly expanded Events.Hilton.com—that aim to simplify the overall travel and booking experience for both guests and businesses.
At the reception, Hilton's senior vice president and global head of sales, Frank Passanante, shared insights from the hospitality brand's new 2024 Trends Report, which showed that 80% of travelers feel it's important to be able to book their trip entirely online. Based on these findings, the company is now allowing planners and guests to see and book 10 to 35 rooms, along with meeting space, fully online. "It's solving some real pain points and friction," noted Passanante. (Another insight from the survey? Seventy percent of event attendees prefer in-person to virtual. "We're back to face-to-face in a big way," said Passanante.)
IMEX Group itself was on trend with its new show app, powered by ExpoPlatform, which allowed buyers to schedule meetings "in the moment" when they spotted business contacts live online. Data showed that 124,000 contacts were scanned during the week, and that 3,000 meetings were booked via the app during the show.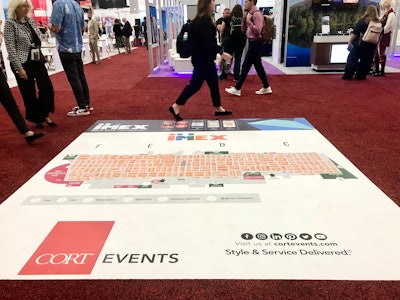 Southwest Airlines, meanwhile, used its second-ever IMEX presence to launch Southwest Business Meetings, a new product designed specifically for meeting and event planners. "What used to be a manual process can now be done in minutes," explained Dave Harvey, Southwest Airlines' chief sales officer, in a conversation with BizBash at the show. "You answer a few questions: What city, what's your date range, how many people… and we can make you an offer in real time. Our guiding light is to eliminate friction for travel managers and DMCs, and give them one more reason to pick Southwest." In the future, Harvey added, the airline plans to roll out additional options for groups that center on the airport experience, check-in, and more.
Speaking of technology, AI was, of course, a hot topic among both exhibitors and attendees. During an educational session, Heather Munnell, director of client experience at VDA, emphasized how AI can be used to create a personalized experience for attendees. "The key is to take on AI as a tool that helps facilitate your business model—it's about working smarter, not harder," she added during the session. "There are several solutions—including free options—which, when used correctly, can really enhance our work and help us solve problems."
3. The power of incentive trips
Another emerging trend, particularly post-pandemic? A major focus on incentives, particularly those that highlight a destination's cultural or artistic features. "We've seen a high demand for incentives, especially educational sessions related to social impact and lived experiences," said Silvana Gomes, corporate and incentive coordinator at Embratur, the Brazilian Tourist Board. "Planners are looking for ways that their groups can get a better sense of the way of life in a destination."
One destination with new offerings for meetings and incentives is Orlando, which recently debuted its new Brightline high-speed rail service connecting Orlando to South Florida. "It's a great leisure option, but it's also a great meetings option and a great incentive option," said Visit Orlando's chief sales officer, Mike Waterman, in a conversation with BizBash. "If you're attending a meeting in Orlando, you can come early or stay late and easily go down to Miami or the Palm Beaches." (Orlando's newfound status as a foodie haven might also lead to some increased incentive business for the destination, noted Waterman: The 2023 Michelin Guide recently recognized 13 new restaurants in Orlando, and WalletHub named the Florida destination as the "best foodie city" in the U.S.)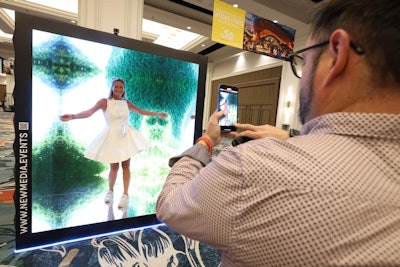 4. Booths with interactive elements
How do you stand out on a busy show floor? At IMEX, bigger is often better, with many exhibitors creating eye-catching, two-story booths that showcased their products or destinations in unique, colorful ways. But the interactive spaces were often the buzziest—like the Visit Phoenix booth, where attendees could have their photos printed onto an edible cookie; or the Visit Baltimore booth, which had temporary tattoos; or the Brand Makers booth, which let guests design their own baseball caps.
Another standout? Australia's Cairns Convention Centre offered virtual reality fly-throughs of its new $176 million expansion. "We want to showcase our [center] in person to as many clients as possible, but that is not always possible," said Janet Hamilton, general manager of Cairns Convention Centre. "The virtual tours at IMEX Las Vegas will allow event professionals and planners to explore the state-of-the-art facility, showcasing its contemporary design, seamless event delivery systems, and the incorporation of Cairns' lush tropical rainforest into the [center's] spaces."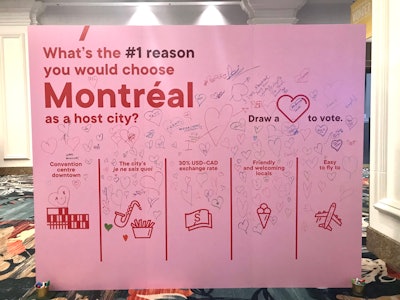 5. Sustainability and attendee well-being
IMEX Group has long been committed to becoming a net-zero business—and in August, the company publicly launched its Net-Zero Strategy, which aims to be its road map to deliver net-zero events and operate a net-zero business by 2030. The strategy focuses on reducing greenhouse gas emissions in the course of producing both IMEX Frankfurt and IMEX America shows each year.
IMEX plans to gradually increase the percentage of reusable and sustainable materials used in building each show; this year's event had an entire webpage dedicated to tips and tricks on how to be a more sustainable attendee this year, from resources on how to use public transportation in Vegas to how to build sustainable event booths. The Inspiration Hub also had a dedicated People & Planet Theater, supported by Destination Canada, offering inspiration and education about sustainability.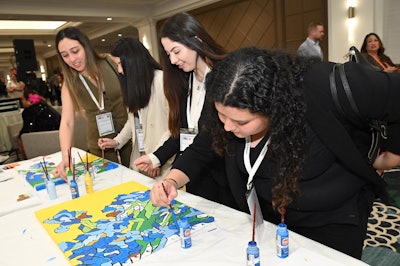 One company leaning heavily into wellness and sustainability is Hyatt Hotels, whose large booth on the show floor showcased the brand's newly launched Wellbeing Collective. Based on a recent Global Business Traveler report that said 93% of corporate travel managers report most employees take advantage of health and wellness services while traveling, the new collective offers customizable well-being experiences designed to meet the specific needs of travelers and meeting planners. The brand has also expanded its collaboration with Headspace, offering guests complimentary access to the meditation app's colored noise collection.
"It's all about how we can serve our customers in a modern way," said TJ Abrams, Hyatt's vice president of global wellbeing, in an interview with BizBash. "During the pandemic, when so many things were stripped away from us, people needed to drive their mental and emotional health. We've always had thoughtfully curated food and fitness offerings, but now we wanted to double down on holistic well-being. .. We don't just care who you are, but how you are. We want you to leave Hyatt meetings energized and ready for what's next."