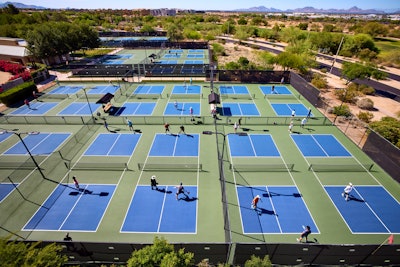 Photo: Courtesy of JW Marriott Phoenix Desert Ridge Resort & Spa
Want more content like this sent directly to your inbox? Then sign up for our brand-new BizBash Meetings & Trade Show monthly newsletter to stay in the know on the latest meetings, trade show, and CVB/DMO news!
In a pickle for an active team-building experience that works for all ages and skill levels? Consider pickleball, a game that has been around since 1965 and is growing in popularity as a way to network and build teams at corporate events.
"Just six months after we've opened our doors to the public introducing our pickleball programming, we have shared amazing moments as our group/event-related request for proposals increased over 500% in the past month in preparation for the coming winter season," says Paul Fragoso, racquet center manager at JW Marriott Phoenix Desert Ridge Resort & Spa.
Pickleball unites tennis, badminton, and ping-pong into an irresistible game that's simple to learn and can be played on indoor or outdoor courts. The popular sport is having its moment here in the U.S. "Pickleball is the fastest growing sport in the [country]," says Andres Durandegui, director of tennis at Four Seasons Resort Lanai. "It is played at all ages, and it's easy to learn. The sport can be integrated into a corporate event for team-building, networking, cognitive and social development, and just plain old fun."
Sports & Fitness Industry Association's 2022 Topline Participation Report notes that pickleball claimed 4.8 million players in 2021 in the U.S., growing at a rate of 39.3% since 2019. The interactive sport is mostly played as doubles, requiring players to work as a team, fostering employee communication, and trust. "Meeting planners utilize the courts for team building to inspire colleagues to grow closer, cooperate, and learn new skills," says Marc Rodriguez, general manager of Esperanza, Auberge Resorts Collection.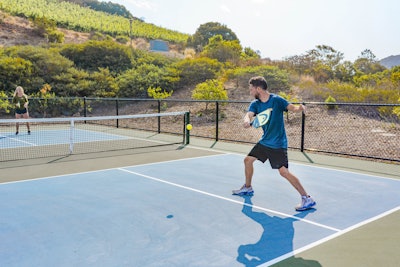 Enchantment Resort, in Sedona, Ariz., installed two pickleball courts over two years ago, and they became an instant hit. "Our on-property tennis pro provides a variety of lessons, including private corporate pickleball lessons, from beginner to advanced, teaching resort guests how to play or enhance their skills," says Stan Kantowski, managing director of the property. "We also continue to see a great demand from both corporate groups and groups of friends to utilize the courts for their social hours, as this provides an ideal breakout session after a day filled with meetings."
Pickleball has grown tremendously at Wild Dunes Resort in Isle of Palms, S.C., over the last year. "It's a great team-building activity for businesses, groups, and families to connect on the pickleball court and further develop relationships with one another," says Clayton Langheim, director of tennis at Wild Dunes. The property recently hosted a group that booked the sport for a second time and testified how pickleball helped them enhance their company culture among people who regularly work together professionally. "They've also noted pickleball has also helped with networking and client relations on the courts," Langheim notes.
"Pickleball offers the perfect outdoor activity for every age level, so meeting groups love it for breakout sessions and team bonding," says Kevin Connolly, tennis director at La Quinta Resort & Club in Palm Springs, Calif.
Whether you organize a tournament, breakout session, private lessons, or game of trivia (the sport has its own vocabulary), attendees are sure to enjoy their time playing pickleball. Here are six resorts that have jumped on the pickleball trend...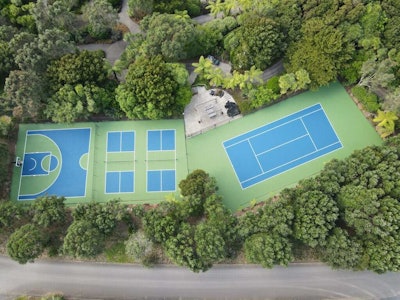 1. The Lodge at Kauri Cliffs | Matauri Bay, New Zealand
Discover the craze that is pickleball with a fun session at one of the two purpose-built courts nestled in the native Totara Forest that surrounds The Lodge at Kauri Cliffs. The courts were the most recent addition to the property during the pandemic as a result of increased demand from guests all over the world.
2. Cal-a-Vie Health Spa | Vista, Calif.
One of guests' favorite activities at Cal-a-Vie Health Spa is pickleball—tournaments and clinics are then often followed by restorative time in the spa. Guests can enjoy an open play or request a private pickleball session with one of several coaches, including pro pickleball player Pat Carroll (based on availability).
3. Enchantment Resort | Sedona, Ariz.
Enchantment Resort features two pickleball courts, allowing guests to play as they revel in one of the world's most dramatic landscapes. The resort's in-house tennis professional provides corporate classes for those looking to enhance their skills, from beginner to advanced levels.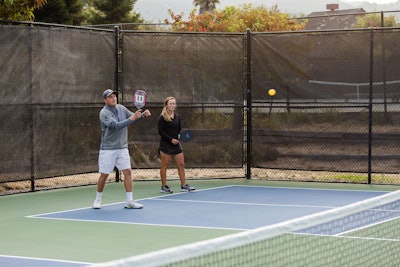 4. Carmel Valley Ranch | Carmel, Calif.
Carmel Valley Ranch is a 500-acre haven for outdoor recreation. Its prolific program includes seven hard courts for tennis and four courts for pickleball, all located right by the River Ranch pool with spectacular nature views and year-round sunshine.
5. JW Marriott Phoenix Desert Ridge Resort & Spa | Phoenix
Featuring the most pickleball courts of any luxury resort in the country, Desert Ridge offers 17 new professionally surfaced, world-class pickleball courts with gear and accessories available at the racquet center. In partnership with Recess Pickleball—a go-to brand for luxurious, colorful paddles, balls, and pickleball accessories—guests can take their game up a notch with custom paddles created exclusively for the property..
6. La Quinta Resort & Club | Palm Springs, Calif.
La Quinta Resort & Club offers meeting groups eight pickleball courts and lessons or clinics from certified IPTPA professionals. It's one of the first resorts to debut pickleball courts in greater Palm Springs.