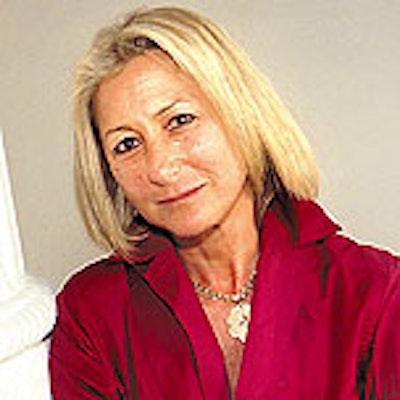 Photo: Anna Persson for BiZBash
Title:
Vice President of Corporate Events
Age:
54
How Long She's Been at Revlon:
12 years, four of them at her current title.
What She Plans:
A mix-five to seven annual fund-raising events, like Revlon's Fire & Ice Ball, the Revlon Run/Walk, the National Breast Cancer Coalition Fund gala, plus five or six product launch events a year, and internal company events.
Her Staff:
"It's just me and a new assistant. Of course, we outsource."
Favorite Magazine:
World of Interiors
Favorite Drink to Have at an Event:
"I like mojitos, but that's been so overdone now. Something colorful."
Nights She Goes Out Each Week:
Five
College Major:
Fine arts, at Boston University
How Long She Has Lived in New York:
30 years
Where She Lives:
"I'm an Upper East Sider with a downtown soul."
How do you handle the challenge of planning both internal and public events?
What keeps me here, and keeps me excited, is that my job is not repetitive. I like the challenge of having different hats to wear. The challenge right now is to make people aware of the events we do. Before they were stand-alone events-our fund-raising and charitable events, which are a big part of what we do, really stood by themselves. They represented the company, but the company didn't use them [to promote products] in any way. That's changing now.
What helps you plan your events?
It's really [about] trusting a group of people, and understanding that when you're hiring someone professionally, you allow them to do what they do best. I enjoy putting together a team and not micromanaging people. The energy that comes together is what I value, and it becomes more fun. There's always a stretch; you know there are going to be problems, and that's part of the excitement.
Which event is your favorite?
The Revlon Run/Walk is the largest thing I do, and it's something that fulfills me in so many different ways. It affects the largest amount of people, and it continues to grow. But all events have different things I like.it's like visiting old friends. The repetition allows you to see where the opportunities are to grow and take risks. For example, this year, with the Breast Cancer Coalition Fund, we worked with VH1. We put the event in a venue that was double the size [of last year's event] and broadcast it with a concert with Sheryl Crow.
What's the biggest challenge facing the special event industry right now?
The biggest challenge is people's attitudes, especially with what's been going on with CEOs of companies. Events need to be thought of in terms of what they bring to the company and consumer. Extravagance for extravagance's sake is over. People are going to think about companies in a different way now, and the challenge is to make your company speak to people and get them excited.
But there's this huge window of creativity right now, because creativity comes out of tight budgets. It's a very exciting time to be working on events and trying new ways of doing things. It's about who's going to come up with something cool and expressive.
How is your budget for events changing?
Our budgets have been cut drastically over the past couple of years. We are looking at how we do things, and not just doing things we used to do automatically. For example, our goodie bags have gotten cut. What's the value of giving people another lipstick? We used to give to hundreds [of events]. This year we've only given to a handful. That's [saving] thousands of dollars.
How is your job changing?
The company is changing. We have this 360-degree philosophy where all of Revlon is working together. What I do is being looked at by the rest of the company. Revlon has gone through drastic changes. I'm being integrated, thought of in terms of budgets, sales strategies.there's much more inclusiveness.
How do you measure an event's success?
We ask, did we accomplish what we expected? The company is evaluating events in a positive way. We're starting to have company-wide post mortems on events, to discuss what went well and what needs to be improved. It's empowering people to see that an event is not just a party, not just fluff.
What do you think your guests are expecting at one of your events?
It depends. If it's beauty editors, they expect information, a themed environment that gives them access to the product, and makes it accessible and easy for them. We respect their time.
What trends are you seeing in event style?
More minimalism.
Do you have a preferred list of vendors who you work with, or do you constantly try out new companies?
If we work well together and communicate, I have no reason to not continue building on a relationship rather than try something new. On the other hand, it's not a good idea to use the same people and not know what else is going on out there. So new people do get added to the mix.
Where do you go for inspiration?
I walk the streets, I look at a lot of magazines, fashion, go to clubs, go to other events. I go to gift shows, fashion shows, accessories shows, fabric shows.as much as I can do.
Who do you look up to in the event industry?
I adore
Mark Musters
.
Susan Holland
is brilliant.
Olivier Cheng
, who just started his own company.
What has been your best discovery?
Besides masking tape and velcro? I don't know!
What do you wish you had known when you started planning events?
I wish I had known that everybody makes it up as they go along, that there are no real rules except for hard work.
This story originally appeared in the Winter 2002 issue of the BiZBash Event Style Reporter newspaper.
>