8 Tips for Using Drones at Events
Keep these pointers in mind before using this new option for aerial photography.
February 24, 2015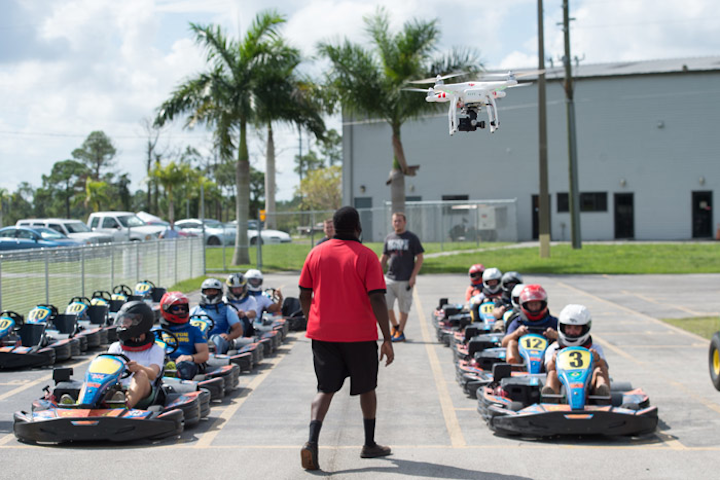 Photo: Courtesy of E.P.N.A.C.
Unmanned quadcopters, commonly called drones, can provide a unique perspective to capture photos and video at trade shows, conferences, teambuilding outings, galas, and other events. BizBash asked two photography professionals, Jules Clifford of Event Photography of North America Corporation, and Bob Christie, of Christie's Photographic Studios, to share what advice they would give planners who are thinking about incorporating this new technology. Here are their tips.
1. Confirm whether the venue will allow a drone to be flown and, if so, where. "It's still a gray area with some of them. At a convention center, for example, some may say you can't use a drone but they mean in the common areas. And on the expo floor they leave it up to the client," Clifford says.
2. Verify that the vendor flying the drone has appropriate insurance. "It is flying overhead and it is being controlled by a human. So [insurance] would be my first question," Christie says.
3. Ask the vendor for references and examples of prior drone footage.
4. Understand that drones can be disruptive. They are noisy and produce a downward wind gust. When flying above a trade show floor or at a festival this may not be an issue, but in a keynote session, for example, it could be a distraction. "As an alternative in those cases you could put up rigging and pull a camera back and forth to get that flying feel," Christie says.
5. Find out if the drone operator will be in a fixed position or following the equipment on foot. Drones can be controlled from a monitor but, particularly indoors, organizers may want to request that the pilot walk with it. "If the monitor loses connection, then I can't see what I'm doing. So we don't necessarily fly it where the pilot doesn't have eyesight with it and can't tell depth of field," Clifford says.
6. Consider the design of the event. In areas where the drone will fly, try to limit interference from signs and other decor items. "Make sure the drone operator is aware of any aerials in the room. He needs to know what the room looks like with the lights on so when the lights go down he knows, for example, there are tethers," Christie says.
7. Communicate expectations and limitations with the pilot. Are there certain areas or events that are off-limits, or specific things that should definitely be captured by the aerial camera? Consider creating a script to ensure everyone involved knows what's expected.
8. Find out if the equipment uses GPS technology. Quadcopters have limited battery life, generally no more than about 30 minutes. Those with GPS can be programmed to automatically return to a home base when the drone gets down to 5 percent battery.
Featured Venues/Suppliers: