2016 Preview: Tech Trends for the Coming Year
Facial and gesture tracking, expanded use of virtual reality, and a focus on creating frictionless user experiences are some of the topics that will impact events next year.
December 22, 2015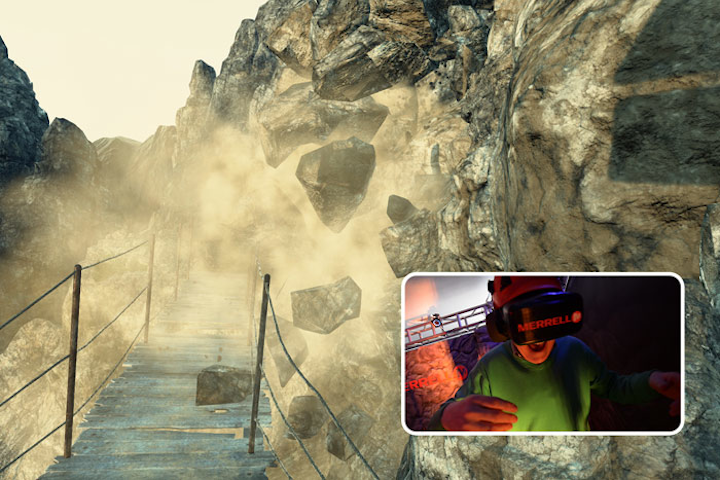 Photo: Courtesy of Hill Holliday
BizBash asked industry professionals to share the event technology tools and topics that will impact their work in 2016. Here are their predictions, gathered through phone and email interviews.
Mobile Matters
"Mobile isn't a trend, it's a reality. The majority of Google searches in 10 countries, including the United States, now happen on mobile devices. The majority of digital advertising (62.5 percent, according to a recent eMarketer study) will be spent on mobile advertising in 2016. Digital components of event experiences are under even more pressure to be mobile first than other forms of marketing, and 2016 is the year where brands shouldn't be thinking responsive or adaptive, but truly mobile first. It's how people are exploring today's digital universe in a big way. That means being Google Maps-friendly, integrating travel details with TripIt, considering geofenced advertising, having a mobile website and a mobile app, thinking about whether your emails are mobile optimized, and much, much more." —Ben Grossman, vice president, strategy director, Jack Morton Worldwide
"When you go through an event and you see people, the majority of the time, most of the people are just watching their phones. So the ability to design experiences to pull people away from their phones becomes more and more critical. In 2016, how do we tie technology through their mobile device back to what's happening as a real experience on the show floor or in a common area? It's around the trend of Internet of Things. Devices are able to speak and communicate with each other and have this sharing of content that can occur." —John Woo, vice president of design and creative, Global Experience Specialists
Improved User Experience
"You have all these different pieces of technology—beacons, apps, digital signage—but they don't work together. The big thing that will happen next year is the integration of these things so they work together to create the most seamless experience for people. It will be driven by a lot of technology that will be released in the next year or two—the Internet of Things—what will finally happen is it will be practical." —Wilson Tang, senior director of experience design and digital strategy, FreemanXP
"How can I connect your complete experience? I want to remove transactions, I want to remove redundancy. So how is the first time I enter information then carried on throughout the entire experience? I never have to enter it again, you know who I am, you've optimized my experience, all by virtue of the fact that I have some sort of identifiable R.F.I.D. or N.F.C. or beacon on me that then connects your event experience. The great benefit of that is it then turns an attendee into an active participant. That's what I get excited about regarding the user experience." —Kirstin Turnbull, director of account development, Mosaic
Facial Recognition
"Where we were doing a ton of R.F.I.D. even a year ago, we're doing very little now. A lot of R.F.I.D. I used to do I'm replacing now with facial recognition. Where you used to use an R.F.I.D. bracelet to actively check in and for tracking and measurement at events, I am able to accomplish the exact same thing passively by looking at the human beings that are there. Seeing what dwell times are, when they are coming in, how many times they come back. The ability to implement facial recognition at scale and the cost of doing it [has come down] and… I'm able to anonymize the data very easily. I don't have to worry about the cost of shipping and broken parts and things. And it requires far fewer calories, even no calories, for the people attending an event. It's so cheap and easy to deploy these cameras, software, algorithms, and to work with companies that are providing facial recognition technologies. The biggest challenge we have is helping our clients understand it's not a big brother thing. We live in this video monitoring environment, and we're leveraging that benefit for our clients." —Jason Snyder, chief technology officer, Momentum Worldwide
"The idea of facial tracking and mapping is coming into a little bit of a new space. We just built a prototype for an event with very simple facial tracking. It's really accessible now through standard web cams where you can track facial features, overlay graphics, create playful visuals. It's interesting for photo experiences. But then the deeper implications of where this research is going now in terms of understanding and responding and creating really personalized responsive content in terms of emotion is very interesting." —Jamie Barlow, vice president of creative technology, Sparks
Virtual Reality
"We'll see even greater adoption of virtual reality, and expect interactivity to be a bigger part of the overall experience moving forward as the spectacle of 360 video or 3-D 360 within a headset isn't impressive anymore. This means more physical elements in the virtual reality activation space, longer experiences, and integration of more sensors to create a more complex virtual world. The bifurcation of virtual reality hardware will force event marketers in the planning phase to differentiate and chose their display headsets early on so experiences can be tailored to the specific strengths, weakness, and differences of Samsung Gear, Oculus VR, Google Cardboard, and the host of other products likely to hit the market in the coming year." —Mo Twine, senior interactive producer, MKG
Data Analysis
"By fusing data from marketing automation systems (generally held by digital marketing teams) with event registration and tracking systems, we begin to get a more complete picture of attendees' behaviors and value to organizations. Adding a layer of predictive analytics over that data analysis can help us understand how to anticipate needs, create better experiences, and make investments where they're projected (with statistical rigor!) to really matter. Event marketers need to ensure they have someone on hand who can speak the increasingly complex language of data." —Ben Grossman
"We are working on a number of projects related to event data. All these different systems generate massive amounts of data. Every time you access your app, every time you log into a website. How long did it take the system to respond, what did you do, where did you mouse hover. People finally get to see what's going on at their event. We can gather meaningful insights, and you will finally be able to figure out with hard data what is the return on your event, what can you do to improve it, what can you do to enhance the user experience. In the past I might hire a DJ because I think you like this music, now I can have it tied to your Spotify in registration so the music you like is playing when you walk in. Analytics will be coming to events in a big way." —Wilson Tang
[PULLQUOTE]
New Challenges From Shifting Control
"More and more the attendees are having the ability to control and stream content live from the show. Content control is slowly shifting from the marketing team to what the attendees are actually bringing in terms of transformation of space as well as their ability to create their own content onsite in the middle of your event and push it to their followers. So we have to understand that attendees are no longer passive. This loss of control is an interesting dynamic because it pushes us to try to create better content to capture that audience. The ability to create these moments along the attendee journey—to be able to feed the audience content that you want them to share versus them finding their own content. I think it will be critical in the way we leverage technology and the way that we have conversations with our attendees during our event. It's an opportunity and a scary challenge. More sophisticated marketers will start to leverage this challenge, conquer this fear, and create content that is more engaging and more meaningful for people share." —John Woo
Remarketing
"The event industry is woefully behind when it comes to other parts of the marketing world. Digital advertising has had Google Analytics for more than a decade. If I drop something in my Amazon cart and decide not to buy it, I start to see that product in ads across the Internet. As creepy as that sounds, that's commonplace now. So you'll start to see a lot more of these what I call advanced digital marketing techniques come to the world of events. So maybe you go to an event website and don't purchase, then you'll start to see ads pop up for that event. Almost every part of the marketing world has advanced techniques for social media. They use dashboards and utilities that allow you to target all sorts of social platforms. Right now that hasn't been done much at events." —Wilson Tang
The Access Economy
"I think 2016 will be the year that we see the complete disintegration of the distinction between business technologies and consumer technologies. Attendees want to navigate events with the same tools and apps they use in their real lives. They are looking to buy back time by 'outsourcing' tasks and errands as you can see with the surge of brands like Blue Apron, Shyp, and Luxe, and they are going to expect the same conveniences, efficiencies, and quality. From a planning standpoint, we've already tapped into the access economy and have used services like UberEvents where you can pre-pay for rides and give attendees the freedom to manage their own schedule as far as when they leave and in the manner which they are used to on an everyday basis." —Angela Stassi, vice president of marketing, Barkley Kalpak Agency
LED Displays
"We are seeing a much greater use of LED both panels and monitors in the event environment. It always amazes me that in a meeting environment you'd put adults in a space for eight hours straight—which they're not used to—then we feed them at lunchtime and put them in a semi dark room and wonder why their attention spans go away. By using some of these newer technologies that can overcome the ambient light of meeting space, it allows you to have brighter learning environments… which has been proven to keep people's attention and it's much more conducive to adult learning. The other value of LED technology as display technology is it allows you to readily do different things within a room and the space, to alter the look to battle what we refer to as "room fatigue." You can make subtle changes to the room without completely resetting the room to trick to the mind into thinking it's a different experience. If you are doing widescreen LED display, you can change the area where the content is, maybe a little to the left or right. It does enough to the mind that you look at that room a little differently, and you have a much better experience from an attendee perspective." —Jim Kelley, vice president of sales and industry relations, Production Resource Group
Personalization
"Where I see next year going is the ability for more personalization with R.F.I.D., beacons, etc. We envision events where the content interactions change dynamically based on the participant's preferences and prior interactions. So it's not so one size fits all, it's tailored to the specific participant. Augmented reality is where virtual reality was before. Microsoft is doing hololens, it's another layer of interactivity. It goes from virtual to augmented. And if you look at Magic Leap they raised $1.4 million for their very secret augmented reality startup. I don't think it's next year, but you'll start to hear more and more of it. But the technology can only be as good as the rational for it to being there. Implementing the technology without a plan on how it fits into the overall experience creates a bad user experience." —Bryan Icenhower, president, IMG Live
Gesture Technology
"Motion control within a large audience can start to change what's on the screen or on a wall or what happens in an immersive experience… so the attendee can start to transform the event space. Now you have environments that are reacting to the people that are there—being able to have the attendees just walking through a show hall and having the entire hallway transform into a specific content message just because they're walking in front of it. It's a special reveal that makes the audience stop. Digital architecture, large mural screens, the way that [technology] interacts with people through motion capture and gesture technology is going to be something that is more and more visible in 2016." —John Woo
360 Photos and Videos
"A technology we've seen a lot of lately and [that is] coming around to adoption is definitely 360 video. You might think of it as panoramic, but it will also lay the foundation of what's behind virtual reality content as well. On a mobile device you can turn your phone or pan with your finger to look around a scene or literally put it into a virtual reality headset to be immersed inside a scene. It's becoming cheaper and more acceptable, and being adopted by major platforms [with] Facebook and YouTube both supporting 360 video now. So 360 photo booths, video booths are something you'll start to see more of. You're not being dictated what the frame of reference is that you are supposed to be viewing a story from—you as the viewer get to choose that frame of reference. It's a more immersive experience of content. Live-streaming 360 video is not there yet, but think about Periscope. As the viewer I'm watching my screen and looking at whatever the person who's shooting that video is pointing their camera at. If it was a 360 camera I'd have the ability to rotate that view anywhere I want to look because it would be capturing the entire scene. So if you have a 360 rig in the middle of a sports event or a trade show hall, I could look around from a particular vantage point and explore visually the environment on my own." —Jamie Barlow
Data as Decor
"The first thing I was thinking of is how can I make data beautiful. How can I use information and storytelling to make dynamic visual displays and guest interactions. Taking that information and linking it to my goal and purpose so I'm still conveying content that is interesting, useful, and relevant, but how do I deliver that in visual form and not just use it as an activation, but actually incorporate it into decor in my spaces?" —Kirstin Turnbull
Security Issues
"What can be shared? What information should flow from one system to another? We are definitely looking at how to protect participants and their data. Does it scale, and will my attendees be protected as information flows, for example, from registration to the app? These are technical and societal issues that will come to the forefront when it comes to events. As an industry we'll start to address that in a much more stringent and more professional kind of way. It's been very haphazard." —Wilson Tang
Artificial Intelligence
"Machine learning and deep learning are growing more powerful by the day, and in turn artificial intelligence is increasingly tangible as an enterprise software tool. Deep learning and A.I. will make it possible to analyze traffic data through an activation on day one and have the computer spit out a new installation arrangement to maximize retention for day two. To give you a sense of how immediate this is, Google just open-sourced its artificial intelligence engine TensorFlow to encourage advancement and adoption. There are other open-source A.I. engines available, but when it comes to data that matters, no one does it bigger or better than Google." —Mo Twine
Custom Construction
"We're seeing newfound appreciation for the old 'vertical integration' model. As experiential and event marketing grow as a part of the marketing mix, the emphasis is moving from logistics (putting on an event that runs smoothly) and into the creation of experiences that dazzle. This often requires specialized fabrication and engineering. That requirement is growing as brands seek to achieve differentiation of their brand activations via superb craftsmanship that enhances their brand." —Scott Kellner, vice president of marketing, George P. Johnson Experience Marketing
Featured Venues/Suppliers: