How Audio Tones Are Changing Event Communication
With a broad range and no need for added hardware or connectivity, audio tones are becoming a popular option to communicate with guests at all sorts of events.
May 24, 2016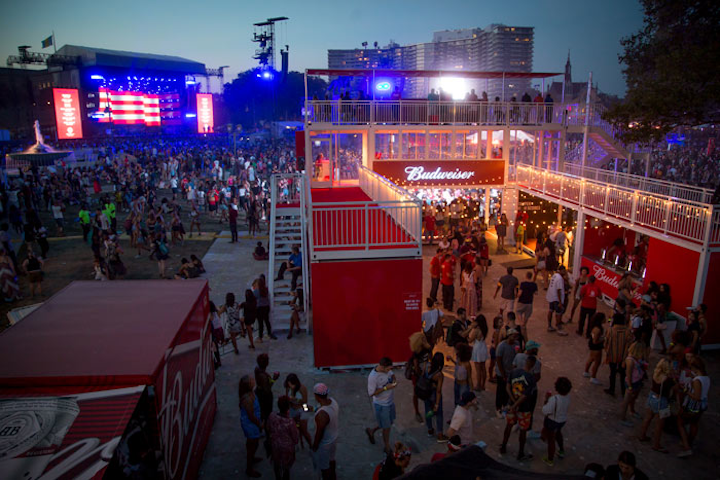 Photo: Courtesy of Budweiser Made in America
The ability for planners and hosts to communicate with guests is a vital part of all sorts of event, from conventions and trade shows to music festivals and fund-raisers. And in recent years, new technology coupled with the ubiquity of connected devices has created a variety of ways to send notifications and offers right into the hands of event guests, as solutions such as N.F.C., iBeacons, and Bluetooth become more common. Now another option is gaining traction. In the past year Lisnr's "Smart Tones" technology has been used at events such as Budweiser's Made in America festival, the Grammy awards, and Cleveland Cavaliers home games. The tones transmit information between devices using sound as a conduit.
"It's inaudible. A dog can't hear it, and it doesn't damage your ears," says Sarah Ungar, the company's marketing manager.
Lisnr's Smart Tones can be added to existing media—for example music playing during an opening ceremony—or transmitted on their own. Unlike other communication options that may require hardware such as transmitters, wristbands, or scanners, the tones can be played over the speakers already being used at the event. To recognize the tones, guests must be using an app that has the Lisnr API embedded in it, and then they have to enable the microphone on their device. Once that microphone is enabled, the app does not need to be open—which minimizes battery drain—and guests don't need to have connectivity.                                
"We have the ability to push data through the tone itself. That means I don't have to be connected to the Internet. I don't have to have Bluetooth turned on or G.P.S. or location services on. I don't even have to have cellular service," says Lisnr co-founder Chris Ostoich. "Most of our demos we do in airplane mode to illustrate that … we're still able to trigger this kind of interaction. That's important for people who spend all day at a trade show or a whole night at a concert. In large audience environments, being connected to the Internet is everyone's biggest problem."
The tones can transmit up to three megabytes of data. Examples of content include wayfinding notifications about concessions or restrooms with shorter lines, offers such as a discount from an exhibitor, or an exclusive download from an artist on stage.
Planners can be very specific as to how they use the tones. To send a general message to all guests, the same tone would be played through every speaker at the venue. For example, at the Made in America festival, Ostoich says they were able to reach every one of the 35,000 people who had downloaded the event app with tones transmitted from the speakers on the main stage. Or it can be unique tones from each speaker based on location, for example a coupon as guests pass a speaker at a concession stand.
"At the Grammys, when you walked into the Staples Center … as soon as you crossed into the doors, the first interaction you received was a welcome video from LL Cool J," Ostoich says. As the time for the telecast drew near, tones triggered notifications asking guests to make their way to their seats. The range of the tones is based on their volume: turning up the volume sends the tones to people farther away from the speaker, but they are still completely inaudible to the human ear.
After an event, planners receive a report detailing where the tones were broadcast, how many devices heard the tones, and how often they resulted in action.
Featured Venues/Suppliers: