4 Ways to Customize the Event Experience
Oracle's Paul Salinger argues the one-size-fits-all approach for attendees is going extinct, replaced by focus on individual engagement and wellness.
April 9, 2015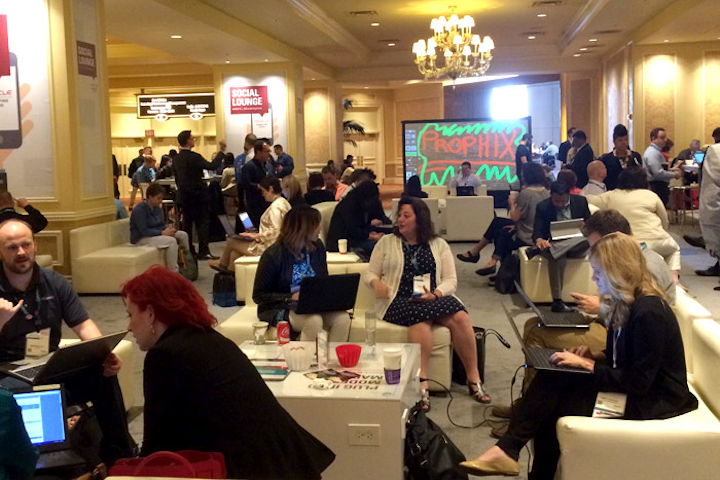 Photo: Alesandra Dubin/BizBash
The newest meeting and conference trend is customizing the experience for each individual attendee, even when the event draws a massive delegation.
A recent example of an event that embraced the modern meeting movement was Oracle's Oracle CX Cloud Conference, which took over the Sands Expo at Las Vegas's Venetian and Palazzo from March 31 to April 2 with more than 3,000 attendees. There, Oracle's vice president of marketing Paul Salinger sat down with BizBash to discuss his four pillars for creating an event environment that not only engages attendees, but meets their individual needs and expectations through what he calls an "audience-centric approach."
1. Involve attendees actively.
In part because of technology, in part because of millennials in the workforce, and for a wide array of other reasons, attendees require a different level of stimulation and interactivity—and a successful conference organizer gives it to them. "People are less willing to sit in a room all day and listen to PowerPoint," Salinger says. Among the ways Oracle facilitated interaction was a Q&A session with C.E.O. Mark Hurd following the keynote rather than just a one-way monologue. Hurd also participated in a Q&A session with press, as well as in one-on-ones with analysts. "Press and analysts are a very key audience so we are trying to treat them to the personal experience as well," Salinger says.
2. Approach meeting design thoughtfully.
Salinger stresses the importance of putting together a thoughtful, creative physical setup in which attendees have all the tools—and encouragement—they need to achieve their personal goals for that face-to-face opportunity.
In the case of Oracle's CX Cloud Conference, a significant portion of the ballroom held round tables versus an exclusively classroom-style arrangement. "We want this audience to feel it isn't a typical conference, but an executive-style event," Salinger says. "[This arrangement] encourages social interaction at tables. We are very intentional about creating meeting spaces, networking spaces."
Purposeful seating arrangements that facilitate interaction are in fact a hallmark of some of the world's most successful and high-level conferences: the TED Conference was among the earliest adopters of this strategy.
Beyond that, Salinger says, a meeting or conference space should allow interaction, rather than distract from it, so an uncluttered look and feel is key. In Oracle's exhibition hall, all exhibitors had the same elegant, streamlined look with displays from partner Freeman. "The intent is to make it not feel like a trade show, but a space that's welcoming to walk into," he says. "[Beyond that], we want people to know they're at an Oracle event, an Oracle-owned space."
3. Think responsibly.
Gone are the days when it was thought environmentally friendlier events compromised the on-site experience. Now, Salinger says, events that consider green practices as well as wellness initiatives actually contribute to an attendee experience that is both more comfortable and more effortless.
"One of the aspects of sustainability is health and well-being. We think about how we can contribute to that for our attendees," Salinger says. "So that's with [healthier, more sustainable] food, cutting down on bottled water, [locating events to allow for] walking from hotels—[those decisions all impact] the way the attendees experience the event. It's the same thinking [behind] trying to make the event as effortless as possible."
Of course, those approaches can also help support the event's bottom line. Oracle, for instance, got a sponsor for the refillable water bottles that not only allowed guests to stay hydrated on site, but also served as a branded giveaway.
Salinger also emphasizes the importance of working with a venue and other partners that share and support the mission, which the LEED-certified Venetian and Sands did with Oracle.
4. Seek local inspiration.
In modern meetings, it's not just about selecting a location with logical geographic coordinates and a feasible room block. It's about playing up the local environment and culture—wherever that may be—in combination with meeting activities, breakouts, dining, and events.
"We really try to think about where are we in the world and how can we incorporate that into the customer experience," says Salinger (who is currently in Japan for an Oracle program). He argues the importance of selecting a location that is as "deliberate" as ever, and then tying the customer experience to that through "relevant and contextual messaging."
Featured Venues/Suppliers: