How to Avoid a Fyre Festival-Like Event Disaster
Event professionals share what they think went wrong at the Ja Rule-backed music festival, and discuss ways the mistakes could have been prevented.
May 4, 2017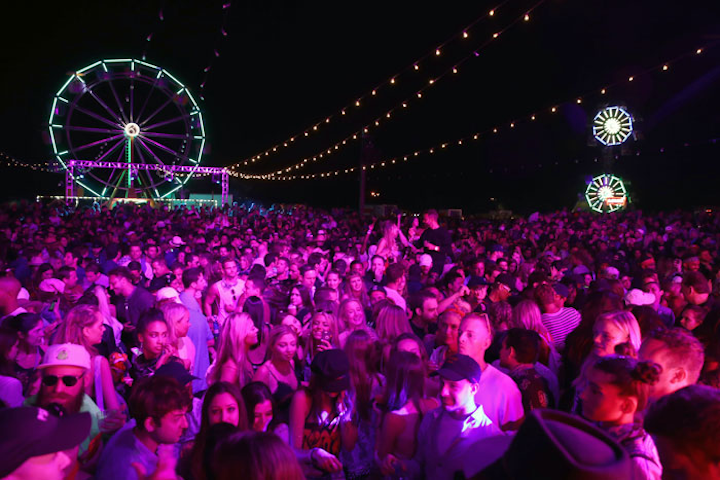 Photo: Jonathan Leibson/WireImage
The Fyre Festival was supposed to be the ultra-exclusive answer to Coachella: a two-weekend getaway on a private island in the Bahamas, chock full of luxury food and accommodations, music sets from the year's biggest stars, and the chance to mingle with supermodels like Bella Hadid and Kendall Jenner.
What happened is, obviously, quite different, as attendees arrived to find a half-finished site with inadequate food and accommodations. Headliners Blink 182 quickly pulled out, and attendees—some of whom had paid thousands of dollars for tickets—flooded social media with cries that they had been scammed. Earlier this week, organizers Billy McFarland and Ja Rule were hit with a proposed $100 million class-action lawsuit, and the event's leaked pitch deck became the subject of much Internet mocking. 
Last week, McFarland told Rolling Stone his version of events, citing poor infrastructure, bad weather, and his team's lack of experience. Insider reports confirmed that on Wednesday, revealing that logistical planning did not begin until late February or early March. BizBash spoke to event professionals who have experience planning large events and festivals, and asked them what they think went wrong, how they would have handled it differently, and what the Fyre Festival team should do now. 
"The problem with Fyre was that it was a launch campaign in search of a festival. It started well. The company's ploy of using a 'live brand experience' to launch their influencer platform, and then demonstrating how it could harness influencers to secure blanket news coverage by using their own festival as a case study, was clever and resourceful.
But like the strategy in Fyre's pitch deck, which put 'execution' at the bottom of its business model, what they got very wrong was the delivery. Mounting a major live event like a festival requires vision, meticulous planning, attention to detail, and lots of working capital. Successful festival organizers care as much about chemical toilets as they do about celebrity tweets. Going by the lineup in the same pitch deck, the Fyre team had very little experience in major event production, and this showed in the catering, accommodation, transport, artist management, and communications disasters we saw last week.
How would I have prevented this? By starting small, and using the first year as a learning experience. All the major events I've worked with over the course of my career have built their offering and their reputation gradually. The first year of any festival is a soft launch. It's a chance to test your site, logistical skills, and vision work, and most importantly whether they fit with your audience. Had Fyre's organizers harnessed their marketing reach and ability to the right production partners, we would be talking about this event in very different terms. As it is, the event industry will probably be using it as a cautionary tale to over-enthusiastic 'disruptors' for years to come."
Chris McCrudden, director of strategy and media planning, Golin, London
"[Comparing South by Southwest and the Fyre Festival] is really an apples and oranges comparison … we're nothing like Coachella or Lollapalooza or what Fyre was trying to do. [But] in the run up to our event, when things are tough, I always tell my beleaguered colleagues 'If this was easy, everyone would do it.'"
Roland Swenson, C.E.O. and cofounder, South by Southwest, Austin
"As social media posts and news reports started to surface about what was unfolding … it was immediately clear that the organizers had not engaged a production partner and that they were trying to take on the task of planning, organizing, and executing not only the event but also the necessary infrastructure without any experience whatsoever.  
The venue and site conditions for any outdoor event, especially a music festival that has guests occupy the festival grounds, would need to have either temporary or permanent access to basic needs such as water, power, and waste management—and steps were not taken, creating a potentially dangerous and volatile situation. Being beachfront in the Caribbean carries a unique set of challenges with almost no local resources, potentially serious weather conditions with little or no warning, and getting equipment through Customs. As reports started to come in that the talent and vendors alike were withdrawing from the event as well as any association with the Fyre Festival itself, it was clear that there were financial issues and more importantly, that there was no leadership in place leading the project.  
With all of these compacting factors, it was obvious that the organizers had not begun the planning for this event until just months before it was supposed to take place. They found themselves without the time, resources, or management to execute an event of this kind—let alone one of this caliber, catering to the elite. It's hard to say what, if anything, could have been done to prevent what transpired, but having the core components of festival production in place including established infrastructure, lead time of 12 months or more, budget management, and ultimately having a seasoned team in place could have prevented the outcome."
Matt Stoelt, C.E.O. and creative director, Stoelt Productions, Los Angeles
"Overall, I do not think they were in communication with the destination. They did not have the proper timeline, or have a good understanding of the resources and needs."
Karl Nybergh, meeting consultant, Conference Resources & Solutions, Inc., Miami
"They didn't cancel the event when they should have. They could not deliver what they promised, but when they realized this they set up tents and provided food that was not adequate. How did they think they were going to get away with these standards when they promised villas and gourmet chefs?"
Meagan Clark, functions and event coordinator, St. Edwards of the Riverina, New South Wales, Australia
"I know that they didn't have a proper budget and they clearly didn't have proper planning. To start, I would have partnered with a full team of experienced event professionals and done an early site visit with the team, festival owners, and the Bahamas Ministry of Tourism to question all logistics including infrastructure, power, lodging, bathroom facilities, kitchen, and transportation capabilities of the island—including what to do if there was inclement weather, including rain or wind—to determine the feasibility of the location. I would have stayed at one of the several resorts on the island, and I would have had meetings with the general managers of each resort to discuss the idea of our client's music festival and listened to their thoughts and concerns. Their opinions would help form all decisions.
Based on the information, I know a fully professional, qualified, and insured team and I would not have recommended this destination. While there is infrastructure for the various resorts on the main island, there is not much in the way of infrastructure for this type of event. I am certain that had this not been planned as a private event, but been planned with and included the Bahamas Ministry of Tourism, they would have had major concerns as well."
Chris Weinberg, founder and chief experience officer, Chris Weinberg Events, Miami
"They didn't hire a professional event planner or planning company. So often people think what we do is 'easy' or 'fun.' We all know that the knowledge and experience of a good planner is invaluable. A professional would have done a site visit and determined very quickly what the logistic hurdles would be, and checked on the laws and island capacity [and whether] the concerns could be overcome or not. I cannot get over the arrogance of the hosts, allowing people to board planes when they already knew that they could not accommodate their needs. Had they canceled, they could have refunded the ticket money. Now they are facing major lawsuits."
Julie Browning, owner, TJB & Co. Destination Planners, San Antonio, Texas
Editor's note: Some of these comments were shared by readers on our social media networks. Join our discussions on LinkedIn, Twitter, Facebook, and Google Plus.
Featured Venues/Suppliers: