Are The Oscars Better Off Without a Host?
In the wake of the will-he-or-won't-he Kevin Hart controversy, the 91st Oscars likely won't have a host this year. Some event professionals think the change could benefit the ceremony, while others are bracing for a disaster.
January 14, 2019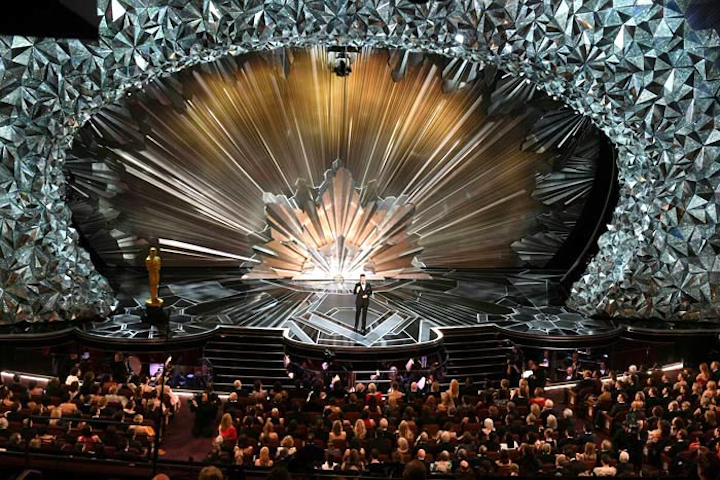 Photo: Mark Ralston/Getty Images
For the first time in 30 years, the Academy Awards will take place without a host. The new plan for the 91st Oscars comes after a weeks-long apology tour (or non-apology tour) from Kevin Hart, who was initially selected as the host, but dropped out over refusing to initially apologize for his past homophobic tweets. 
Ceremony producers Donna Gigliotti and Glenn Weiss and the Academy of Motion Picture Arts and Sciences, the Oscars governing board, are now scrambling to put together a lineup of A-listers to carry along the three-hour telecast, which airs on ABC February 24. Details are scarce on which stars will helm segments of the ceremony, but the producers are reportedly looking to gather the cast of the Avengers for at least one segment.
The last time the Oscars went without a host was in 1989, in a critically panned ceremony that is remembered for an opening musical number that involved Snow White and Rob Lowe singing "Proud Mary." 
So did the Oscars make the right decision to go without a host? Here's what event professionals from across the country had to say.
"As a producers of many award shows—including Essence's Black Women in Hollywood, The Hollywood Reporter's Women in Entertainment, and Elle's Women in Hollywood—I'm actually very curious to see how this goes and how they do it. It would be a new model that we can all learn from, perhaps giving different talent different segments to transition the show from one point to another. If done right, I think it can be an exciting new development for them and all award shows."
Cara Kleinhaut, founder and C.E.O., AGENC, Los Angeles
"I think they are better off without Kevin Hart, that's for sure. I am of the personal opinion that having a host helps keep the show flow a lot tighter, more interesting, and gives the viewers more to stay engaged with—it breaks from the receptiveness of an awards show. That being said, I am always open to shaking things up a bit and am actually looking forward to see how the writers will use presenters and celebrities to tie the show together. I bet at this late date there will be a lot of long days and late nights. Good on them and good luck—we are all rooting for you!"
Ryan Zynger, owner, Zynger Events, Los Angeles
"I'm curious to see how the absence of a host will impact the show, particularly the energy level throughout the night. No host means no lengthy—and likely lackluster—opening monologue, but it also means no consistent voice and presence for the duration of the evening, which could impact the show more than people consciously realize. Ultimately, you won't please everyone with any decision, but this seems like a unique solution to an unfortunate situation that may work out for the best. Who knows—maybe a new precedent will be set."
Liza Nikitas, associate director of production, AgencyEA, Chicago
[PULLQUOTE]
"If you think the host of an awards show, like the Oscars, is all about entertainment and making the audience laugh, you're wrong. The purpose of an Oscars host is the same as a broadcaster—to add commentary and perspective that helps the viewer fully understand and appreciate what they are seeing. Is there entertainment in that? Of course. But without that guide throughout the night to get the viewer from point A to point B, they'll get lost. And if they get lost, they'll get disinterested. And if they get disinterested, they'll turn the TV off. And if they turn off the TV, they'll wish they had a host." 
Josh Kell, vice president of digital and brand marketing, Switch, St. Louis
"It seems hard to fathom, and lacking in editorial perspective—the comedic through line. Opening numbers have been a staple since as long as I've watched. Will it now go from the voice of God right into an award? Odd. It's hard to know if it will be better or worse, but it does feel reactionary, and that's never how you want to go into a big program." 
Brian Mullin, co-founder and partner, Manifold, San Francisco
"I think that the Oscars benefit greatly by having a host for the show. The right host can bring the perfect comedic flavor needed to keep the crowd engaged and entertained. Traditionally being a more 'technical' award show, a great host can merge all of the components together for an incredible evening of success, star power, and style." 
Yvonne McNair, founder and C.E.O., Captivate Marketing Group, New York
"The Academy is damned if they do, damned if they don't. After scrambling to find another host, any decision they take will be met with criticism. Ultimately, the ceremony can fare better without one particular host. Presenting talent can share hosting responsibilities and the Academy can leverage different personalities to keep the show fresh and fast moving."
Priscila Martinez, vice president of Element Brand Group and founder of the Brand Agency, Los Angeles
"Hosts can be a charming, fun and, entertaining way to enhance the awards experience. However, I think they've taken it too far in the last few years, making it a 'show in and of itself.' So winding it back to no host this year can begin a process of figuring out the perfect balance in future shows."
Natasha Miller, founder and C.E.O., Entire Productions, San Francisco
"At its core, the major award show format hasn't changed very much. Before the big budgets, elaborate production, and network support, it made sense to have a host to run the show. It was a necessary and vital component. With the recent changes in how we consume media and shortening attention spans, having a host sometimes seems forced. The results are typically subpar intros and skits to inject humor and memorable moments that result in dead air and awkward pauses. I feel like the change could be positive, and the Oscars might be better off without a host. With 2018 marking the lowest ratings ever for the Oscars, and viewership sinking 20 percent from the previous year, I think it's clear that producers need to rethink the format. This could be a great start."
Matt Stoelt, C.E.O. and creative director, Stoelt Productions, Los Angeles
Featured Venues/Suppliers: