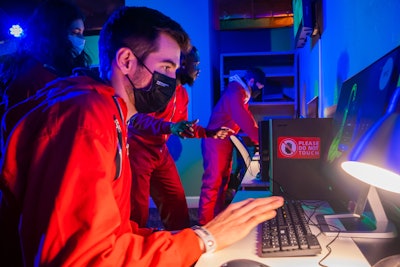 Photo: Courtesy of JJLA
After conceiving and creating "Money Heist: The Experience" in 2019, Netflix was forced to go back to the drawing board after the pandemic to reimagine the concept alongside event production agency Thinkwell Group and ticketing platform Fever. The team had already launched a Parisian rendition of the experience—an interactive fan activation inspired by the hit series—in the summer of 2021, but passed the baton this year to Los Angeles-based JJLA to outfit a production fit for an American audience still living in a COVID-restricted world.
From October to December 2021, JJLA "heisted" more than 15,000 attendees during a 70-minute interactive show at the DuPont Building in Miami, modeled after the Spanish drama series' plot where "the professor" leads a band of eight thieves looking to execute one of the most memorable crimes in history—and not get caught, of course. Today, the experience is currently popping up at Skylight One Hanson Place in New York through March 27, and it's already drawn 13,000 attendees.
"It really combines live theater with immersive production and large-scale fabrication with a consumer-generated intellectual property via Netflix," says Jeff Consoletti, founder and CEO of JJLA. "The Money Heist brand really gets fans excited to be part of the show with escape room concepts, so it's like you're on a high-energy amusement ride, but without the mechanic of a ride."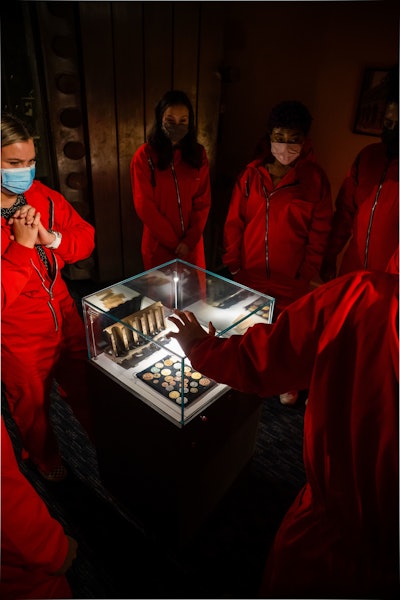 To get a closer look at the event strategy and production behind the interactive experience, BizBash chatted one-on-one with Consoletti about all things "Money Heist: The Experience"—including how JJLA executed a high-touch operation in low-touch times.
How is the experience set up to be interactive for attendees?
You have actors, show elements and rooms that lead you through about a 70-minute experience that immerses you in the concept of the show. Without giving away too much, [attendees are] heisted at one point in the show. In the first scene, the bad guys come out–similar to what you would've seen in the TV show–and they're held hostage. They put on red jumpsuits and Dali masks and now they're part of the heist.
Then [attendees are] dumped into an escape room that they have to solve, and that's when the challenge goes back to the audience. The goal in all of the shows is to break into the vault and get the gold. So they're charged with helping the heisters fulfill what they're taking over the bank to do.
What did production look like to make it theatrically immersive?
Our first step was building an acting company. I'm trained in theatrical production and design and then found my way into events, so it was a very full-circle life moment, and I was very excited to be sitting behind an audition table meeting actors for the first time. What's interesting is that it's not one group of actors because the show runs like an amusement ride. So when you come to the experience, there's a new show that starts every 12 minutes. In Miami, we had about 35 actors; in New York, we had about 48 actors. There are eight characters in the show and we built—from an operations standpoint—what we call a "pulse schedule," which really pulses actors and audience through the experience.
The actors really drive the story and the excitement. We have a lot of stage combat moments. There's a little love-story moment. You get the emotional highs and lows from what the actors are delivering. On top of that, we layer in theatrical production: strobe lighting effects and gunshot sounds and fog. In London, there's a laser maze and an obstacle course. You're on your feet and fully immersed.
The first episode of Money Heist premiered on Netflix in 2017. Why was now the perfect time to host this kind of event?
I think that's an example of how the pandemic got in the way of some projects, but Money Heist–until Squid Game–was one of the most widely watched and streamed Netflix shows, especially when it came to breaking down that international barrier, since the show is a Spanish-speaking show that originates out of Spain.
We were in the middle of the show in 2019 when it was at its utmost popularity, so the idea was that the experience would open in February and March 2020, then the extensions were meant to go into the summer of 2020. Obviously, none of that happened, so when it came out in 2021 it really wasn't tied to any new release of the season. Luckily, this fall, the final season was released in two parts on Netflix. That certainly helped to reinvigorate and remind fans that the show was there, but what's interesting is that the experience itself isn't just meant to be a marketing or promotional play for the series. It's really meant to help extend the properties beyond what you're watching on television. Similar to going to see Harry Potter World at Universal, it's a way for Netflix to bring their intellectual property beyond the screen and get people out of their homes and into the world of their shows.
How did your team handle COVID-19 protocols?
The simplicity of ensuring everyone is wearing masks–both actors and audience members–and really enforcing that was important. We still have intense cleaning practices. It is an escape room, and people are touching objects, so between every group, a cleaning room comes in, resets the room and wipes everything down. One of the biggest and most interesting things was working between Miami and New York simultaneously where [city] protocols are very different. We had the same baseline—audiences are required to wear masks and the groups were at a smaller capacity—but we couldn't enforce vaccinations in Florida. Versus New York, you have the Key to NYC Guidelines that our venue abides by as a Key to NYC venue. So in New York, it's very clear that everyone who's coming to the venue and everyone that's hired to work the experience is 100% vaccinated.
What was your team's greatest challenge in bringing Netflix's Money Heist to life?
Originally, getting back open was our greatest challenge. Plus, figuring out how to work with big brands like Netflix and Fever and coming to the table together as collaborators to say, "Yes, we can build back a big event like this."
We had a couple of turbulent weeks with the omicron variant. Actors had been exposed and, similar to Broadway having to cancel a show here and there, we had to do the same. When you have a communication plan in place and options for guests to be able to get refunded or reschedule their show really easily, we found that audiences were really responsive and appreciative of the measures we put in place.
What advice would you give to other event producers looking to get back to outfitting large-scale, high-touch events such as this one?
Continue to think creatively and out-of-the-box and strategically about ways to expand intellectual property. We often think in the traditional sense of, "Oh, there's a new show coming out or a new album dropping; let's have a listening party." But how can you take that a step further? How can we ensure that what you're pushing out for a brand, new release or launch of any kind is getting more broad appeal? That's an approach I've always had, and I think companies are looking for that—especially when it comes to different ways to get creative.
Keep scrolling for a closer look inside the experience.