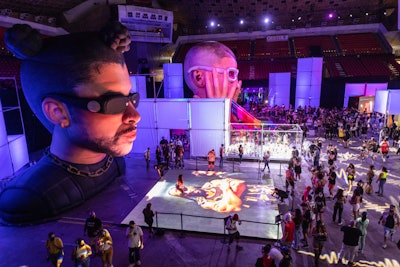 Photo: Courtesy of Cool Shit
PUERTO RICO—Puerto Rican-born rapper and singer Bad Bunny dropped his record-breaking sophomore album YHLQMDLG on Leap Day in 2020. The album title—which is an acronym for "yo hago lo que me de la gana" and translates to "I do what I want" in English—was exactly what the 28-year-old did when he performed his "P FKN R" show in his hometown of San Juan.
It was certainly a concert experience to remember as fans were welcomed to the Roberto Clemente Coliseum, a sporting complex turned performance venue, with a surprise Bad Bunny museum experience. Designed by art collective Cool Shit, the walk-thru experience boasted a creative kaleidoscope of inflatable sculptures, plus an array of interactive experiences for fans of Bad Bunny (known formally as Benito Antonio Martínez Ocasio).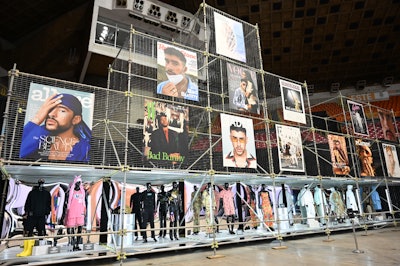 "Bad Bunny approached our studio to come up with concepts for his return to the stage after almost a two-year hiatus due to the pandemic. The inspiration came from the desire to delight and surprise his most loyal fans in his home of Puerto Rico," the Cool Shit team told BizBash. "The takeaway that we were hoping for was for Benito's fans to feel closer to the artist (and) to revel and be immersed in his world."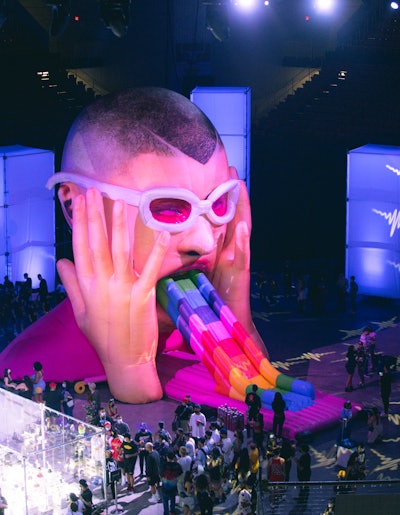 Upon entering the 50,000-square-foot venue, attendees (who thought they were only attending a concert) were greeted by a "P FKN R"-embossed towering facade that led them through a glow-in-the-dark tunnel decorated with the star's iconography and opened up to an exhibition-like space grounded by a Bad Bunny inflatable slide sculpture. When guests climbed into Bad Bunny's mind (literally), they heard unreleased music, set to be played live for the first time at Bad Bunny's upcoming World's Hottest Tour—his inaugural stadium tour kicking off Aug. 5 in Orlando, where the Puerto Rican reggaeton artist will travel to 29 cities across the U.S. and Latin America.
A total of 80,000 fans romped through the multi-room, two-day experience—which took place Dec. 10-11, 2021—where a giant LCD screen on the floor played the match where Bad Bunny, a former WWE wrestler, won the 24/7 championship title against Akira Tozawa. Fans could also admire Bad Bunny's car, a Bugatti Chiron he purchased for $3 million, as it was parked inside the museum, plus a large-scale replica of his Forum Low sneaker made in collaboration with Adidas as well as an exact replica of his childhood bedroom.
Cool Shit tapped local production support team Quest Production to help with the creative process, which Cool Shit's team said took "just under three months from conception, fabrication and installation. It was a new personal record for something of this scale."
The team also noted that Cool Shit did not measure any specific ROIs or KPIs as "this event was to surprise and give back to Benito's fans." In an effort to curate every corner of the experience, fans were sent off to the concert with a series of six Bad Bunny hands forming his emblematic pinky-in-the-air gesture, complete with lasers shooting into the sky.
"The value (and) beauty of our artwork was incalculable, albeit an essential factor to the whole experience," the team added, noting that the biggest challenge was "creating a coherent journey tying together multiple experiences and activities. It was a truly unique moment across multiple spaces with 40,000 people passing through each day."
Keep scrolling for a look inside the pre-show, surprise museum experience.