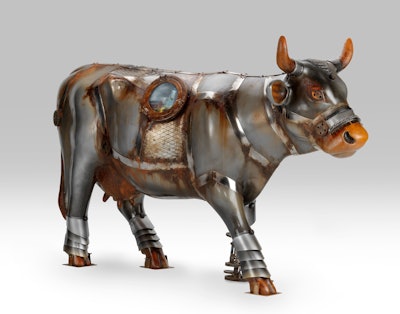 Photo: Courtesy of Dana-Farber Cancer Institute
BOSTON—They say events are a relationship-based business. And that's never been more true than in the serendipitous story of how experiential marketing agency VDA ended up hosting 75 massive cows in its warehouse space.
No, they weren't real cows. The life-size cows—which weigh 125 pounds each—are made with flame-retardant fiberglass and designed by local artists as part of CowParade, a fundraising event that has been held in more than 80 cities and raised more than $30 million for various charitable organizations since 1999. In 2023, the one-of-a-kind sculptures are appearing at landmarks throughout the Boston area from June 24 to Sept. 4. The pieces will be auctioned off to benefit Jimmy Fund, which supports cancer research and care at Dana-Farber Cancer Institute.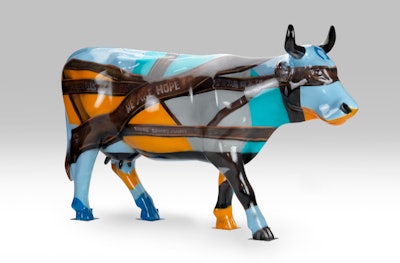 This year, Dana-Farber's event team decided to hand-pick the artists who would be participating, both to ensure they had a mix of professional and emerging creators along with diversity of age, race, and sexuality. As a professional musical theater performer who's passionate about the arts, Maryann Zschau—associate director of event fundraising for Dana-Farber Cancer Institute and Jimmy Fund—was tasked with leading the artist search and coordination. Ultimately, she selected 60 artists to design the 75 cows, a number that was chosen to mark Jimmy Fund's 75th anniversary.
Of course, a public event of this size is no easy thing to coordinate. The event team quickly began looking for a space that could accommodate the artists—who ranged in age from 12 to 80—as they created their cows using everything from acrylic and aerosol paint to mosaic tile, metal, and recycled materials.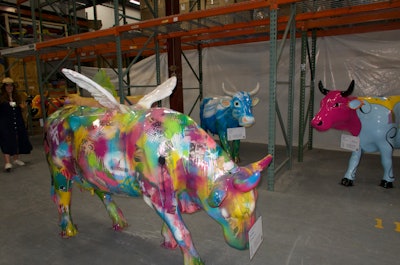 Enter: VDA, an experiential marketing and event design agency in Somerville, Mass. Zschau and VDA founder David G. Breen had a friendship dating back to the 1990s from their time in Boston's theater scene, so when Zschau began looking for warehouse space, she thought he might have some ideas. It just so happened that he did have a warehouse space with room to spare—and that Dana-Farber Institute held a special place in his heart.
"In our second or third meeting, David got on a call and said, 'This was a natural yes for me,'" recalled Zschau, who assumed it was because of their existing relationship—until he said, "'Dana-Farber Institute saved my wife's life.' ... That was the defining moment for all of us that said, 'We can do this.' A year and a half later, seeing his wife at the kickoff party and seeing him get up there and say, 'Welcome to my house. You're here because my wife's here, too'—I knew we chose the right partner. It gave me chills."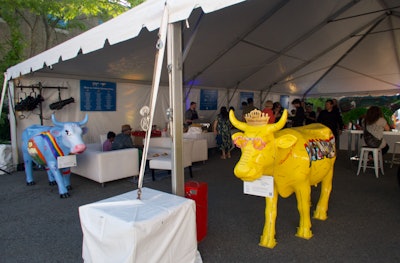 Breen explained that partnering with the nonprofit made sense for name recognition for his company, to help cultivate a philanthropic culture among his employees, and, most importantly, due to his personal connection to the cause. "My wife is a breast cancer survivor," noted Breen, "and so my affinity for Dana-Farber Cancer Institute is very, very high."
The VDA office ended up matching Zschau's needs perfectly because the team hosts its fabrication and production shops right on-site. "So we had this 70,000-square-foot warehouse, which of course was filled with stuff, but we were able to reimagine the space to fit bays for the artists," Breen remembered. "We managed to create a full aisle of 8-foot-long bays that could host the artists as they worked."
The teams set up a carefully coordinated schedule where artists could rotate through, 14 at a time, over three months. When the cows were finished, the VDA team brought them into their on-site paint shop to do all the coatings, ensuring the cows were ready to be outdoors for the duration of CowParade.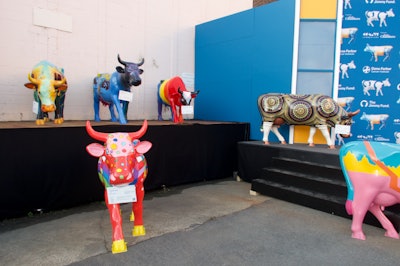 Having everyone work in one warehouse created a fun sense of community and collaboration, added Breen, noting that many artists forged friendships working together in the warehouse together. "It was a really fascinating byproduct that didn't occur to me when we were so focused on logistics. The art community really came together—and what I loved was that VDA, as a creative agency, became the center of that community interaction."
VDA's office was also the site of CowParade's official launch party, which took place June 15 in the parking lot right outside the warehouse. The key there, Breen explained, was to turn a huge parking lot—that these artists had visited regularly during the process—into an intimate, transformed space that showcased all 75 cows in one place (the only time that would happen for the duration of the event). The team used 26-foot inflatable domes to segment off the space and create the proper flow. Within the party area, VDA constructed tents with various lounge areas, F&B, and a small stage. City skyline elements were used to celebrate the city of Boston.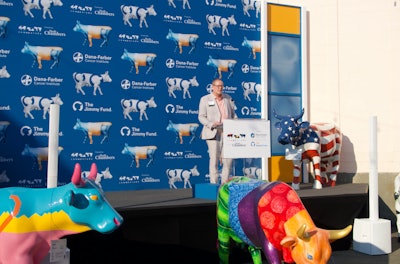 Another fun element of the launch event? A "mini moo"—a smaller cow about the size of a Labrador retriever—was on display and covered with hearts. Each artist was invited to paint a message in one of the hearts. In total, this year's CowParade has 10 mini moos, in addition to the 75 cows. "Our youngest artist was 12 and a patient, and she created the opportunity to show people what patients do at the Jimmy Fund clinic," Zschau said, noting that patients do something called syringe painting, where they put paint in a syringe and squirt it at canvases. "[This patient's] mini moo is all a syringe painting, and it's beautiful."
Several other mini moos were designed by students, often those who were being educated by the main artists. For example, "We have a mosaic artist who cut thousands of mosaic tiles for her full cow. And then her fifth- to seventh-grade students did mini moos," said Zschau.
The sense of community continues in the placement of the cows throughout the city, with locations strategically chosen to reach the widest possible range of populations. This tied nicely into Dana-Farber's outreach strategies, which include things like a mammogram van that can travel to underserved communities. "The cows weren't only installed in Boston proper or in popular tourist locations," explained Zschau. "It was really important to the city of Boston—in particular the Mass Cultural Council, as well as the Dana-Farber folks—that the cows also went to areas that were heavily populated with more diverse populations so that everyone felt included."
"Everybody asks, 'Why cows?'" she continues. "[The CowParade team's] response is, 'Cows are happy.' It's so simple. A painted cow makes everyone smile."