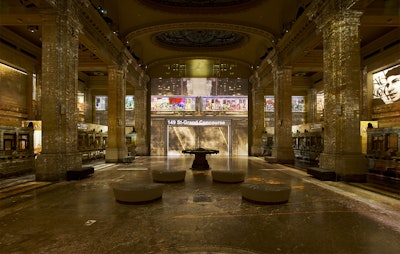 Photo: Mark Zhelezoglo
On Aug. 11, 1973, one small event changed the course of music history forever. In the rec room of his South Bronx apartment complex at 1520 Sedgwick Ave., DJ Kool Herc threw a "Back to School Jam" for his sister Cindy Campbell and debuted his groundbreakingly brand-new style of looping drum and percussion breaks on records.
Herc's turntable technique soon caught the attention of other DJs in the Bronx and the rest of New York, and eventually spread to cities throughout the U.S. From Los Angeles to New Orleans, Detroit to Chicago, and Atlanta to Miami, hip-hop culture grew into a nationwide staple-turned-worldwide phenomenon.
Throughout its five-decade evolution, hip-hop has shaped the event landscape as the soundtrack to hundreds of thousands of nightclub parties, brand launches, fashion shows, music festivals, and beyond. Here's how the U.S. event industry is celebrating and saying "hip-hop hooray!"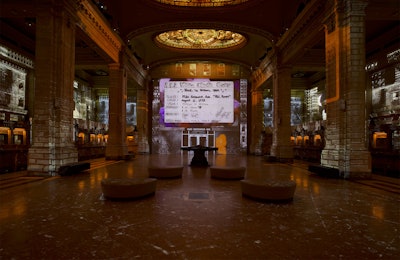 "Hip Hop Til Infinity" at Hall des Lumières
On Aug. 2, global entertainment company Mass Appeal and hybrid creative studio SUPERBIEN unveiled "Hip Hop Til Infinity" at Hall des Lumières, a Beaux Arts landmark museum in New York City. The digital installation transports guests through hip-hop's different eras and regions—from the skate parks to the stage to the metaverse.
"Hall des Lumières is honored to host this commemorative installation celebrating such an important cultural milestone," shares Tim Ceci, managing director of Hall des Lumières. "It's exciting to offer this experience to our guests, something totally unique from our previous two exhibitions, and we're grateful to our partners for their collaboration." The exhibition will run through Sept. 17.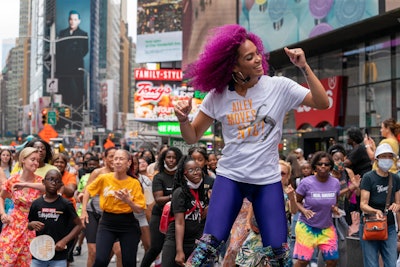 Dance in Times Square Ailey Extension Hip-Hop 50th Anniversary Celebration
Since May, Ailey Extension has hosted Dance in Times Square, a series of complimentary outdoor dance classes ranging from Broadway jazz to New York-style mambo to West African dance. On Thursday, Aug. 10, the conclusion of the summer series brought the Hip-Hop 50th Anniversary Celebration to one of New York City's liveliest areas. The special dance party was in partnership with Times Square Alliance, where Ailey Extension instructor and South Bronx native TweetBoogie and her A-squad of dancers taught a vibrant crowd of participants classic hip-hop moves as they grooved to beats courtesy of a live DJ.
"What better place to celebrate the 50th anniversary of hip-hop than in Times Square, New York City?" shares Lisa Johnson-Willingham, director of Ailey Extension. "We wanted New Yorkers from every corner of the city to feel the joy of dance and its power to build community."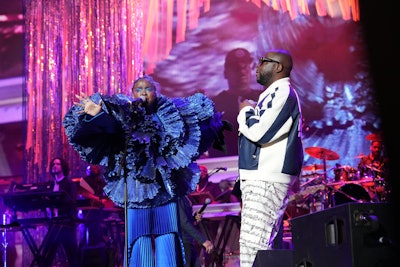 ESSENCE Festival of Culture's 50 Years of Hip-Hop Programming
From June 29 to July 3, a special edition of the New Orleans-based ESSENCE Festival unfolded with exclusive programming to honor 50 years of hip-hop history. Festival partner Solomon Group produced dynamic stage and lighting at a three-night concert series at Caesars Superdome to honor hip-hop. The stage transformed for each featured artist. Lauryn Hill's performance was accompanied by a 29-piece orchestra, while Missy Elliott's ensemble included a spaceship journeying guests through her career.
Additionally, ESSENCE AUTHORS, powered by Mahogany Books, curated book signings and fireside chats with authors like Jeezy from the hip-hop community. "Hip-hop's immense influence made it important for us to be intentional about how we celebrated the 50th anniversary," explains festival vice president Hakeem Holmes. "We took great pride in our sponsors for wholeheartedly embracing this celebration and making hip-hop a meaningful part of their activations this year."
South Florida Book Festival Presents: "WORD! Celebrating 50 Years of Hip-Hop Culture"
From July 13-15, various hip-hop leaders, scholars, and authors came together at Broward County Library's African American Research Library & Cultural Center (AARLCC) for the 11-year-old 2023 South Florida Book Festival. "WORD! Celebrating 50 Years of Hip-Hop Culture" explored the cultural explosion influenced by the hip-hop movement. Featured guests and speakers at the Fort Lauderdale event included notable authors Kwame Alexander, Rob Kenner, Dr. Regina Bradley, and Kevin Powell. In addition to panels and talks, highlights included Hip-Hop Hooray Children's Day presented by the Museum of Graffiti and Girls Make Beats, Olujimi Dance Theatre's T.W.E.R.K. performance, and a Kicks & Sips benefit with beats by DJ Kemp.
"As a member of the hip-hop generation, it was important to me to take the opportunity to rehabilitate what people think they know about the genre and culture, and put it into context as the next iteration of Black cultural creativity, right behind blues and jazz," shares Dr. Tameka Bradley Hobbs, AARLCC regional manager. "Behind the beats and breaks exist powerful stories of survival and humanity. Our festival gave people the chance to connect across generations and presumptions."
Masters of the Mic: Hip-Hop 50 Tour
The eight-date Masters of the Mic concert tour featuring Big Daddy Kane, Doug E. Fresh, KRS-One, Rakim, and Slick Rick—with special guests including EPMD, Roxanne Shante, and DJ Spinderella—kicked off June 30 during ESSENCE Festival in New Orleans. Presented by Universal Attractions Agency, RAMP Entertainment Agency, and Mahogany Events, the collab brings together the founding fathers of hip-hop onstage as a supergroup paired with live band elements to showcase the origins of hip-hop and how far it's come today.
"This is truly unprecedented," boasts Universal Attractions Agency co-owner Jeff Epstein, who conceived the collaboration with Doug E. Fresh. "To have such an elite group of hip-hop icons from the golden era coming together to celebrate 50 years of hip-hop music this way… it's truly mind-blowing."
The tour continues with various dates in Virginia, North Carolina, Delaware, and Texas, through Oct. 14.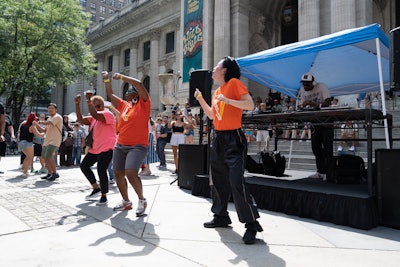 Dance Party NYC
On Aug. 5, the New York Public Library hosted a special, family-friendly edition of Dance Party NYC to celebrate 50 years of hip-hop with various crafts, workshops, and plenty of plaza dancing outside the Stephen A. Schwarzman Building with beats by DJ Duane Harriott. Guests took hip-hop dance lessons courtesy of New Victory Theater's own Olney Edmondson and Sun Kim, decorated their own kicks, and signed up for special-edition hip-hop library cards to commemorate the event.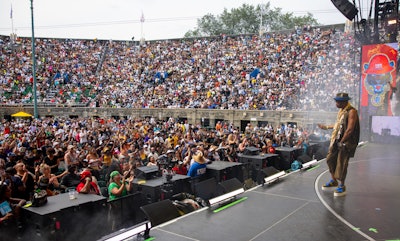 Rock the Bells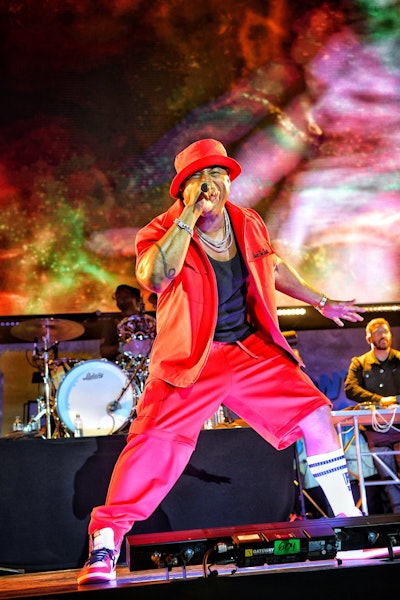 The second sold-out installment of Rock the Bells at Forest Hills Stadium brought an energetic crowd to Queens, New York City, on Aug. 5. In addition to festival founder LL Cool J with The Roots and DJ Z-Trip, notable talent included Run-DMC, Queen Latifah, Ludacris, Method Man & Redman, De La Soul, Big Daddy Kane, Swizz Beatz, Salt-N-Pepa, Rakim, Slick Rick, and others. Co-presenters Walmart and Procter & Gamble (P&G) rolled out programming throughout the day.
The Walmart Makers Studio "Black & Unlimited" platform pop-up was inspired by emerging Black creators shaping hip-hop, while various P&G brands like Head & Shoulders, Old Spice, King C. Gillette, and My Black is Beautiful contributed to the VIP Kings & Queens Day Spa. Plus, there was a New York-style bodega merch shop, Food That Slaps programming in partnership with the James Beard Foundation, and a mock subway station sponsored by M&M's.
"It's a special year for the culture and for Rock the Bells in curating this experience, bringing together the icons of hip-hop," says LL Cool J, founder and CEO of Rock the Bells. "There's no better place for me to perform during this moment in hip-hop than my hometown. This isn't just a festival; it's a testament to the power of the culture that changed the world."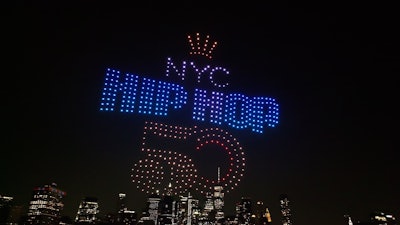 Pixis Drones at 5X5 Block Party Series
Announced by New York City Mayor Eric Adams, the free, five-borough 5X5 Block Party Series is a partnership with ITSALLBLACKMUSIC PRESENTS and hip-hop legend KRS-One to merge music with street art, food, and entertainment education.
The team from Pixis Drones was also tapped to take to the skies to curate collaborative drone light shows honoring iconic hip-hop imagery for the 50th anniversary celebration series.
"We are so proud to have worked with the mayor's office to bring our drone light shows to the people of New York," said Bernard Ozarowski, president of Pixis Drones. "It was amazing to see the audience reactions in Brooklyn and Queens as we honored some of the hip-hop legends from each borough." Pixis Drones will continue its curation in the Bronx (Aug. 12) and Harlem (Aug. 13).
Upcoming Events
Expect plenty more merriment to unfold as the 50th anniversary of hip-hop celebrations continue this weekend. Here's what to bookmark:
Aug. 11
Hip-Hop's 50th Birthday Jam: The Universal Hip Hop Museum is hosting a free block party at Mill Pond Park in the Bronx, New York City, from noon-6 p.m. View live graffiti by Thrive Collective artists, a RAPMANIA showcase, an Open Cypher hosted by Red Bull BC One, and more.
Hip-Hop 50 Live at Yankee Stadium: Catch Run-DMC, Snoop Dogg, Lil Wayne, Wiz Khalifa, Ice Cube, Fat Joe, Eve, Lil' Kim, Trina, and many more in the birthplace of hip-hop (the Bronx) for a legendary concert—plus the founder himself, DJ Kool Herc, and his sister Cindy Campbell leading a special "Pillars of Hip-Hop" set with The Sugarhill Gang, Kurtis Blow, and others.
Hip-Hop's 50th Birthday at Hutton Hotel: Presented by Analog at Hutton Hotel in Nashville, Tenn., Daru Jones will curate a night of hip-hop with an all-star band featuring Pharoahe Monch with th1rt3en, Pete Rock and members of The Soul Brothers, Jermaine Holmes, Christopher McBride, Brandon Newsome, Marcus Machado, Chad Selph, and David "DJ" Ginyard. Guests can book rooms at Hutton Hotel with the code "hiphop" to receive $50 off in celebration.
Aug. 12
Hip-Hop 50 KC: Local DJs, emcees, break-dancers, and graffiti artists will join forces at the Gem Theater from 7-9 p.m. to celebrate hip-hop's birthday in Kansas City, Mo. Plus, there's a VIP meet and greet reception with sips and bites starting at 6 p.m.
DMV Hip-Hop 50: From 8-11 p.m., Lincoln Theatre in Washington, D.C., will host a concert and celebration featuring the pioneers, national stars, and hometown heroes of the DMV (D.C., Maryland, and Virginia) rap scene, including performances by Oddisee, DJ Kool, ADÉ, Nonchalant, and others.
Aug. 13
ATL50 Hip Hop: Yesterday, Today and (404)-Ever: Following Hip-Hop Spirit Week activities produced by the City of Atlanta, the Big Peach will host a free concert hosted by Mayor Andre Dickens, Jermaine Dupri, and Ryan Cameron at Lakewood Amphitheatre from 4-8 p.m. Performers include icons like T.I., Goodie Mob, EarthGang, Backbone, and more, with special guest appearances, as well as celebrating 5,000 youths who participated in Atlanta's Summer Youth Employment Program.