MTV Takes VMA Money and PR Blitz to Miami
February 15, 2006
When
MTV
doles out its moon men on August 29 and celebrities hop from one over-the-top after-party to the next, one guest will be conspicuously absent: New York. After five consecutive years here,
MTV's Video Music Awards
are heading to Miami. "It needed a little change of pace," explained MTV spokesperson
Graham James
. "And there's a lot going on in New York this year."
By "a lot," James means the
Republican National Convention
. The Republicans are bringing a reported 50,000 people, including 15,000 media types, for the convention, which will overtake the city from August 30 to September 2.
Of course, New York didn't own the VMA ceremony, which has been held in Los Angeles nine times in its 20-year history. But the event industry got used to having it around. The VMAs are practically New York's
Oscars
. On top of the main event, which is broadcast live to millions of viewers, the city hosts dozens of related parties and marketing stunts held by magazines, record companies and celebrities, keeping event planners and their vendors abuzz with business.
The impact of the move to Miami on the New York event industry can be felt at every level of the event planning food chain. "You count on it and look forward to it coming around," says
Jill Simon
of
Greenroom
, who helped design the backstage area of the award show last year. This year she's looking for a way to make up for the missing business.
Amy Sacco
, owner of
Lot 61
and
Bungalow 8
, has hosted VMA-related parties for MTV,
Sean
"
Puffy
"
Combs
and
Interscope
. "It's probably a $50,000 per space loss at a minimum," she laments. And then there are the intangible losses, such as the PR and marketing value of hosting the recording industry's biggest bigwigs and gaining an influx of business during a notoriously slow month. "We're extremely bummed."
The Catering Company
typically caters the award show's green room, and co-owner
Suzanne Gilliam
says she was disappointed to learn she wouldn't get to participate this year. Going to Miami wasn't even an option because MTV chose a venue, American Airlines Arena, with an in-house caterer.
But not everyone is missing out on the party. Some industry players are hoping to pack up the sunscreen and seize a piece of the business in Miami.
MKG Productions
president
Maneesh K. Goyal
, who produced
Puffy's 11 PM to 6 AM soiree
at
Show
last year, is in talks with two different party hosts.
Goyal expects an increase in expenses since he won't be working with many of his preferred vendors from New York. Another difference? "New Yorkers know the drill with high-profile events," he says. "You don't show up to Puffy's party unless you're invited. There, people are going to show up."
Among the other challenges of adapting to the Miami party scene is finding the right local vendors. "The ones who can absorb the learning curve the fastest will have the more successful events," says
Brian Gordon
, a former
Bragman Nyman Cafarelli
executive who recently left New York to start
Miami Marketing Group
in Florida, where he and partner
Dave Grutman
are producing VMA-related bashes for
Paris Hilton
and
Outkast
.
One event planner facing that learning curve was
Brett Kassan
, promotions associate for
Blender
. When we spoke to her in June, she was in the midst of finding the right venue for the party—a challenge considering the limited number of venues compared to New York. "There are fewer places to do an event than in Manhattan, where you have a spread of a million clubs," she says. "It's harder to find a big venue that can accommodate a lot of people."
Regardless of what happens in Miami at the end of August, the New York event industry will be plenty busy. The
NYC Host Committee
, the organization created to host the R.N.C., says the convention's overall economic benefits to New York will be in excess of $265 million. And New York's event planning industry is sure to get a piece of the action.
That will more than offset the financial loss of MTV's move. Although there are no official numbers for the VMAs, various reports estimate that the similar-sized
Grammy
awards bring between $23.2 million and $40 million to their host city each year.
But unlike the VMAs, the Republicans offer little in the sex appeal department. "If anything will hurt the nightlife of New York, it'll be the thousands of Bush supporters trying to get into
Marquee
and the
Flat
with their suits and ties still on," says
Matt Heien
, head of the east coast entertainment division for Bragman Nyman Cafarelli, who planned last year's
VMA after-party for Maverick Records and Sony PlayStation
at the
Four Seasons
. "That'll ruin a good scene real quick."
—
Michele Marchetti
This story originally appeared in the summer 2004 issue of the BiZBash Event Style Reporter newspaper.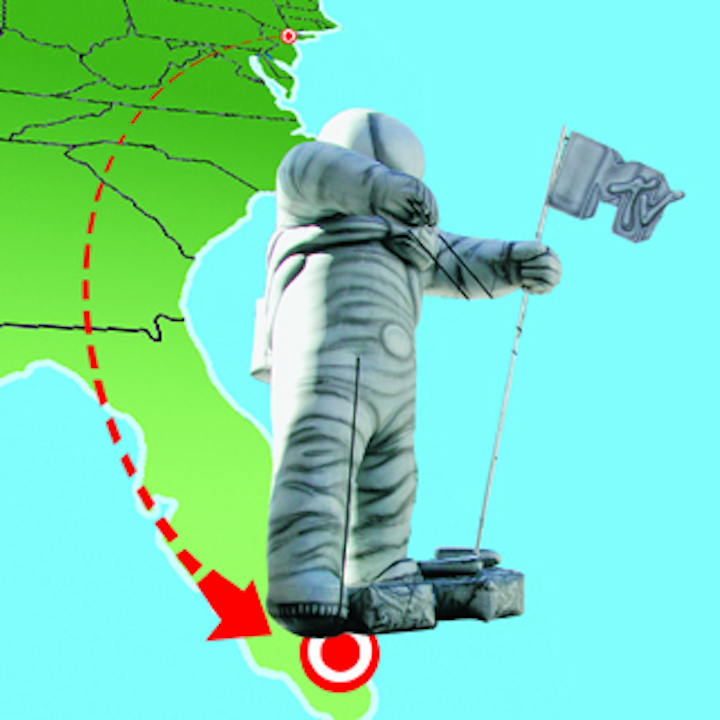 Featured Venues/Suppliers: