Sharks Infest Beverly Hilton Pool at Discovery's Shark Week Anniversary
August 6, 2012
To mark the 25th anniversary of Shark Week, Discovery hosted an event on Thursday, August 2, that put sharks in the pool of the Beverly Hilton. The scary fish weren't real, of course, but rather convincing projections devised by the planning and production team. The evening affair was overseen by Discovery Communications vice president for global events and brand activation Jeff Kaplan, who worked Event Eleven on the production.
The event took over the hotel's pool area, where guests scooped up drinks from Shark Week sponsor Miller 64 and nosh like shark-fin-topped cupcakes that organizers flew in from Georgetown Cupcake, a company featured on TLC show DC Cupcakes (an organic tie-in of another Discovery property). Eyes darted to moving projections on the large white wall above the pool—oft used as a dramatic screen for events like HBO's annual Golden Globes party—as well as in the pool, where sharks appeared to swim menacingly to and fro. DJ Alex Merrell spun from a booth set up right in the water.
"We knew we couldn't host a Shark Week event poolside without using the pool," said Kaplan. "Our main obstacle was we only had three and a half hours to load everything in and flip the pool from a resort to a Shark Week experience. Because we were using projection on the giant wall, we decided the best way to utilize the pool was to project into it. We didn't want to compete with any ripples though the water, so Andrew Shortell on my team helped design some silhouettes of sharks swimming and projected them throughout the night."
Sponsor Volkswagen set up a branded area out front near the valet station, with two Beetles, and inside the party space sat a custom-built, red VW shark cage—a setup that's part of Shark Week on-air. "This cage was designed and constructed as part of the VW sponsorship, and is an exact replica of the new VW Beetle. You will have to wait until August 12 to see how it was used on air, but it is spectacular. We actually wanted to submerge it in the pool, but the load-in time made that prohibitive. It ended up being a very popular photo op," said Kaplan.
In a poolside cabana, 3net—Discovery's 3-D channel in partnership with Sony and IMAX—showcased one of its new shows, Storm Surfers (in 3-D, naturally) and displayed its iPad app for guests.
Near the entry and exit door sat a sand sculpture created in honor of Shark Week's milestone anniversary, complete with a realistic likeness of a toothy shark with open jaws.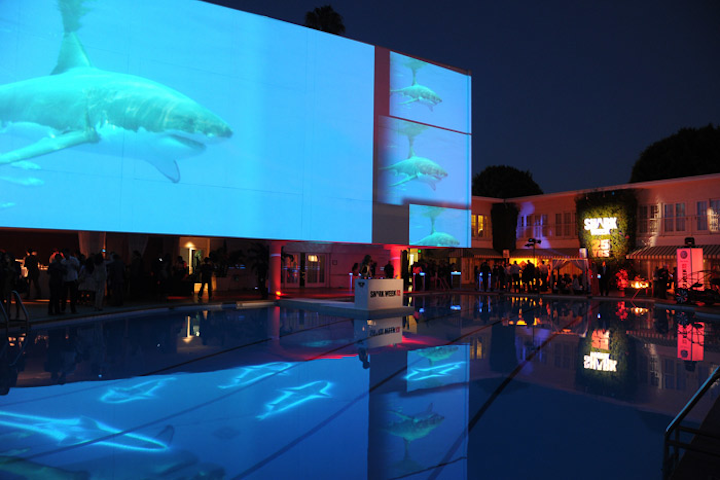 Photo: Courtesy of Discovery Communications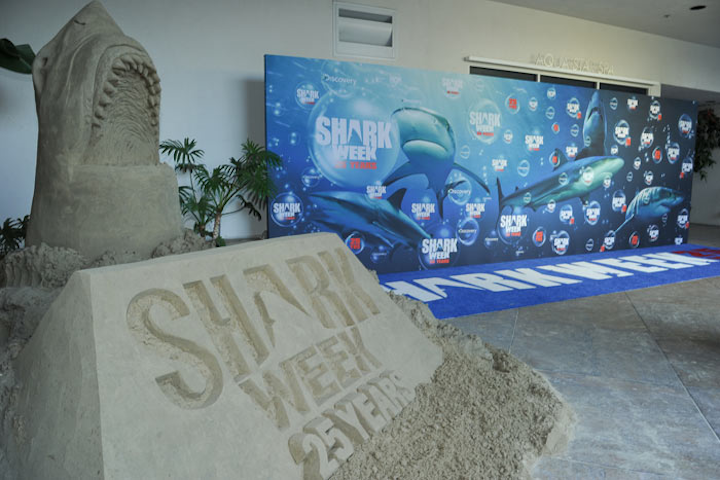 Photo: Courtesy of Discovery Communications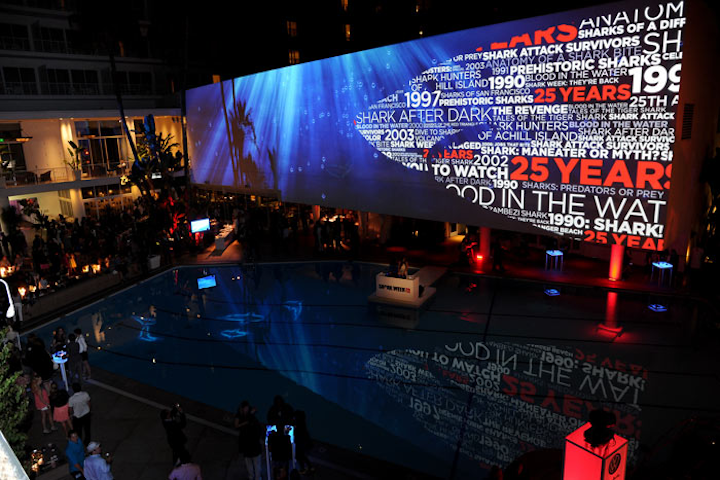 Photo: Courtesy of Discovery Communications
Photo: Courtesy of Discovery Communications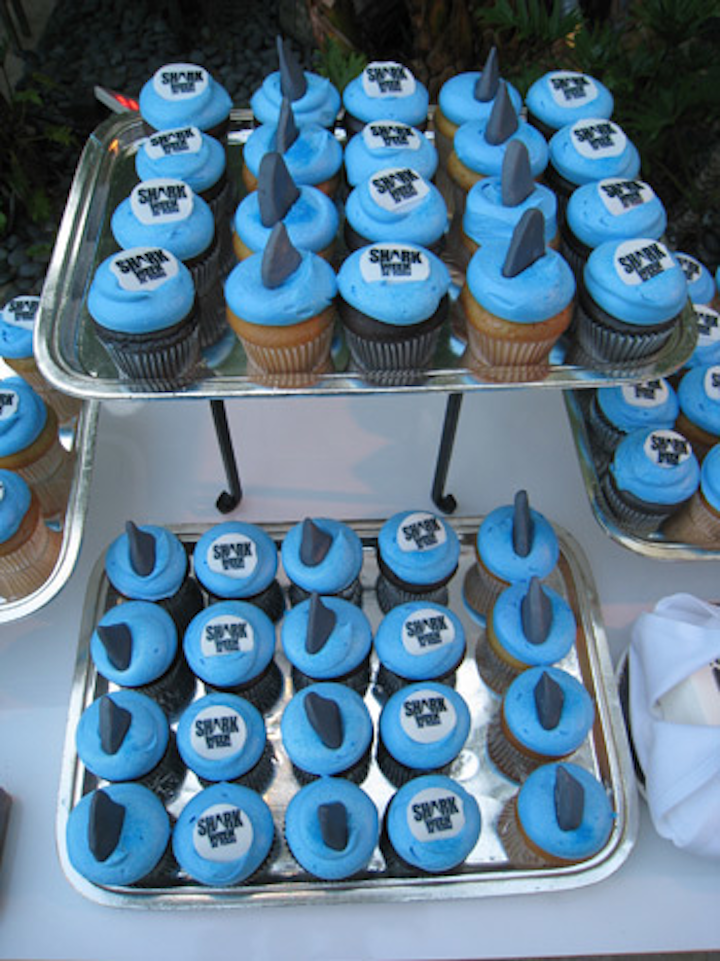 Photo: Courtesy of Discovery Communications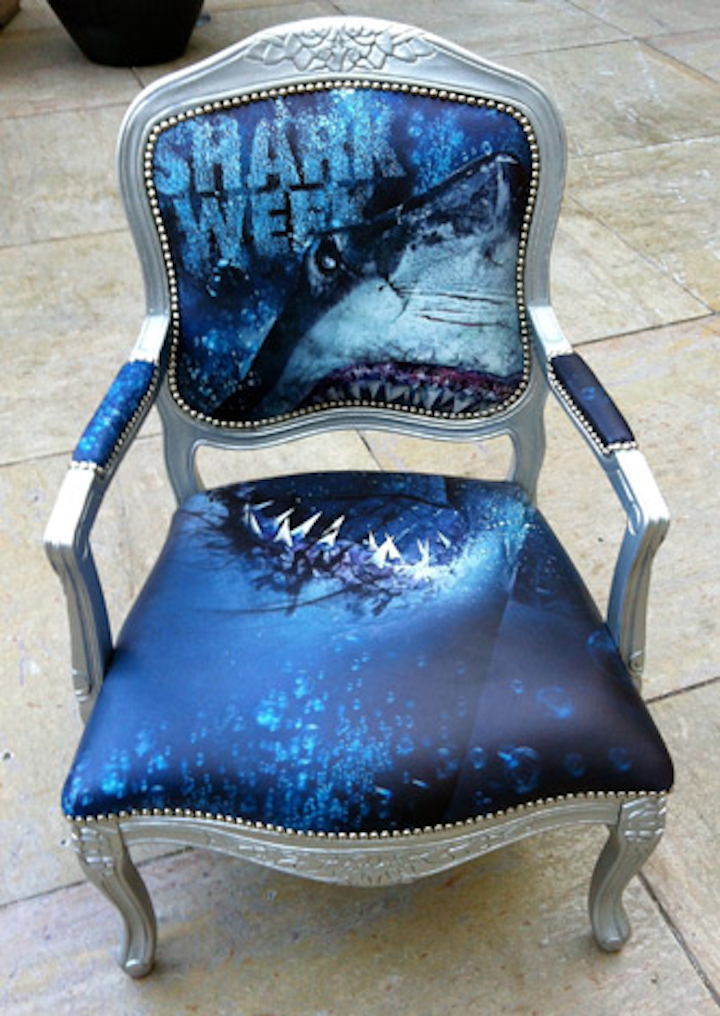 Photo: Courtesy of Discovery Communications
Featured Venues/Suppliers: