Coachella Party Preview: Armani Exchange, Lacoste, 'Nylon,' Guess, 'Filter,' 'Details,' and More Brands
April 9, 2012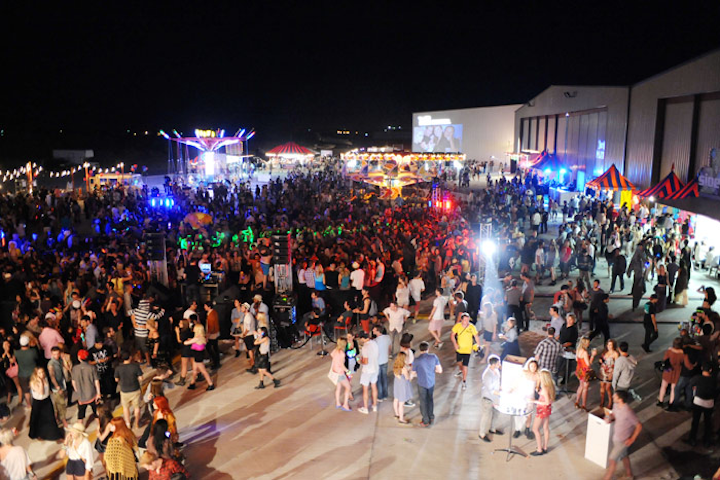 Photo: Seth Browarnik/WorldRedEye.com
Coachella festival producer Goldenvoice last year announced its decision to expand this year's festival from one weekend to two. The annual concert will now take to Empire Polo Club in Indio from April 13-15 and April 20-22. So what does that mean for the brands on board to market their wares? Most returnees and newbies alike plan to stick with a one-time presence during the festival's first weekend.
Among them is Armani Exchange, which is hosting its third annual "Armani Exchange and T-Mobile Neon Carnival" late on Saturday night at a remote airport hangar not far from the festival grounds. The night will celebrate the launch of Armani Exchange's new Color Pop watch collection and T-Mobile's HTC One S device, and will include its signature carnival accoutrements, like a Ferris wheel, giant slide, bumper cars, snow cones, and cotton candy. Bolthouse produces, and Shadow and PMK-BNC handle PR for the event, one of the weekend's most coveted.

The roster of fashion brands that piggyback on the show seems to grow each year; look for a presence from the likes of H&M, Mulberry, and Madewell. Also coming back the first weekend of the festival is Lacoste. The brand's younger line, Lacoste Live, will host its pool party, presented by HTC, and bring back its signature green crocodile pool rafts. Food will come from L.A.'s Slice Truck and Don Chow Tacos trucks, and frozen treats will come from sponsors Fiji, which will provide snow cones, and Patrón, which will provide spiked Popsicles. At the party, produced by Made With Elastic, Look for activities like giant Twister, speedboat racing, and a phone-charging station, plus a pop-up shop offering discount shopping to benefit the Voice Project. And Guess will host its Guess? Hotel in La Quinta, with daytime parties during the first weekend.

Magazines are also a popular category as party hosts, with Details partnering with Hennessy V.S. to bring its "Details @ Midnight" franchise to Coachella. The latest installment will include a performance by Asher Roth. The event provides a platform for Hennessy to generate further awareness for the brand's new communications campaign, "Wild Rabbit." Another magazine on board will be Nylon, for which People's Revolution is working on a brunch and barbecue party with Hugo Boss at the "Hugo Boss Escape House" at a private home in La Quinta on Saturday. Performers will include Rye Rye, Sucré, the Misshapes, DJ Adam12, Mia Moretti and Caitlin Moe, DJ Oliver, and Mel Debarge. Filter magazine will celebrate 10 years in print—which conveniently coincides with the 10th anniversary of its Coachella kickoff events—with Thursday events before both weekends. For the first time, Planet Blue will also host a Coachella event, with Foam magazine and 90210 actress Gillian Zinser at the Alcazar Hotelin Palm Springs on the first weekend. Drinks will come from Pabst Blue Ribbon and Peligroso tequila, DJ Zinzi Edmunson will spin, and Snap Yourself will provide the photo booth.
Night Vision Entertainment, the Alliance, and Chevy Volt will present a lineup of two pool parties on Saturday and Sunday during the first weekend. The event, known as "The Mirage," will be centered around a massive 4,000-square-foot pool in Rancho Mirage. Belvedere will be back with its Belve Music Lounge on Friday and Saturday during the first weekend. The Ace Hotel will host its annual Desert Gold parties with diverse and global music, and Flaunt and KCRW will be among the brands present at a weekend-long party at the new Saguaro. At its restaurant, Tinto, Lexus will host a private dinner Friday night.
Featured Venues/Suppliers: