How This Golf Tournament Reinvented the Game for Fans
The Northern Trust celebrated New York culture with updated fan experiences, premium offerings, and more.
September 4, 2019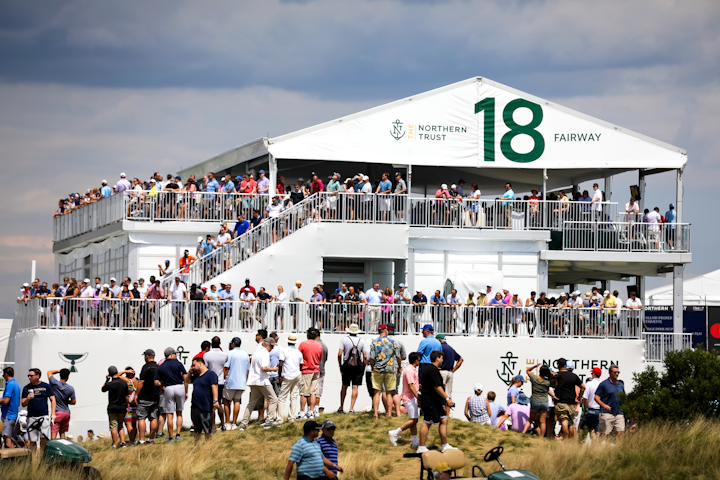 Photo: Brian Williams
JERSEY CITY, N.J.—Unlike other sporting events, golf tournaments typically aren't known for drawing casual observers looking for a good time. But the organizers of the Northern Trust are trying to change that.
This year's tournament, the first event of the P.G.A. Tour's FedExCup Playoffs, took place at Liberty National Golf Club in Jersey City August 5 to 11. It is one of the few times that the general public is able to experience the private, members-only golf course that boasts views of the New York City skyline and the Statue of Liberty.
In addition to attracting serious golf fans, one of the goals of tournament organizers was to create a more buzzy social event. "If you want fun with a 'side' of golf, we have that, too," said Julie Tyson, executive director for the Northern Trust. "To attract casual fans, we partnered with global brands fans already know, love, and trust like Grey Goose and Nordstrom. We also partnered with local cult favorites like Pizza Vita and Torico ice cream to bring local flair to our international attendees."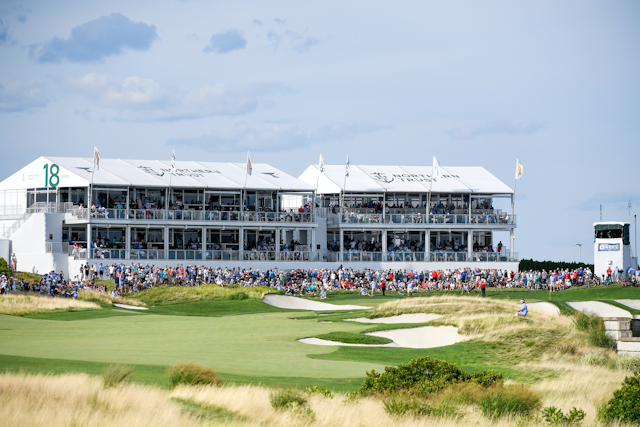 To cater to attendees, organizers provided "fan journeys" that included maps highlighting points of interest, along with itineraries to guide them around the course.Ben Jared/PGA Tour

To cater to specific attendees such as families and foodies, organizers designed custom "fan journeys," with maps highlighting food stands, restrooms, and more, along with itineraries to guide them around the course based on their interests, such as where to snag an Instagram-worthy shot. (Fans were encouraged to tag #TheNorthernTrust and @TheNTGolf when posting to social media.)
Because the tournament's location now alternates each year between golf courses in the New York City area and TPC Boston, a private golf club in Norton, Massachusetts, Tyson and her team wanted to help fans make the most of their time. "We first created fan journeys in 2018, recognizing the tournament's rotation may make it challenging for fans to know how to maximize their tournament experience each year when not familiar with each venue. Our fan journeys take the guesswork out of the on-site experience by providing step-by-step routes for different types of fans."
The tournament also underwent a rebranding in 2017 when Chicago-based financial services company Northern Trust replaced Barclays, which had sponsored the tournament since 2005. That combined with last year's announcement about the rotating locations offered organizers the opportunity to lure in both old and new fans as well as compete with more widely recognized tournaments like the U.S. Open and the Masters.
To that end, Northern Trust organizers introduced a new high-end hospitality suite, called the Liberty Club, at this year's tournament. The premium venue included all-inclusive dining, a private shopping experience, concierge service, player meet-and-greets, a V.I.P. ferry arrival, and elements designed by contemporary artist Peter Tunney.
"The idea for the Liberty Club was to be able to serve those interested in a white-glove, ultra-V.I.P. luxury experience at a major sporting event without being intrusive. The response was overwhelmingly positive, and we heard from many of our clients that they will expand their support going forward," Tyson said. A Boston version of the Liberty Club will roll out in 2020. Tyson added that the other premium offerings, the Anchor Club presented by Grey Goose and the Ultra Club, sold out this year.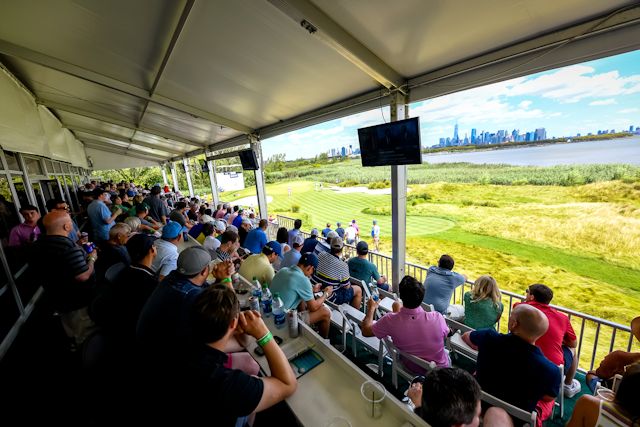 Located on the 14th hole, the Ultra Club allowed companies to entertain in a more social setting, with air conditioning, open seating, TVs, and private restrooms.Photo: Dustin Massey Studios

Also new this year at Liberty National was a family care suite and kids-only viewing area, along with multiple MD Anderson Cancer Center sunscreen stations. Organizers also emphasized that strollers, small diaper bags, plastic baby bottles, and other baby supplies were permitted within the gates of the tournament. Plus, kids ages 18 and under who were accompanied by a ticketed adult received a complimentary grounds ticket.
Tyson said that organizers "worked hard to offer access and experiences for every price point to allow fans to customize their experience the way they wanted."
This philosophy also extended to transportation options, with attendees arriving by trains, automobiles—and a ferry. Fans commuting from Manhattan could hop on a custom-wrapped ferry from Brookfield Place Pier to Port Liberté in Jersey City where they could walk right onto the course at the 12th hole. Round-trip ferry passes cost $25.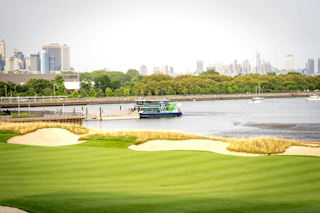 Fans could commute from Manhattan via a custom-wrapped ferry from Brookfield Place Pier to Port Liberté in Jersey City.Photo: Courtesy of the Northern Trust
"In this area of the country, convenience is key and imprints fans' feelings about their overall experience from arrival to departure, which is critical to creating positive impressions," Tyson explained. "We spent a lot of our time and energy on making transportation options clear and efficient. Liberty National is just across the river from Manhattan and easy to access from New Jersey, so we made all forms of transit available including a ferry ride from downtown Manhattan right to the golf course, general parking at Newport Centre Mall, the PATH train, Hudson-Bergen Light Rail, and an on-site Uber drop-off point."
Tapping into local resources included area charities as well. The tournament, which has generated about $50 million for New Jersey and New York charities since 1967, donated a 15-passenger van to VFW Post 2294 in Jersey City and patients from Tackle Kids Cancer served as flag bearers on the 17th hole during the final two rounds of the tournament. Plus, military members and veterans received complimentary admission.
This emphasis on community will carry over into next year's tournament, which takes place in Boston August 10 to 16, 2020. "Every aspect of the 2020 tournament, just as we envisioned for the 2019 event in New Jersey, we want to feel quintessentially Boston," Tyson said. "The New York/New Jersey and Boston markets expect us to bring our A-game, and we will."
At the First Round Beer Garden, attendees could play lawn games and munch on tater tots, pretzel bites, sliders, and brats.Photo: Brian Williams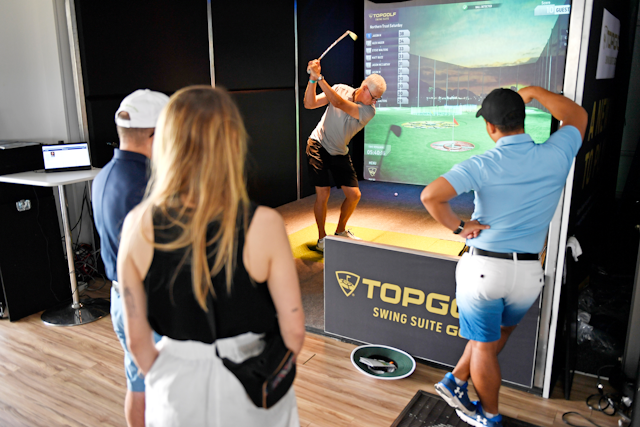 Inside the Anchor Club, attendees could practice their swing at the Topgolf Swing Suite activation.Photo: Tracy Wilcox/PGA Tour