How This Brand Hosted Four Pop-Ups in Four Cities at the Same Time
Tinsel worked with the House of Creed to launch its new scent with simultaneous events.
July 3, 2019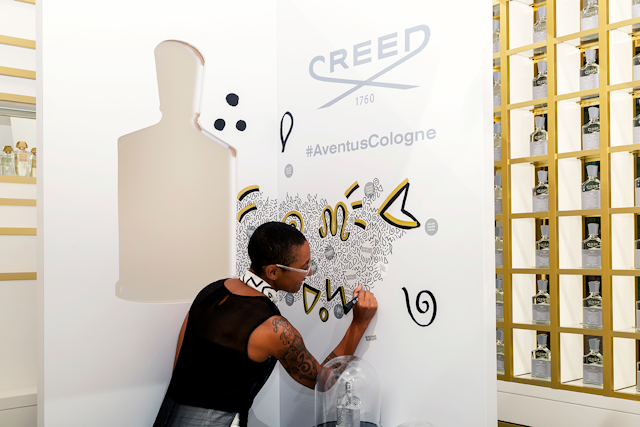 Artist Stephanie Melissa Dorsainvil was on site in Miami.Photo: Alfonso DuranTo launch of its new universal scent, Aventus Cologne, the House of Creed enlisted Brooklyn-based agency Tinsel Experiential Design to design and produce a four-city activation—simultaneously.
The live art pop-ups took place in stores in New York, Miami, Beverly Hills, and Las Vegas, and featured local, well-known artists including Jerry Misko in Las Vegas and Stephanie Melissa Dorsainvil in Miami who put their own spin on interactive graffiti walls. Customers could also add branded stickers to the walls while testing the fragrance.
"When the clients originally came to us, they knew they wanted to bridge the brand's rich heritage to today's very modern, very fast-paced street culture," explained Alexandra Jensen, Tinsel's senior creative production manager, about the graffiti concept. "We started going down the rabbit hole of 'hypebeasts' and ultimately landed in a space where graffiti and street art felt right to each of our targeted markets and in a way that still felt sleek and high end."
The simultaneous experiences, which kicked off in New York on June 14, were directed and managed remotely from New York, which is rare for the Tinsel team, Jensen explained. "We had to do our due diligence to make sure all of our vendors in the various markets would execute all points to our high standards. This meant extremely detailed pre-production and a close eye on operations. We created how-to manuals for every party involved with sections on how materials should be used, standards for guest interactions, and parameters for artists, while allowing enough flexibility for each city's activation to have its own personality."
While the artists were chosen for their unique aesthetics, the pop-ups themselves remained consistent across all four cities. "The wall structures, product displays and treatments, and accessories were intentionally designed to be very uniform so that each artist's expression and the in-store customer interactions would become the differentiating visual elements," Jensen said.
The new unisex cologne boasts the hashtag #ForHimForHerForAll and the Tinsel team wanted to reflect that mentality with the lineup of artists as well. In addition to making sure the art and the artists' personas aligned with the brand's look and feel for the campaign, Jensen said, "it was also important to us to have a diverse group of artists since the brand campaign's tagline is all about inclusivity."
VENDORS
Artists: Chris Tuorto, New York (@christuorto_artist); Stephanie Melissa Dorsainvil, Miami (@stephanie_melissa); Todd Serlin, Beverly Hills (@serlinart); Jerry Misko, Las Vegas (@miskoart)
Design, Production: Tinsel Experiential Design
Photography: Alfonso Duran; Harrison O'Brien; John Solano; Zoltan Photography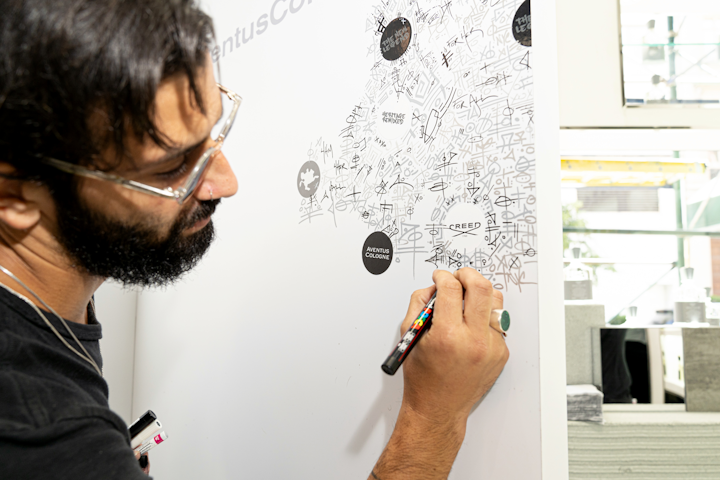 Photo: Harrison O'Brien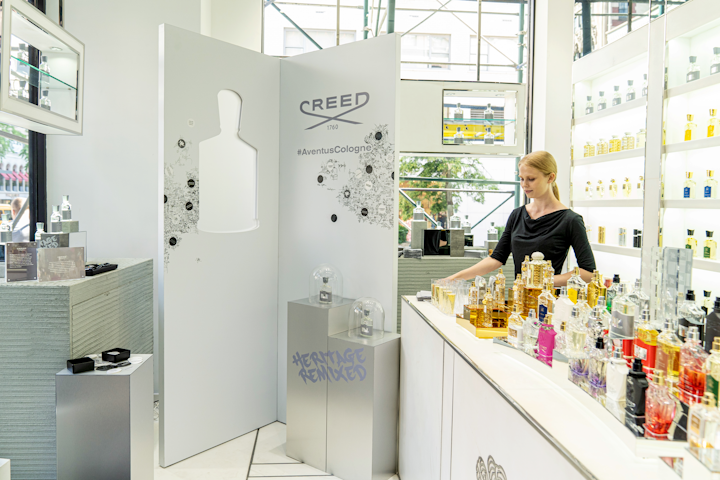 Photo: Harrison O'Brien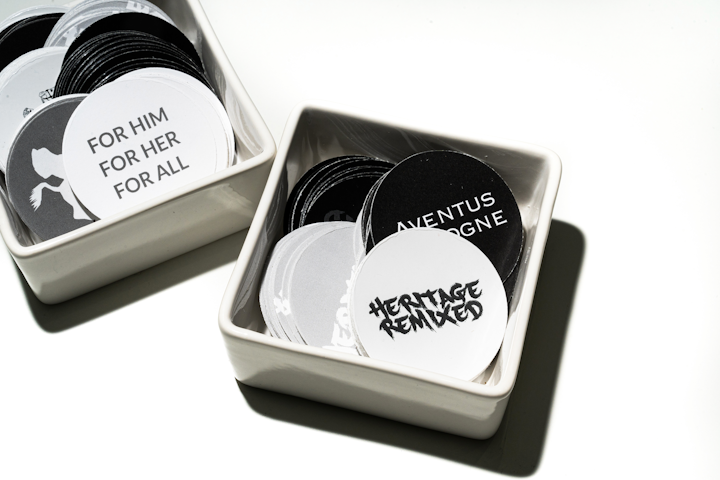 Photo: Harrison O'Brien
Photo: John Solano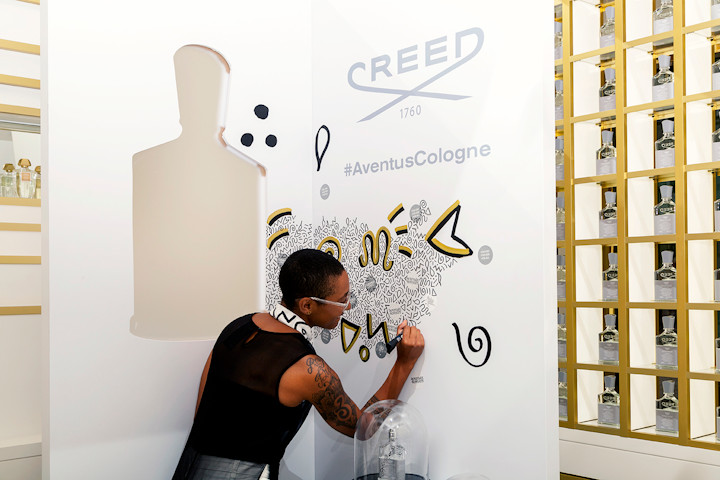 Photo: Alfonso Duran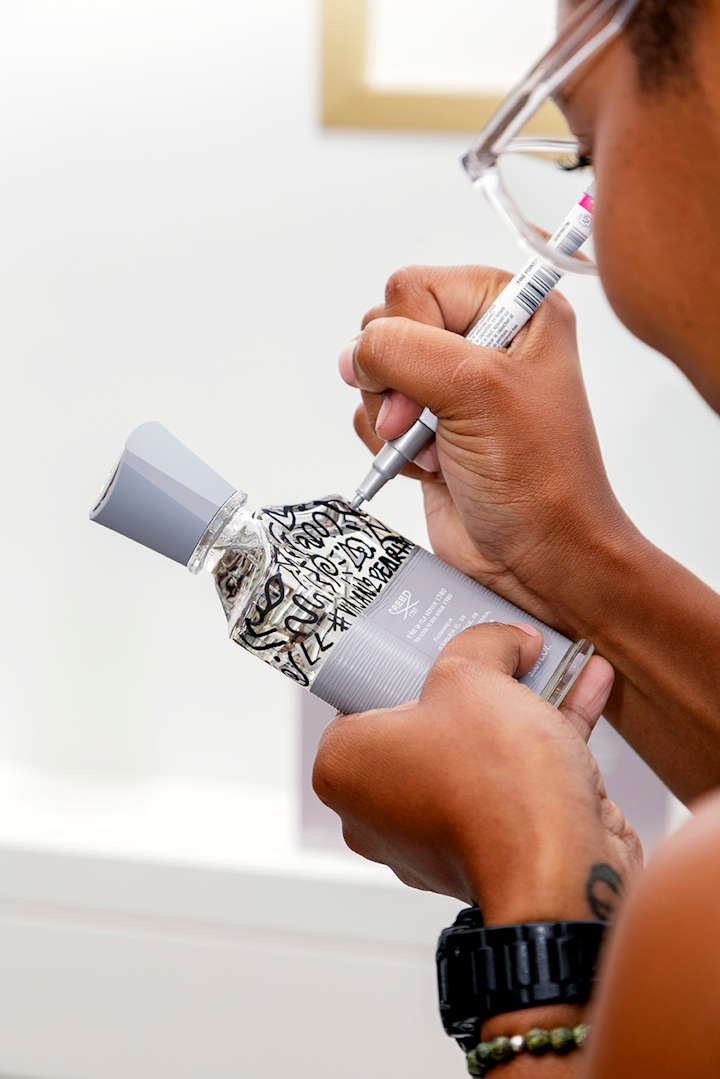 Photo: Alfonso Duran