How This Cosmetics Launch Transported Guests Into the "Beauty-Verse"
E.L.F. Cosmetics used live actors, silent disco headphones, dramatic lighting, and a high-energy shopping spree in an otherworldly product preview.
October 15, 2019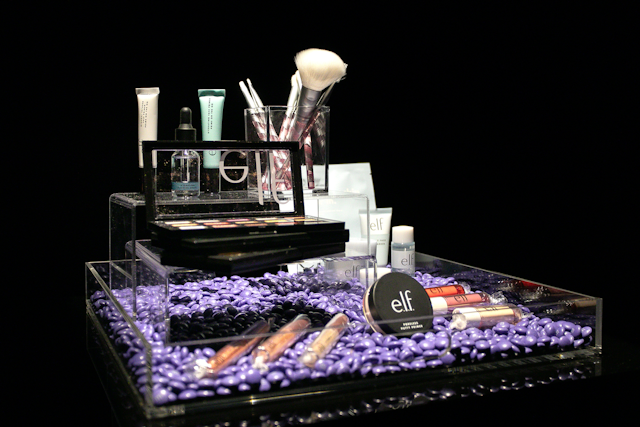 At the beginning of the event, an actor with a flashlight led the audience of media and influencers down a dark, sparkly hallway. Inside a pitch-black room, they donned silent disco-style headphones; audio through the headphones began describing the cosmetic brand's three new collections. As each was mentioned, a spotlight illuminated the products.Photo: Brandon C. TobinNEW YORK—Beauty brands are well-known for creating colorful, interactive events and product launches. So how can a company stand out in a crowded cosmetics marketplace?
That's the challenge E.L.F. Cosmetics aimed to tackle at its recent product launch. At 393 Broadway in Manhattan on October 2, 3, and 4, media and influencers booked appointments to preview the brand's three new collections. But what set this preview apart, says Brian Vaughan—creative director at SHADOW, which designed and produced the event—is that guests could "feel transported to another world."
"While early concepts focused on the new collection launches, we ultimately decided to create a definitive, elevated brand moment, where the three different product collections would be threaded by the idea of E.L.F. Cosmetics as the 'ultimate beauty-verse,'" Vaughan explained.
The "beauty-verse" kicked off by keeping guests in the dark—literally. After entering the venue, an actor led guests by flashlight down a dark hallway and into a lightless room, where they donned silent disco-style headphones. Audio through the headphones, narrated by E.L.F. C.M.O. Kory Marchisotto, described the brand's three new collections; as each was mentioned, a spotlight illuminated the products.
"We wanted guests to feel as if they'd been dropped into a whole new world," said Vaughan. "The live actor who guided guests down a dark, twinkling hallway and the pitch-black enclosure with narration via headphones helped create these otherworldly moments where guests could suspend their disbelief—and this is when we believe you're most able to alter brand perception.
"[Guests] aren't so much focused on what they think they know about a brand," he continued. "They're focused on anticipating what will come next."
The concept took inspiration from headphone-guided tours of museums and art galleries, but aimed to create a more immersive, futuristic feel with the voiceover and choreographed lighting cues. "The overall effect gave us that 'transported' feeling, primed guests for the unexpected, and presented E.L.F. in a much more elevated environment than one might normally find it," Vaughan said. 
And the most unexpected element was still to come. After the presentation, the spotlight landed on a branded shopping basket. Guests were instructed to take it into the next room, a bright, white space, where they had 20 seconds to grab all the E.L.F. products they could. When the high-energy shopping spree ended, they entered a third room to "check out." There, they sorted their haul into three piles: one to keep, one to have shipped to a friend, and one to donate to the Lower Eastside Girls Club.
"E.L.F. is all about making the best of beauty accessible to every eye, lip, and face," said Jamie D'Attoma, senior vice president of SHADOW's events division. "We wanted to give back to a community-based organization as a way to support their mission in connecting young women to healthy and successful futures."
After checking out, guests could stick around the colorful room for touchups from E.L.F. makeup artists, hemp extract-infused beverages from Recess, and a color-blocked candy bar inspired by the brand's new colors. Scroll down for a look inside the interactive gathering.
VENDORS
Audiovisual Production, Fabrication: KM Productions
Candy Art: By Robyn Blair
Design, Production, Talent Management: SHADOW
Venue: 393 Broadway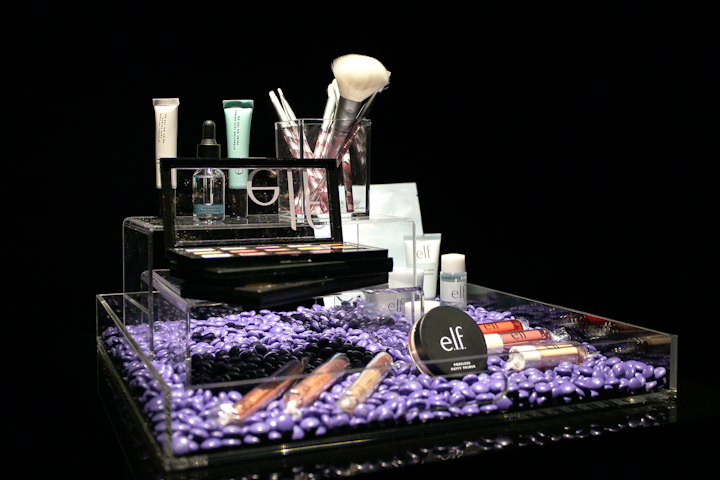 Photo: Brandon C. Tobin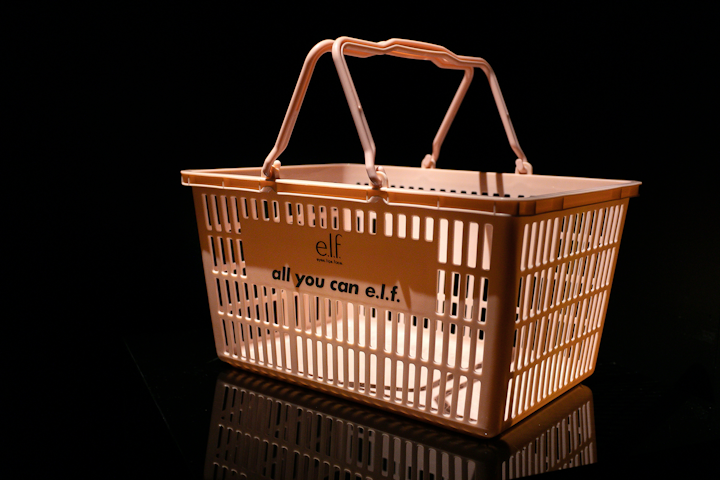 Photo: Brandon C. Tobin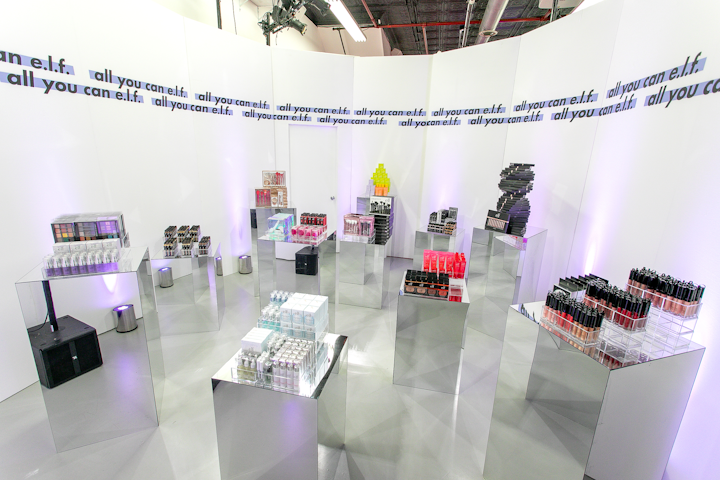 Photo: Brandon C. Tobin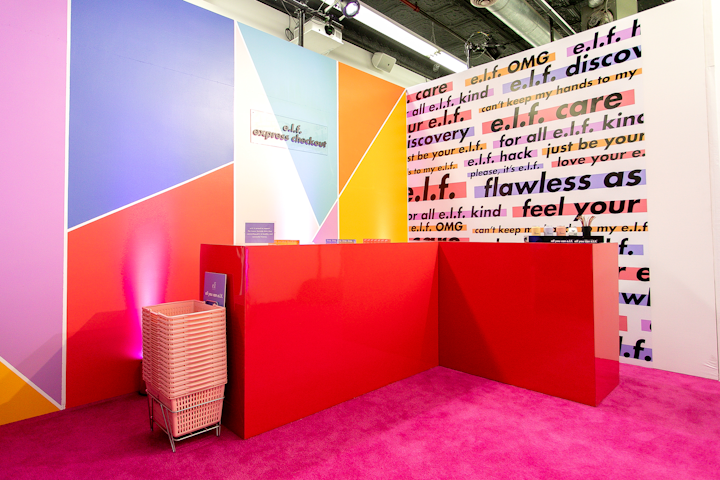 Photo: Brandon C. Tobin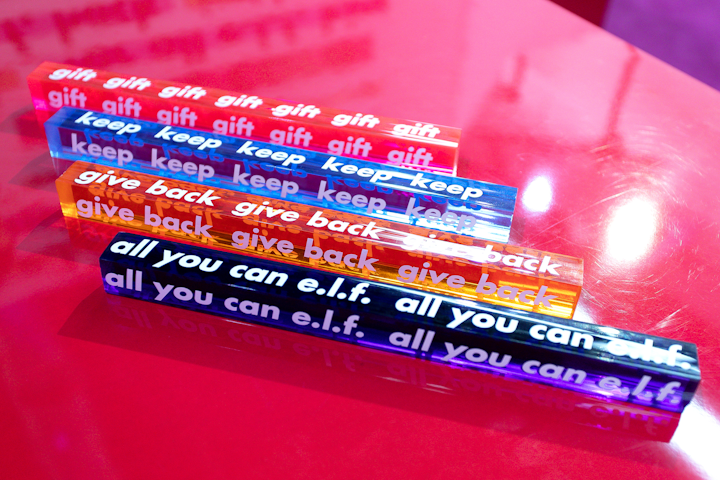 Photo: Brandon C. Tobin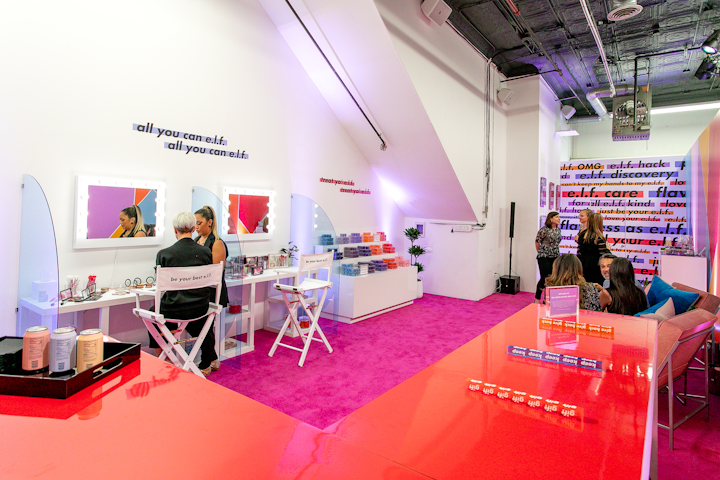 Photo: Brandon C. Tobin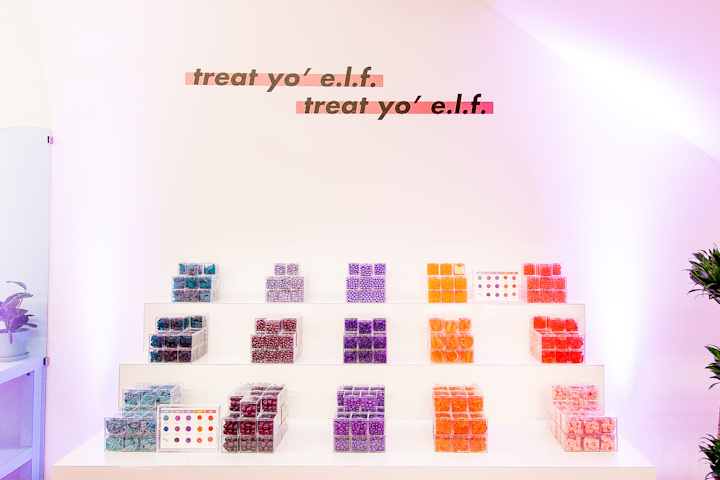 Photo: Brandon C. Tobin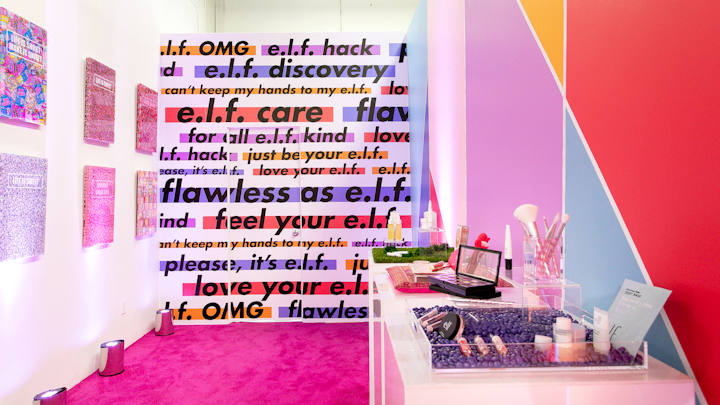 Photo: Brandon C. Tobin