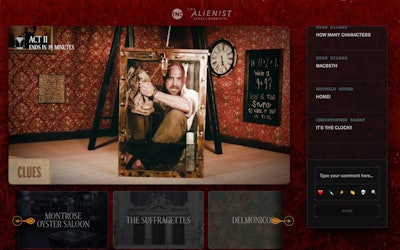 Photo: Little Cinema for TNT
TNT pulled out all the stops to celebrate the new season of The Alienist: Angel of Darkness. The period drama starring Daniel Brühl, Luke Evans, and Dakota Fanning follows a group of detectives in the late 1890s, so it only made sense for the premiere party to immerse guests in the show's mystery-filled world. But how to do that when COVID-19 restricts live gatherings? With a virtual murder mystery party, of course.
"While the pandemic has forced us to stay at home, it has not curbed our ambition or passion for celebrating and promoting our series the way they deserve—so we have committed to finding new ways to evolve and enhance our connections with consumers," explained Jori Arancio, executive vice president of communications for HBO Max, TNT, TBS, and TruTV. "It's important that we adapt the typical 'premiere' experience for audiences as well as filmmakers and talent."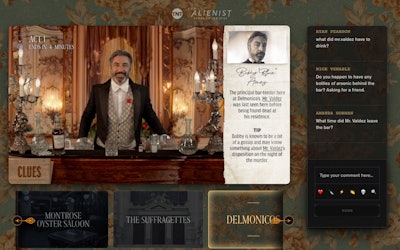 On July 16, cast, crew, and VIPs were invited to view the premiere episode and then attend an hourlong virtual after-party chock-full of interactive, immersive moments. Produced by creative studio and theater company Little Cinema, the three-act party asked guests to solve the mystery of who killed fictional character Alejandro Valdez.
"Our marketing team wanted to immerse fans into 1890s New York and create the opportunity to walk a mile in [character] Sara Howard's shoes. Her character's journey to opening her own detective agency gave us the entry point to organize a virtual 1890s murder mystery," said Telmo Tabuas, senior vice president of program marketing for TNT, TBS, and TruTV.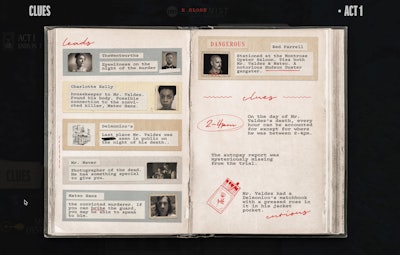 Attendees took on the role of investigative journalists from The New York Times. Using Little Cinema's custom online platform, they traveled through various "rooms," interacting with costumed actors who each played a suspect. Guests could use the chat function to ask questions in real time in an effort to crack the case, and they could vote who the real killer was at the end of the third act.
"The world of The Alienist is so rich, and the tone is so specific—a murder mystery was a clear-cut choice for a thriller set in the opulence of the gilded era," noted Jay Rinsky, founder of Little Cinema. "We are constantly innovating and thinking of new ways to make digital experiences feel genuinely immersive, and the opportunity to interact with live actors, solve puzzles, and actually affect change in a story where you have stakes and a goal felt true to the spirit of Little Cinema and The Alienist."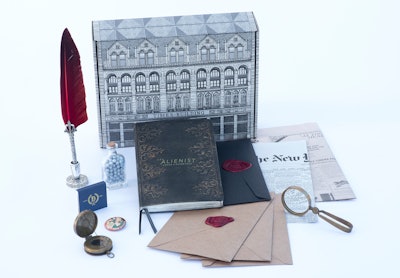 To make the event even more immersive, VIP guests were mailed a custom swag box filled with clues, including a branded journal to track their findings, photo cards for each of the suspects, a magnifying glass, a calligraphy set, and other props that evoked the show such as a suffragette pin, a locket, a matchbook, and faux newspapers. The box was created by Little Cinema, while a specialty food and drink delivery was curated by Taste Catering.
Related: 10 Useful, Fun, or Just Plain Wacky Ideas for Virtual Event Deliveries
In addition to the official premiere party, TNT and Little Cinema opened the experience to a select group of consumers on July 19, the day of the show's premiere. "During the quarantine, we realized we had an opportunity to bring a traditionally private and closed experience to our consumers," said Tabuas. "Through the use of our unique virtual platform, we were able to give our fans a peek into what has usually been accessible to Hollywood insiders."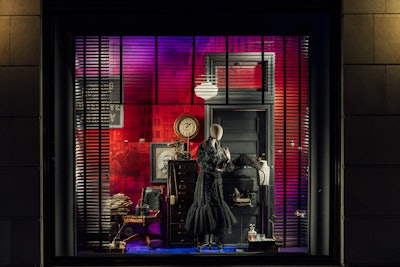 The virtual events weren't the only way TNT promoted the new season. Working with experiential agency Mirrored Media, the network partnered with historic New York City restaurant Delmonico's and Feed the Frontlines NYC to create 500 three-course meals for healthcare workers at New York hospitals. TNT and Mirrored Media also partnered with department store Bergdorf Goodman to debut a curated, shoppable selection of merchandise inspired by the show's costume design. The flagship store in New York also featured a custom window display themed around the show.
"We were inspired by the amazing costume design, fashion, and set design of the show for the campaign," said Justin Lefkovitch, founder and CEO of Mirrored Media. "Delmonico's and Bergdorf Goodman are both iconic premium brands that have been woven into the fabric of NYC since the 19th century, and providing quality meals to essential hospital staff was such a feel-good moment for everyone."
He adds, "This campaign gave us all the opportunity to think outside the box with how to activate in a meaningful way during COVID-19. We worked tirelessly with our partners on stringent safety protocols in order to create buzzworthy and safe experiences."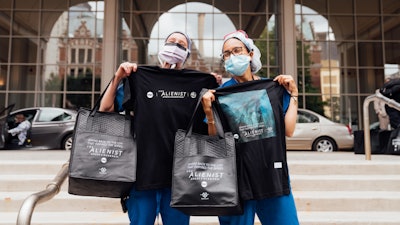 TNT also worked with Old Forester to release custom-etched bottles of the distillery's 1897 Bottled in Bond bourbon, and teamed up with New York bar Death & Co. to develop three custom cocktails inspired by the show's main characters.
Finally, the network partnered with perfume house D.S. & Durga to release an exclusive unisex fragrance inspired by the series. Called First Light Five Boroughs, the fragrance aims to capture the feeling of New York at the turn of the century through notes of mimosa, violet, chypre, and more. NVE Experience Agency assisted with the fragrance release; the experiential agency also worked with TNT on a podcast and interrogation room chatbot experience that appeared on TNT's The Alienist: Angel of Darkness Facebook page and website.
"Our goal was to bring together brands that have withstood the test of time or captured the timeless spirit of New York City," explained Tabuas. "While so many of our campaigns include amazing partners, this premium series' transportive setting, rich characters, and stunning production value lend themselves to amazing extensions across verticals that so many brands wanted to be involved with."