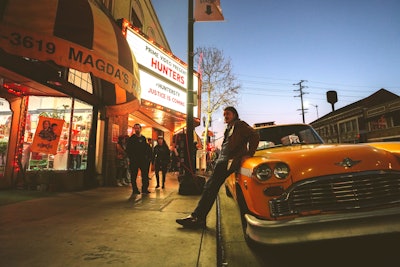 LOS ANGELES—The 1970s have always offered a wealth of glamorous event inspiration (disco, anyone?). But for a recent fan event promoting its buzzy new series Hunters, Amazon Prime Video explored a slightly darker side of the decade. The drama, which stars Logan Lerman and Al Pacino, follows a group of Nazi hunters in 1977 New York—so Amazon decided to immerse fans in the series' gritty, vintage setting.
Tied to the show's global launch on February 21, Amazon took over an entire block in Los Angeles's Highland Park neighborhood, transforming local venues and storefronts with era-specific decor, props, and costumed performers. Known as the "Hunters Grindhouse Experience," the promotion was free and open to the public (with reserved tickets) from February 20 to 23.
Movie theater Highland Theatres became "The Empire," a throwback space inspired by the old-school grindhouses popular on New York's 42nd Street in the 1970s. The venue hosted a screening of the first episode, complete with popcorn and candy served in vintage packaging. After the screening, fans headed across the street to Highland Park Bowl, now known as "Hunters Alley." The popular bowling alley—the oldest in Los Angeles—was transformed with branded bowling balls and signage, New York City-inspired food such as pizza and latkes, Coney Island-style performers, on-theme photo ops, and staffers in period costumes.
"We originally thought we'd end up transporting people between two venues, but while scouting locations we found Highland Theatres with their great marquee, and Highland Park Bowl right across the street," explained Jennifer Verdick, Amazon's head of partnership and events. "As we walked the block we realized how much it already felt like New York City, with cool record and book stores, coffee shops, hair salons, restaurants, and a local bodega. It was the perfect opportunity to take over the block and immerse people in the gritty world of Hunters."
Verdick's team worked with experiential agency Campfire at the Mill on the experience, which required special permitting since so much of the block was affected. "The biggest challenge was securing a permit of this scale in the amount of time we had," noted Verdick. "It was important to secure the spaces for period cars and have performers in period clothes throughout the block to make everyone feel like they just stepped into 1970's New York."
The promotion also extended down Figueroa Street; 11 additional venues on the block offered Hunters-inspired specials. Bars Gold Line, ETA, and Good Housekeeping served custom Hunters-theme cocktails, for example, while recording studio Artform Studio offered discounts on '70s-era records. Book store Owl Bureau offered a 1970s-theme book and poetry night, and clothing store Aysha Selection hosted palm readings.
The Amazon team worked closely with local business owners to create the experiences. "It was very much boots on the ground," said Verdick. "We had to visit each venue and speak to the owners, explaining what we were doing for Hunters and collaborating with them to create a unique and holistic experience for every customer that walked in."
Amazon Prime Video is no stranger to these types of over-the-top consumer experiences. To promote The Aeronauts, for example, the brand recently hosted a traveling Victorian fair—complete with a movie screening on the side of a hot air balloon. And to celebrate The Marvelous Mrs. Maisel's 20 Emmy nominations in August, the studio memorably brought 1959 prices to more than 40 locations throughout Los Angeles, including 30-cent gas at a local Chevron, $40 stays at the Hollywood Roosevelt, and 50-cent movie tickets.
"These experiences allow people to fully immerse themselves in a series, which is more memorable and meaningful to our consumers," explained Verdick. Scroll down for a look inside the gritty Hunters experience.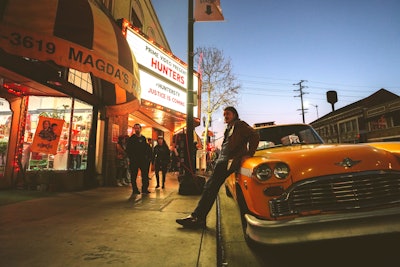 Photo: Greg Noir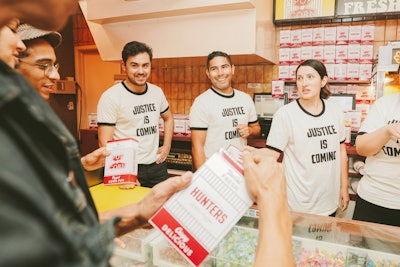 Photo: Greg Noir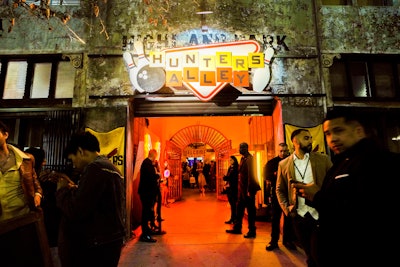 Photo: Greg Noir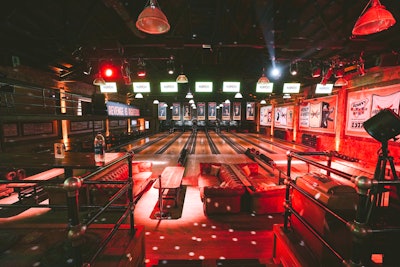 Photo: Greg Noir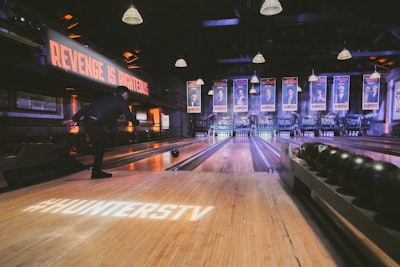 Photo: Greg Noir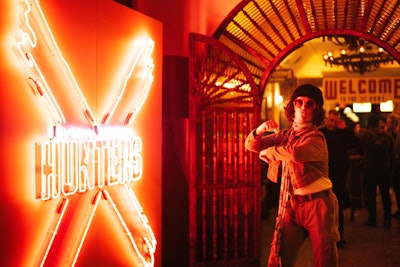 Photo: Greg Noir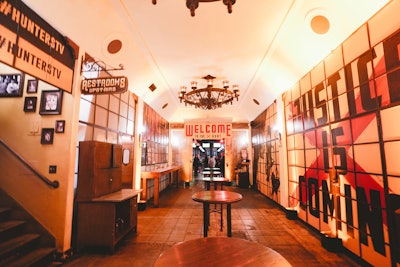 Photo: Greg Noir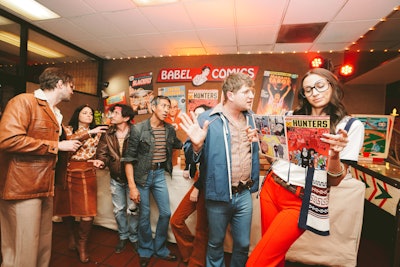 Photo: Greg Noir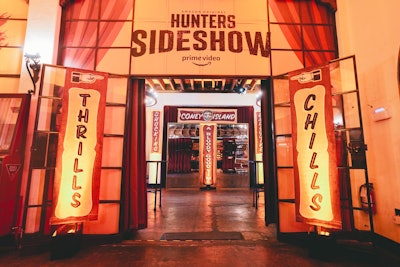 Photo: Greg Noir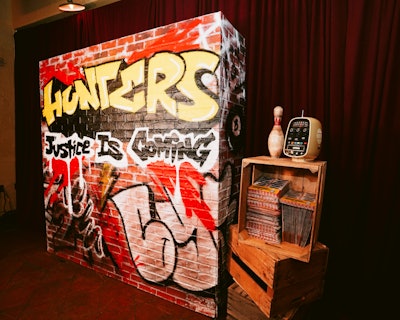 Photo: Greg Noir