At the Boston Convention and Exhibition Center on Thursday, November 17, 2,000 guests from healthcare organizations—including major hospitals, health plan associations, and biotech and pharmaceutical industries—joined together at the Kenneth B. Schwartz Compassionate Healthcare Dinner. The event exceeded the $1.1 million fund-raising goal and had fewer speeches than in past years.
"This year we focused more on video messaging rather than speeches from the podium," said Elizabeth Hickman, development manager of events and marketing. "At the beginning of the dinner, we showed a video of prominent people, including Katie Couric, talking about why compassionate care matters."
The videos, designed by Stone Communications and sponsored by Crico/RMF insurance, lent a feeling of intimacy to the large event, connecting the guests to the speakers, whose lives were portrayed in the videos through photos, music, and interviews with friends and family. "The videos [allowed us] to feature the moving stories of individual patients and caregivers who have either received compassionate care or are providing it," Hickman said.

After the videos, intervals were scheduled to allow guests to participate in what organizers called an "Opportunity Drawing." Replacing last year's silent auction, the raffle enabled guests to purchase one ticket for $100 or five tickets for $500 for the chance to win a sponsored prize package. Lots included a private suite at Fenway Park, a weekend at the New Orleans Jazz Festival, a year of tickets to Boston sports events, and a premium package of Apple products.
To attract guests to the drawing, large, clear squares representing each prize package were placed on top of antennae towers. Designed by Amy Kimball Events, each square was filled with items that advertised the prizes. Popcorn and baseball hats represented the sports package, for example, while Mardi Gras beads and feathered umbrellas touted the Jazz Festival prize. Guests continued to mingle and network at a post-dinner reception.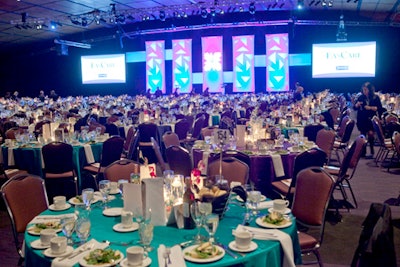 Photo: Michael Fein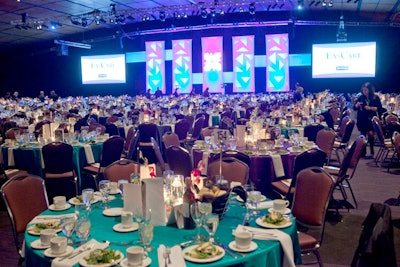 Photo: Michael Fein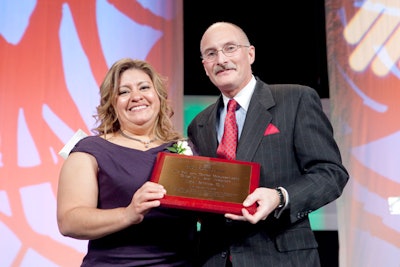 Photo: Michael Fein