9 Smart Tips for Creating Authentic Events
At BizBash Live: Los Angeles, big-name event professionals such as Troy Williams, Brent Bushnell, and Todd Hawkins shared how they create effective, authentic events and marketing campaigns.
July 23, 2018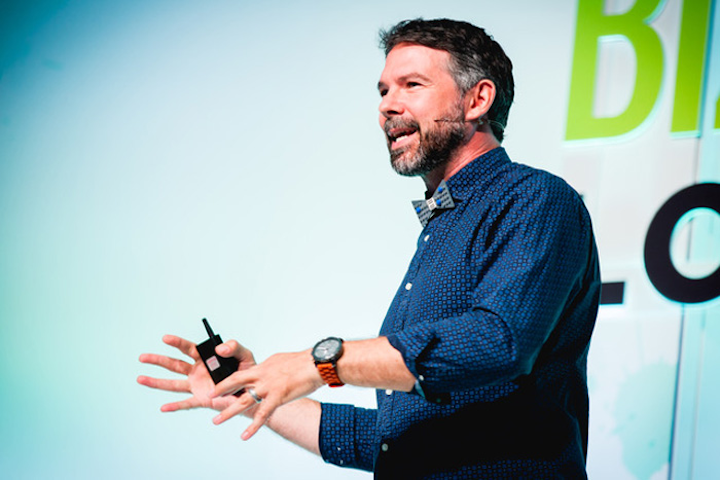 Photo: Haute Photography and Videography
"We are craving authenticity as a society right now more than ever before," said Little Bird Told Media's Alex Plaxen during BizBash Live: Los Angeles on July 18. "We want to see how the sausage is made."
Plaxen was speaking at a social-media masterclass, a new addition to BizBash's annual trade show at the California Market Center. While he was specifically discussing social media, he touched on a common theme that speakers throughout the day mentioned frequently: the quest for authenticity.
Speakers at the Event Innovation Forum, the morning workshop series, and afternoon masterclasses discussed how emerging technology, influencers, careful spending, sponsor integration, and more can create effective events that feel authentic and meaningful for audiences. Here are some of their insights.
1. "Branding" should not be the focus.
At the Event Innovation Forum, Scott Dallavo, the director of events and strategic alliances for the Los Angeles Times, discussed how events can effectively engage the public and communicate a company's values. The key to creating meaningful experiences, he advised, is to start by focusing on an organization's core mission and purpose.
"Branding is the enemy of mission and purpose," he said, noting that a carefully controlled brand image becomes more about the organization than the audience—which makes marketing feel like manipulation. When brands and organizations return to their true mission and purpose, they can create events that genuinely reflect their values and goals—and focus on how they can benefit an attendee's life.
"Then marketing can become a sincere expression of who you really are," he added.
2. Use your experts to gain credibility.
Vanessa Fontanez, the general manager of experiences and conferences for Vox Media, also spoke at the Event Innovation Forum, where she explained that the media brand "believes in the power of building amazing, deep, impactful experiences" as a new way to communicate with audiences.
The main tenant of Vox Media events is to bring editorial voices to life in a new, deeper way, she said, noting that Recode's ultra-exclusive Code Conference has speakers and programming curated directly by editors Kara Swisher and Peter Kafka.
The Los Angeles Times' Dallavo also puts editorial voices front and center, noting that at the newspaper's massive Festival of Books, panels featuring journalists are always standing-room-only. The same event also has a popular "Ask a Reporter" booth. People want to feel like they're getting special access to smart people.
3. Know your audience and build specifically for them. 
Todd Hawkins, founder and president of the Todd Group, gave tips for building better nonprofit events during his Event Innovation Forum session. "Who are your donors, volunteers, sponsors? Program for them," he advised.
According to Hawkins, nonprofit events should have three main goals: to "ignite, excite, and engage." Have a lineup that ignites ticket sales and attendance, excites the audience once they're through the doors, and engages with them so they'll leave the event thinking, "I'm going to write a check, get friends to donate, volunteer, use my resources however I can for this organization," he said.
Fontanez also touched on the importance of understanding your attendees, calling Vox Media's audience "the curious class"—a group that craves deeper storytelling. Think about, "Why are they engaging with us? What are they coming to learn? What are they able to discover?" she said.
[PULLQUOTE]
4. Influencers are a great marketing tool—if you let them be themselves.
During a workshop session, Branden Meck of MarketKings and influencer Chris Villain shared tips for creating an effective influencer campaign. They stressed the importance of partnering with the right influencers—who is not always the obvious person. Look at the demographics of a person's followers. If a bikini model has mostly male followers, Meck said as an example, she's probably not the right person to actually try and sell a bikini.
The most important thing, according to both Meck and Villain, is to let the influencer be themselves. "Let them do the post how they want to do the post," advised Meck. "They have their following for a reason, and they need to be authentic."
As an example, Villain spoke about a time a bra company approached him to promote its product. Once he saw that his followers were 60-percent women, he decided to partner with the company—but with a twist that felt authentic to his own personality. He created a funny, superhero-theme video that appealed to the female cosplay community; when the numbers came back, Villain's bra promotion was more successful than many women the brand had partnered with.
5. Use emerging technology to turn attendees into active participants.
Of course, an event won't feel effective and memorable if attendees spend the entire time staring at their phones. New technology such as virtual reality, augmented reality, and mixed reality is designed to make guests the "co-creators of the experience," said Brent Bushnell, C.E.O. of Two Bit Circus during the Event Innovation Forum.
Immersive entertainment and nonlinear design that presents guests with a set of options forces them to create their own journey—thereby crafting one that they will enjoy and remember.
But one key thing to remember is the issue of consent, noted Bushnell. Immersive theater can sometimes lead to actors and staffers touching guests or putting them in uncomfortable situations. "Different people have different levels of comfort," said Bushnell, and hosts need to be aware of that and add ways attendees can opt-out.
Bushnell also explained that we haven't even seen the possibilities for emerging technology in the event scene yet. "Think about movies in 1930s, when we were just figuring out how to add audio," he said. "Think about computing in the 1970s. That's where we are right now for immersive entertainment. The doors are wide open and it's up to us to define this space."
6. Spend money on things that matter.
During his session on nonprofit events, Hawkins noted that benefits should be "simple, understated, and to the point." Audiences—and especially donors—don't want to see their money spent on lavish affairs. Don't blow your budget on things like gift bags, expensive entertainment, advanced technology, and more—unless it really furthers the event's cause. "Stay true to your organization—and your budget," he said.
Heather Mason, C.E.O. of Caspian Agency, also touched on budget issues during her workshop on effective event strategies. Crunch the numbers to show clients the value of the event—whether it's increased sales, brand awareness, or networking—and compare that to the cost of the event. "If events are to provide real value, the business needs to provide real resources," she explained.
7. Integrate sponsors in thoughtful ways.
At the Event Innovation Forum, designer Troy Williams, principal and event designer of Simply Troy, stressed the importance of integrating sponsors in surprising and strategic ways. Brand logos should not be "vomited all over an event," he said. Incorporate them in a way that feels authentic to both the event and to the sponsor's mission.
Hawkins also talked about the importance of sponsor relationships, saying that planners should "Integrate sponsors in the planning process from the start." For nonprofit events especially, sponsors—and the host committee—are crucial to the event and need to help craft an effective experience.
8. Create a social-media plan that resonates with your audience.
During his masterclass, Plaxen noted that 63 percent of global consumers claim they would buy from a company they consider authentic—and a big part of that image comes through social media. Brands with a social-media presence need to listen and respond to their followers, have a consistent voice, and be transparent with issues and problems. 
He cited the Wendy's Twitter account as an example: The fast food chain's tweets are filled with personality so its followers feel like they're interacting with a real person. "Show the face behind the brand," advised Plaxen, noting that followers love to see behind-the-scenes content on social media.
He also mentioned Instagram Stories' new music option—where a clip of music can be played during a story—as a way to keep viewers there for the whole thing. "Music resonates," he said, because it causes an instant emotional connection.
9. Work with kind, educated people—and make them feel appreciated.
Williams shared what he looks for in an employee: someone who is hard-working, fun to be around, great at what they do, respectful, and most of all, kind. "I can teach you other skill sets, but if you're not a kind person, you will never work with me," he said.
And he practices what he preaches: After every single event, Williams sits down the next day to write a long thank-you email that credits everyone's contributions and thanks every vendor. He adds the client as a bcc, so they can see how many people helped bring the event to life. "Gratitude is so important," Williams said.
During a workshop session, Shane Terenzi, director of events for High Beam Events, also shared ways to build an effective staff. "Our team works vertically," he explained. "Each planner owns the event from start to finish." That means that each staffer is trained to focus on both creativity and logistics, using both their left brains and right brains. This leads to a better experience for clients, and a team that's more invested in creating strong, authentic events.
Brett Hyman, president and founder of NVE Experience Agency, also touched on an important note for teams during his workshop session: Don't be a yes person. It's not helpful to your clients, vendors, or staff. Stick up for your ideas and create events you believe in.
Featured Venues/Suppliers: