How to Use Google Plus Hangouts for Meetings
July 24, 2012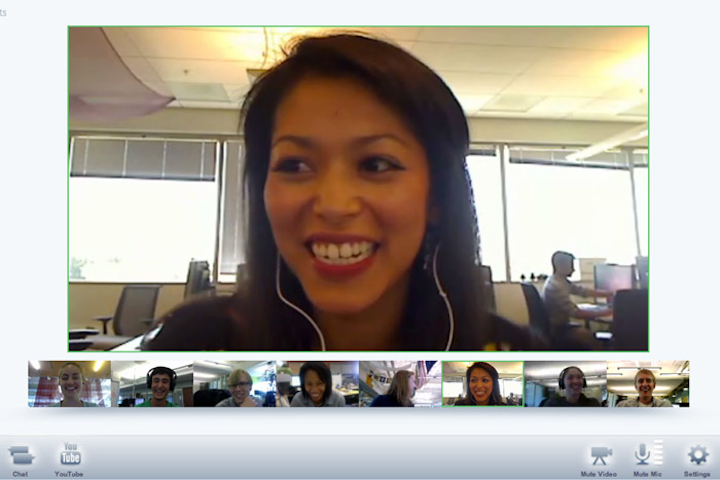 Photo: Courtesy of Google
Google is continuing to roll out new features to its Google Plus Hangouts platform that are making it more useful for video conferences and hybrid events. Some of the newest features are a collaboration app and static Web link for Hangouts, plus an app to control camera views during Hangouts on Air.
A Google Plus Hangout is a free group video chat that can include as many as 10 people (or 10 locations with any number of people at each place). The application is launched from the Google Plus homepage, by clicking the "start a hangout" button. The person who starts the hangout becomes the host and can invite other individuals or circles to join. Ideally, each participant has a Web camera and microphone so everyone can see and hear one another, although it is possible to invite people to join via phone (and calls to the United States and Canada through the Google Plus system are free). The system automatically puts the person who is talking in the main window, with the other participants appearing in smaller windows across the bottom of the screen.
Within a Hangout, the host can add a variety of apps. Some are mostly for fun (group doodling), and others can make the platform a useful tool for business meetings: users can import and collaborate on Google Document files, pull in presentations with the SlideShare app, watch YouTube videos together, and share what is on their individual computer screens.
At the Google I/O Conference in late June, the company presented a new app for Hangouts: Symphonical creates a digital wall within a Hangout so participants can collaborate on to-do lists and projects. The content is stored on Symphonical's Web site so users can access it after the Hangout is over. Also in June, Google announced that users can create a static hangout link, useful for recurring events so participants can bookmark the link for quick access.
Hangouts on Air became available in May and allows a host to broadcast the Hangout publicly, or to certain circles. The New York Times, Tyra Banks, David Beckham, and President Obama have all used Hangouts on Air to connect with viewers around the world. Planners can use Hangouts on Air to create a hybrid event without the need for expensive hardware and Webcasting services, although the addition of high-quality microphones, lighting, and Web cameras will create a more professional broadcast.
Viewers can watch the Hangout on Air from the host's Google Plus page, YouTube channel, or anywhere the link is embedded, such as the host company's Web site. During the event, the host can see how many people are watching it live, and after it ends, the system automatically uploads a recording to the host's YouTube channel and to the original Google Plus post, so it can easily be shared and discussed after the broadcast is over. And while only the host and as many as nine invited participants can have two-way audio and video (like a traditional Hangout), planners can interact with other viewers by setting up a Twitter hashtag so they can submit questions or comments.
On July 12, Google unveiled the Cameraman app for Hangouts on Air. Google product manager Matthew Leske described it on his Google Plus account as an app "to help you create even more professional broadcasts. ... This app lets you control when specific guests appear to your viewers, so you can introduce someone before they appear in your live broadcast, or hide someone after you've interviewed them." Google spokesperson Iska Hain indicated in an email that the company will "have more announcements about how Hangouts can be used for enterprise customers soon."
Additional information can be found on the Google Plus Hangouts support page and Google's common questions about Hangouts on Air.