8 Ideas for Creating a Must-Attend Conference
How storytellers, a house band, and a knitting machine help attract attendees to Montreal's C2-MTL conference.
February 10, 2014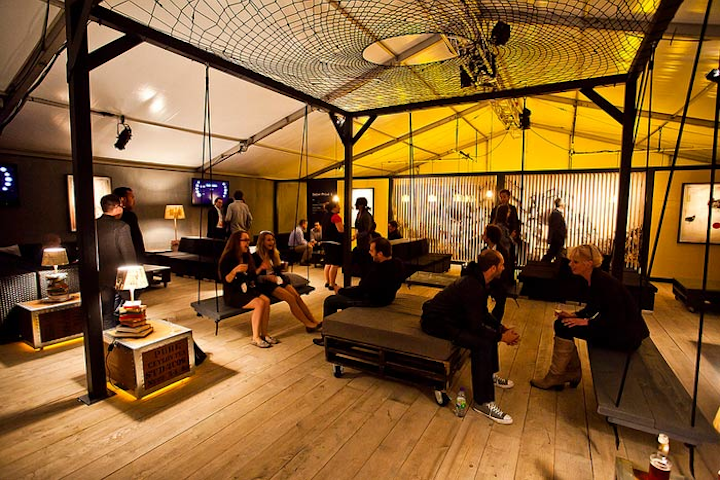 Photo: Karel Chladek
At first glance, Montreal's C2-MTL conference might seem like Canada's answer to TED. The offbeat events certainly share some of the same D.N.A., but going into its third year, C2-MTL has carved its own identity.
The event, produced by Sid Lee, seeks to merge commerce and creativity—the two Cs—while promoting Montreal as the center of both.
In advance of this year's event, set for May 27 to 29, Emmanuelle Legault, vice president of marketing at conference partner Tourisme Montréal, shared some of the creative strategies behind the event's success at a small meeting at the Conrad New York.
1. Take risks—even with your budget
About 60 percent of the conference budget goes to "things they know are going to work," Legault says, with the remaining 40 percent spent on testing new ideas. In the end, only about half of the new ideas will succeed, she says, but even the failures can manage to be interesting and send the message to attendees that they will encounter new ideas. "The whole process was important to build a conference and to make sure it keeps it a viable conference and keeps interesting people coming," she says. "They expect to make mistakes and feel that to innovate you have to be wrong."
2. Engage your attendees before the event
Once attendees confirms their registration, they are assigned a concierge—an actual person, not a program. This person makes suggestions about crafting a schedule and arranging meetings, then greets attendees once they arrive. "He made it personal and made sure that when you arrive at the conference you're going to get what you want from it," Legault says.
3.  Get attendees to shape the agenda
C2-MTL created an app where attendees could suggest speakers and topics, as well as used social channels to create conversation before the event. One of its 2013 speakers, Philippe Starck, even joined in the conversation. "The delegates felt they were part of the process," Legault says, "and they became the engineers of the conference. … If they feel like they got something out of it, they will definitely be your best ambassadors and they will leave feeling it was pertinent to come."
4. Ask more of your speakers
Tell speakers you expect original presentations. "When you ask your speakers to come to your conference, make sure they create added value for your delegates and make sure they're not rehashing the same conference that they've been rehashing for the last three years." Sharing the questions that delegates asked in advance can also help speakers create custom content.
5. Ditch the boring introductions
Instead of an M.C., the conference hired a storyteller to introduce each speaker. He vividly recounted an anecdote from the speaker's life rather than reciting educational and professional accomplishments. "He made it more personal," Legault says.
6. Hire a house band
Take a cue from Jimmy Fallon and David Letterman. C2-MTL hired a trio of local musicians instead of piping in background music. "They don't have to be famous. It's just a question of creating a disruption within the conference that made it more interesting and more fun," Legault says. "It wasn't that expensive and wasn't hard to find. It was more spectacular and more exclusive."
7. Use social media in unexpected ways
Instead of the social media walls of live tweets that conference attendees are getting used to, C2-MTL created a "Knitterstream"—an electronic knitting machine that created tapestries out of popular tweets from the event. Attendees could watch the action live or online.
8. Let guests get fresh air
Choose venues with a variety of spaces both indoors and outdoors. "It's one thing to be in dark rooms, but outside you get space to breathe," Legault says. "Being able to sit outside, all of a sudden you're more willing to meet new people."
Featured Venues/Suppliers: