5 Tips for Better Events From BizBash Live: Florida
From social media marketing to rebranding an event, speakers pushed innovation and engagement.
June 7, 2018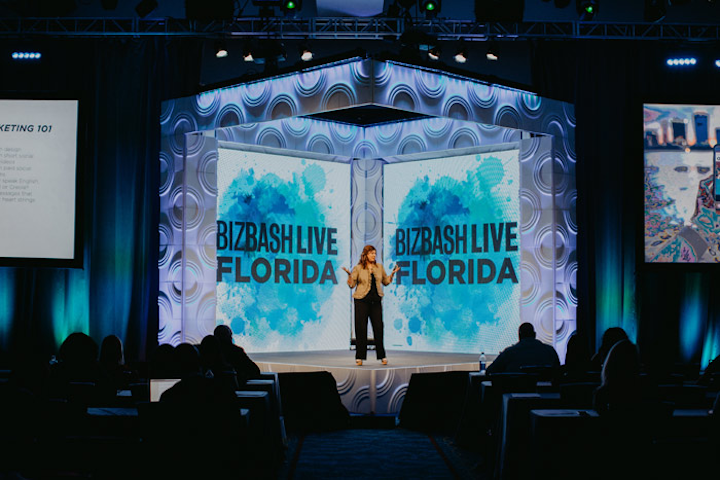 Photo: Creative Focus
More than 1,400 event professionals attended BizBash Live: Florida on May 16 at the Greater Fort Lauderdale/Broward County Convention Center. Speakers in the educational component of the event covered topics from using data to drive event decisions to creating a social media strategy during events to selling sponsorships more effectively.
Here's a sample of tips from the speakers.
On Using Data for Event Marketing
Event planners may not be effectively using data to drive their event marketing decisions. Nathan Mendenhall, director of digital strategy at That Agency, outlined the types of data and how to put it into action to drive attendance and engagement at events.
"Data is everything," he said, adding that tools such as Facebook Audience Insights or even Twitter polls can discover detailed information about people your brand is connected with and ask them targeted questions.
The primary takeaway: "Long-term consistency will always beat short-term intensity when it comes to digital advertising," he said. "Have a long-term strategy that you commit to. Digital marketing should be seen as an investment, not a cost. Just like with investments, you can't expect to cash out quickly and often. Social media marketing without a budget is like singing in the shower—nobody can hear you!"
On Creating a Social Media Plan
Alex Plaxen, founder and C.E.O. of Little Bird Told Media, emphasized the importance of real-time social media event engagement with real people rather than automated responses. He cited statistics that show that social media users expect brands and accounts to respond within 24 hours or less, especially during events where social sharing is encouraged. "Authenticity and real-time engagement are key to establishing a social media strategy that adds value to your event," Plaxen said.
One of his strategies is to position the social media team in a prominent location so attendees can meet the people they will be engaging with, allowing for personal, open dialogue online and offline. This becomes especially crucial if the event faces a crisis: "The spread of misinformation, long-term attendee distress, and damage to your brand are all risks you take when you aren't prepared to communicate during a crisis," he said.
On Selling Event Sponsorships
With more than 250 sponsors of the South Beach Wine & Food Festival spread among some 95 events at 50 venues, the team behind the mega event has a lot to share about selling sponsorships.
"You need to know the opportunities and limitations that exist at a venue to properly explain to a potential sponsor what types of activation will work or not work," said the festival's Ashley Shapiro, who presented with Kristen Sofge. "You also need to understand your audience that is attending the event, so that you can help guide a sponsor toward an activation that attendees will respond to. You want to set them up for on-site success."
Shapiro added: "Every relationship is customizable; there is no cookie-cutter approach to sponsorship"
On Challenging the Idea That Bigger Events Are Better
Smaller but passionate crowds at events may actually create bigger returns, according to Emily Taffel and Sarah Caro, owners of Mugsy PR. Anyone planning an experiential marketing campaign should consider how to create memories and emotional connections.
"The formula to successful experiential marketing is helping people create their own story in relation to your product and event," they said. "Once someone has a unique experience, they have a story to tell. That becomes word of mouth. An immersive enough experience creates a strong emotional investment. Stories with an emotional investment become memories. Memories create lifetime loyalty and lifetime word of mouth from an authentic and organically cultivated brand ambassador."
On Rebranding an Event
When Shareef Malnik became chairman of the Intercontinental Miami Make-A-Wish Ball 13 years ago, he brought with him an agenda for change. His motto: "Only the strong—and creative—survive." He scraped the recurring entertainment acts in favor of headliners like Lenny Kravitz, as well as ushered in a buzzier guest list with the likes of Kim Kardashian—all in an effort to reel in new guests and attract the next generation of attendees.
His business-like mindset was met with resistance at first, but his changes sent the annual affair up the social charts. He increased the ball's net profit from $300,000 to $2.5 million, with tickets and tables selling out before invitations are even printed. Malnik's key strategic moves included creating an after-party to expand the guest list to those who could not attend the sold-out fete; focusing on audiovisual production with top-notch lighting, sound, and decor; securing the right partner as a venue; and assembling the like-minded talent on the ball committee.
BizBash Live comes to Los Angeles on July 18. Learn more and register to attend here.

Featured Venues/Suppliers: