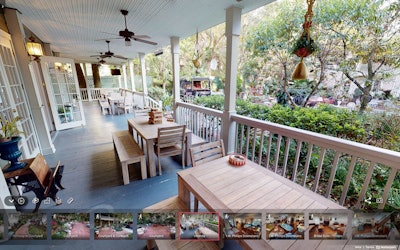 Photo: Courtesy of Avenue Event Group
How are you supposed to plan an event without leaving your home? It's a question running through many event planners' minds in the wake of the COVID-19 outbreak that's led to governmental stay-at-home orders nationwide.
Though the pandemic has brought the industry to a nearly screeching halt, event professionals are thankful now more than ever for the seemingly endless modern technology at their disposal, as each innovative phone application, virtual software, and online resource has allowed the industry to move forward.
"What we've done at Culture House is set up Zoom calls with clients and screen share our virtual tour landing page," says Kate Starr, sales and marketing manager of Bond Events, which has venues in San Francisco and Washington, D.C., and offers online virtual site surveys, with the opportunity for planners to talk through the venue's spaces one-on-one if requested. "We then walk the client through the tour, giving recommendations for their event set up and flow—just as we normally would, but virtually. This allows us to feel like we're moving through the space together, and avoids any confusion about the venue's layout."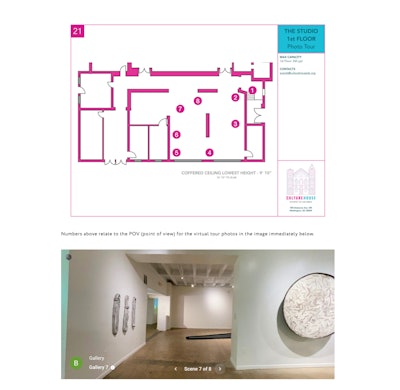 And so—in the era of the pivot—virtual site visits have boomed, providing a social distancing-approved alternative to in-person tours. Though each offers their own take on the digital trend (think Zoom tours versus pre-recorded and edited videos), venue managers across North America have taken to videos, cameras, and even iPhones to record and capture their spaces from entry to exit for event organizers to peruse and plan future functions.
Rebecca Linder, founder and CEO of Washingon, D.C.-based Linder Global Events, says: "Seeing a venue in person before booking is always preferred, but in a pinch, virtual tours, floorplans, and photos are useful when a site visit is not possible. Seeing photos of the rooms empty as well as in various layouts is helpful. Speaking with the venue manager about best practices and what works well in the space is a must."
While many venues, such as Level Three in Miami, are utilizing pre-recorded and edited videos to seamlessly share their spaces, some like The Hotel at the University of Maryland have looked to app-based platforms such as Realync. (Though the app was originally created for the real estate market, the property's event team put two and two together.) "In this ever-changing environment, we quickly found ourselves in a situation where our clients couldn't physically visit us in person. Realync allows us to schedule and hold private and public virtual tours for clients. Additionally, it has a video creation capabilities, which has given us the ability to create stock videos of our space," explains Sesyle Moorhead, the venue's director of catering and conference services. "Realync [then] sends the client the full video of the site so that they can review it at a later date and/or share it with other decision-makers. It's been an amazing platform to have during these last couple of months."
Meanwhile, at the historic Alfred I. Dupont Building in Miami, virtual site visits are nothing new—"the 360-degree virtual tour was created in partnership with the Miami Convention Visitors Bureau at the end of 2019," explains venue and events manager Deborah Lindenfeld—but certainly a more popular feature since the COVID-19 outbreak. "The intention was to highlight Miami's most popular gems and attractions. Little did we know that this would become the best (and only) way of showcasing the venue while working from home. We have been scheduling virtual walk-throughs where our events specialist navigates the space while sharing all the history, facts, anecdotes, and images of past events. Most times, it feels very real."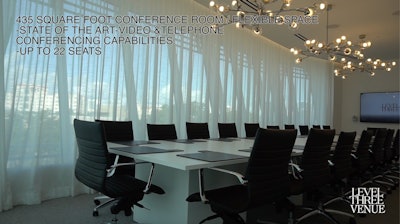 As an added incentive for planners to begin booking venues for future events while a majority of stay-at-home orders are still in effect, some venues are even offering special pricing options. "We've been seeing a lot of flexibility from our clients during this unusual time, namely that prospective clients are willing to book our venues without seeing them in person," says Starr. "We've been running 'roll-the-dice' promotions, where if a client will roll the dice with us by booking our venue only based on the virtual tour, we'll offer a discount on the venue rental fee. We know there's a lot of financial stress for everyone right now, so we're trying to alleviate that."
This week, Orlando's Avenue Event Group is debuting virtual site visit videos with voice-overs from a member of the Avenue Event Group team to allow event planners to "walk through" the venue on their own time. "We decided to do these pre-recorded sites as a means of anticipating client needs," explains managing partner Sean Hughes. "Clients need to see the space they are booking and feel comfortable with their event planner prior to signing a contract, which is accomplished with these tours. Although a majority of our clients would conduct in-person site visits prior to COVID-19, we also had a good portion of clients book with us, site unseen, thanks to photos, virtual tours, and videos of the venues. The pre-recorded sites add another layer to these assets that help clients feel more confident in booking a space."
And thanks to virtual tour software and platforms like Concept3D, Animoto, or Threshold 360, venues have the answer for how to provide event planners professional-quality virtual site visits. "Through our network of 'creators,' we schedule and coordinate the virtual tour capture for individual locations or entire destinations," says Seth Lawson, sales director at location visualization platform Threshold 360, which was tapped by Lindenfield to help execute the virtual site visit videography for the Alfred I. Dupont Building. "[We've] developed a platform that allows users to store and distribute those virtual tours easily via embed, link, MP4, or customizable map."
However, when it comes to setting up virtual site visits with venues, Linder advises, "Make sure you look beyond just pictures of the rooms! Having a good sense of the building layout and the flow between spaces is just as important as the spaces themselves. The building layout influences a lot, including the timing of the program, registration layout, and signage plan. The best virtual tours go beyond just the room and walk you through the entire experience."