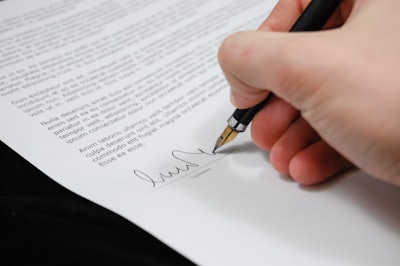 A note from BizBash: The advice included in this story in no way acts as a replacement for legal advice or language, but is rather meant to be advice from one event professional to another. We strongly encourage event professionals to consult a lawyer when negotiating contract terms.
"The most important term in our force majeure was 'government regulation' as an option to cancel without penalty. It was a simple email stating that the CDC banned gatherings of over 20 for eight weeks; they allowed us to cancel without penalty. Now new force majeure language includes words like 'pandemic,' 'state and local government,' and '25% of attendees are unable to attend for reasons beyond the group's control.''
Karin Beswick, events manager, Yes& Agency, Alexandria, Virginia
"Funny enough for the corporation that I work for, it never came down to contractual language in any of our cancellations or postponements. It came down to relationships. There was a mutual understanding and deep desire for both parties to move forward in a positive and respectful manner and meet each other's needs, regardless of what the contract stated. It was very inspiring to see so many of our event partners come from a place of compassion and understanding at the gravity of the situation for all involved!"
Bettina Hahn Osborne, corporate event manager, AYA Healthcare, San Diego, California
"With the COVID-19 outbreak creating a wave of cancellations and postponements throughout the event industry, our team at Paragon Events has been working alongside our clients and vendors to ensure that renegotiated contracts include terms that are fair and relevant to all parties. When negotiating with venues during and following this crisis, our president and CEO, Renee Radabaugh, reminds us to focus on a centered mindset of partnership, understanding, and mutual goals for financial success. Our team leads weekly Risk Assessment Reviews with clients to provide the latest data on the venue, event city/state, current travel polices, and trigger dates for contract terms. From there, we develop decision trees if the event were to cancel, postpone, or go virtual, guiding us to the best course of action for each scenario. Thinking ahead to future hotel and vendor contracts that have not been signed or amended yet, we recommend the addition of the below items to Force Majeure clauses: 1) Specific updates to 'Act of Gods' such as a reference to 'government regulations, global pandemic and Center for Disease Control warnings, level three travel advisories regarding non-essential policies, and curtailment of transportation.' 2) Correlate your curtailment of transportation to a specific percentage of attendees that could be prevented from traveling to the event within a timeframe before the program start date. 3) In addition to the standard terms of 'illegal and impossible' being used in a clause, make sure to also include 'commercially impracticable,' meaning if it becomes a burden, unbearably difficult, or extremely expensive for the client to actually have or venue to host the event. 4) Always include and outline the purpose and reason for your event, including any other contingent events that must occur in order for your event to be successful."
Katherine Stokoe, manager of meetings and events, Paragon Events, Delray Beach, Florida
"Adding 'inadvisable' to the clause along with 'impossible' and 'illegal.' It gave us more wiggle room on what makes an event inadvisable to hold. This allowed us to control the conversation in front of the cities shutting down. We had more options in our planning/postponement."
Tina Lynn Mercardo, director of meetings and events, NAFA Fleet Management Association, Princeton, New Jersey
"During this crazy time of events being canceled and postponed, I have found that our hotel partners have been very understanding and easy to work with. In most cases, it is mutually beneficial for both parties to postpone or reschedule. For our events, we want to showcase these hotel properties to our meeting planner attendees in the best way possible and be there for them when our industry starts to recover. This has helped us negotiate new event dates without getting into contractual issues."
Nicole Reynolds Corley, director of meetings and events, Connect Meetings, Norcross, Georgia
"The current contract force majeure language has been helpful in my dealings with venues on behalf of my clients, but you know what has been more helpful? Long-standing relationships, because client-by-client, with one exception, we have come to a resolution that A) follows the law, B) addresses the client's needs in the future, and C) provides some financial protection overall for most parties. The biggest thing that has helped me negotiate with clients is frankly telling the truth and speaking from a factual place. We travel a lot, so it is important to stay abreast of regulations per state/city, so while we have the contracts, I am also talking through CDC regulations, venue realities (some of our venues have temporarily closed), and comprehensive financial picture. I provide clients with an honest picture, a full picture, and I think there is trust in that because I have chosen to not charge additional fees but rather to adjust my payment schedule accordingly. I am speaking from a place of pure integrity, and while I am empathetic to what we are all feeling, above all else, I am honest and speak to the facts. In addition, prior to this time my force majeure policy did not include pandemics, and we are definitely discussing with a lawyer about what changes we should make, but this is how I am responding now."
Melva LaJoy Jones, owner and lead event designer, LaJoy Plans, Washington, D.C.
"Early into navigating this situation, we realized that, as a venue, we had to set the tone for how this will play out. Clients would be reaching out to coordinators and venues for guidance. Immediately, we knew that we wanted to offer postponements, not cancellations, because contractually, those offered no refunds. We also knew that we needed to protect the special event professionals that are attached to our weddings and events. With Saturdays being the prime day of the week for the events industry, we took those off the table for postponed events and offered available Fridays and Sundays, reserving those precious Saturdays for new business. We also steered clear of offering the prime season of fall 2020 for weddings, knowing that those dates were likely harder to move the entire vendor list to. We are reserving available dates in the fall for corporate events that couldn't execute in the spring. Until we can gather again, we continue to strategize with our peers on how to safely execute events and what that might look like."
Anessa Birkemeier, director of special events, The Ebell of Los Angeles, California