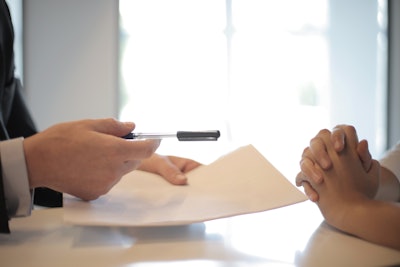 Photo: Andrea Piacquadio From Pexels
Trying to navigate the industry's new normal? BizBash is here to help. Every week in our new "Ask BizBash" column, we'll be tackling your questions on the nitty-gritty details of events. Submit questions on BizBash's Instagram, Twitter, Facebook, or LinkedIn pages, or email us at [email protected].
Most questions around event insurance in the COVID-19 era focus on force majeure clauses and what happens if an attendee falls ill. (Check out our Q&A with insurance attorney Mikaela Whitman for her take.) But what about virtual events? Do you need insurance coverage in case of say, loss of power or internet connectivity?
Specialist insurance agency Beazely thinks so. In late June, the company launched a contingency policy that covers event planners if a transmission failure disrupts or cancels a virtual gathering. The policy, which is available globally and offers limits of up to $10 million, covers losses in organizational costs, expenses, or revenue from advertising and ticket sales.
"These events are completely reliant on the technology working, and a failure can be financially crippling—which means having robust insurance in place is a must," said Mark Symons, contingency underwriter for Beazley, in a press release. "Beazley's virtual events transmission policy is designed to provide simple and clear cover tailored to the risks involved with hosting virtual events."
In practice, though, the idea of virtual event insurance doesn't seem to be gaining much popularity: BizBash reached out to a number of event professionals around the country for this story, and the vast majority said they were not purchasing a plan. "We do have claims in our contracts, though, [that say] we are not responsible for the client, presenter, or participant internet connections or issues," explained Erika Lohmar, executive producer and owner of Akire Productions. For instance, the company—along with its virtual event partner Mainstream Media Chicago—added the terms "failure of carrier or utilities" and "equipment or transmission failure or damage that is reasonably beyond its control" to its force majeure section.
Of course, things get more complicated when the virtual event has some sort of in-person component—such as remote 5Ks and other road races. Last month, Nathan Nicholas of the insurance firm Nicholas Hill Group told Sports Destination Management he recommends event insurance in these instances. "If a participant in a virtual event sues the event owner for any reason, the event organizer would be forced to defend themselves even if they feel they have no exposure," he said. "We also anticipate that sponsors, particularly in the case of high-profile events, would continue to require proof of coverage."
The idea also applies to virtual events that do gather a small group in person for a live shoot or broadcast, which is a situation Matt Stoelt of Los Angeles-based Stoelt Productions has coming up in September. While he's found that insurance companies are excluding COVID-19—meaning that if you get sick after a gathering, the burden of proof is on you that you didn't have it before coming—he's looking for other ways to protect his company.
"What we're doing is purchasing a standalone special event policy, which we typically do not do," Stoelt explains. "The goal is to help with potential other losses because the environment is so volatile right now. If I give a vendor a 50% deposit for cameras and livestream, and his operation closes up for some reason, that becomes my issue. We are trying to protect our investment and limit exposure as we get into and up to the actual event itself."
Further Reading:
FAQs on Event Insurance in the COVID-19 Era
Do Event Organizers Need Waivers of Liability for COVID-19?
What Advice Do You Have for Event Pros Negotiating Contracts for Canceled or Postponed Events?