How the Essence Festival is Going Virtual This Year
Organizers of the annual event offered a behind-the-scenes look into how they're going from IRL to online.
June 25, 2020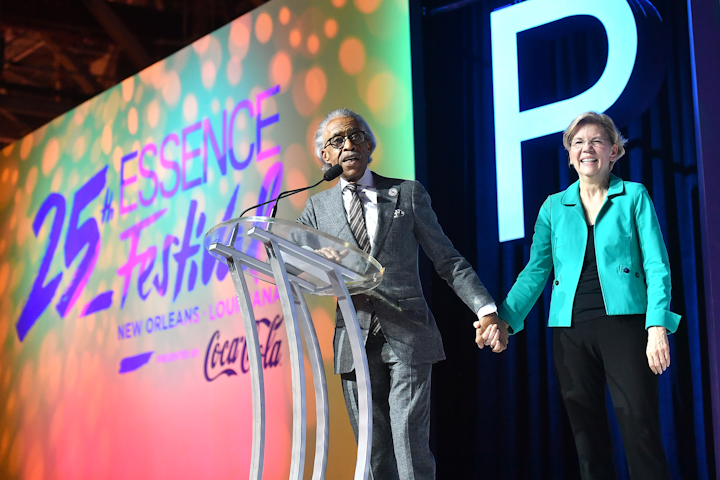 Photo: Paras Griffin/Getty Images for Essence
Last year, the Essence Festival expanded its footprint, taking over more New Orleans venues than ever before and attracting more than 500,000 guests over the Fourth of July weekend. In 2020, organizers are conquering more new ground: the virtual landscape.
Because of the COVID-19 pandemic, the weekend-long event, which was slated to take place from July 3-5 in New Orleans, was originally postponed to September, and then eventually canceled.
Instead, organizers will trade in the usual venues, Ernest N. Morial Convention Center and the Mercedes-Benz Superdome, for the digital sphere—a first in the festival's 26-year history—to host the "2020 Essence Festival of Culture: Unstoppable Virtual Experience Presented by Coca-Cola." The event will span two weekends, starting today through June 28 and July 2-5, and it will stream on Essence Studios (which launched in early March) as well as Facebook.
This switch to a virtual platform has allowed organizers to react to current events and tailor the festival's programming around hot-button issues. "As you saw protests and Black Lives Matter and all of the police brutality, the surge of things going on right now within the Black and brown communities, we changed up some of our programming and content to make sure that it was of the moment," explains Jovanca Maitland, director of live events and experiential for Essence.
The festival will also include a benefit initiative to raise funds for Black and brown entrepreneurs, small businesses, and organizations focused on racial equity across the U.S. Plus, the #BlackVotesMatter365 voting hub, in partnership with Michelle Obama's national, nonpartisan organization When We All Vote, will include access to helpful resources to help Black women amplify their voices in local and national elections.
Maitland, who is producing the event's Wealth & Power stage as well as coordinating with sponsors, says that the brands "have been able to pivot with us as well in terms of what they're doing for the community."
For example, Coca-Cola is sponsoring the roundtable discussion with Black women mayors, including Lori Lightfoot of Chicago; Ella Jones of Ferguson, Mo.; Keisha Lance Bottoms of Atlanta; London Breed of San Francisco; Muriel Bowser of Washington, D.C.; and LaToya Cantrell of New Orleans. The brand's interstitial video, which will run before the segment, is slated to feature content relevant to the community.
Maitland also collaborated with Disney on its sponsorship of the "Behind The Magic: 50 Years of Essence, Uncovered" segment, which airs on June 27 and will feature Essence's chief content and creative officer, MoAna Luu, sharing behind-the-scenes moments from cover shoots over the last 50 years.
Since Walt Disney World recently began celebrating its 50th anniversary and Essence is also commemorating 50 years of its magazine, it made sense for the brand to sponsor that segment and lend its "magical" touch to the title. Disney will also include a few Essence covers in its interstitial video, Maitland explains, allowing for a seamless transition from sponsored content to event programming.
Representatives from other sponsoring brands, such as Ford and Microsoft, will also be included throughout the programming as moderators and panelists.
Similar to the in-person event, the multiday experience will feature a range of programming such as workouts, beauty tutorials, personal finance lessons, Sunday sermons, panels, and nighttime concerts hosted by Loni Love and D-Nice—all a mix of prerecorded and live content.
Yvonne McNair, chief experience officer of Captivate Marketing Group and the festival's talent producer, has been overseeing recorded performances in locations such as Los Angeles, Jamaica, Atlanta, New York, and Chicago. And although they're not live in New Orleans, she still wants virtual attendees to get a taste of the festival's IRL vibe.
"It allows people who have always wanted to go to Essence Festival the opportunity to see what it's like. And that's why in terms of recording the performances, it was so important to not just send people a home kit and see them on their couch. It was important to show the production level of Essence Festival and try to make it feel as close to a live experience as possible," McNair explains.
Carmen Jones, Essence's experiential director in charge of the event's Beauty Carnival, also stressed the importance of bringing the popular activation to virtual attendees. "We understand that our audience sees themselves on the Beauty Carnival stage and the reflection of who they are and who they inspire to be," she explained. Adding that, her goal was to create a "beauty oasis for Black women who don't have access to their 'glam squads' with at-home beauty and self-care tips" and to focus "on meaningfully and engaging conversations with a diversity of content and talent that mirrors the Black community—from iconic models and beauty executives revealing their journeys to journalists and LGBTQIA champions revealing their challenges and roads to success."
Both McNair and Maitland said that, besides the technical hiccups, not being on-site has been the hardest part of producing a virtual event like this. "You can't react the way you would live," Maitland explains. "As an event professional, I need to be hands-on. I need to move."
But both women have been able to quickly adjust and grow from the experience. "Although it's harder, it's pushed me to think of things differently and more creatively than I think that I would normally," McNair says.
"I know that when we do the festival next year, or any event for that matter, we're definitely going to extend virtually," Maitland adds. "There's no way virtual will fall off. You're not going to forget that piece of it. And why should you? Because now you've mastered that piece of it. But also you've extended the reach of the audience. All the people who never come to New Orleans and to the festival will now see it."