10 Ways to Support Black Event Industry Professionals Right Now
The Black Table is a new collective that elevates Black-owned businesses in the event industry. Here are some key ways you can help further their cause.
June 24, 2020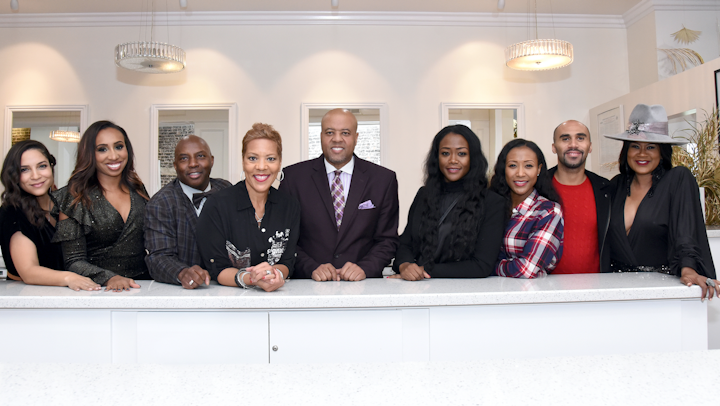 Photo: Courtesy of The Black Table
As the event industry continues to examine issues of systemic racism, a new collective of event professionals is offering resources, support, and education. The Black Table launched in 2019 with one main goal: to elevate the presence and positioning of Black-owned businesses in the event industry.
The new platform was the brainchild of international event producers Diann Valentine, William P. Miller, and Damon Haley, who saw that Black event professionals were often being overlooked for high-profile and lucrative event contracts—particularly in Hollywood, where the Los Angeles-based producers often work. The trio reached out to Black colleagues in the wedding, corporate, social, sports, and entertainment event industries, ultimately coming up with a group of nine co-founders. 
"We are stronger united than divided," explains Miller, the owner of WP Miller Special Events, who emphasizes The Black Table's "community over competition" mindset in pooling their resources and contacts to leverage their economic and cultural impact—and create a pipeline to support other Black event professionals.
The Black Table currently has a variety of offerings. Pre-COVID-19, for example, the collective hosted a networking mixer for more than 100 Black event pros in Southern California. "The mixer presented the opportunity to discover new talent, and formulated deeper connections with other Black event professionals," says Valentine, an author, speaker, and managing partner for Exhilarate Experiential, who hosted the event at a Los Angeles venue she owns.
Though the group's in-person networking plans are on hold due to the pandemic, The Black Table currently offers a bimonthly newsletter that spotlights Black event professionals and shares industry news; they've also launched a weekly discussion series called "The Black Table Sauce," and are hosting a virtual leadership forum this week with executives from Essence and Endeavor plus other Black business leaders. (Find out more here.)
While The Black Table's goals have not changed based on recent protests and increased conversations on the role of racism in the workplace, the group did recently put together a list of 10 steps that the event industry, brands, and decision-makers should take now. Here's the list, in their own words. 
Hire Black event professionals to produce your large-budget, "mainstream" events. There are many professional, highly qualified Black-owned special event production companies as well as vendors. We are available for corporate events, conventions, sporting events, launches, grand openings, and nonprofit galas. Black actors, actresses, and entertainment executives: Hire us for your weddings, social engagements, and other events—and require that your agents include us in the bidding process.
Create equal opportunity. Include us as strategic partners when bidding or responding to RFPs.
Normalize Black creatives. Publish our work, profile Black event professionals, and spotlight Black-owned businesses in your magazines and online media platforms.
Hire Black leads as co-executive producing partners—not just as consultants or sub-contractors.
Hire Black vendors and suppliers, especially when working with Black clients, consumers, or events.
Be intentional about inclusivity. Blacks should be included in all areas of the event industry, including as leadership, chairpersons, honorees, and speakers. Know that having one Black person in the room is not enough.
Include us on your platforms, panels, educational platforms, and as contributors—and not just when faced with racial disparities. 
Don't use our culture for your financial gain. Use our culture as influence in this country.
Include Black event professionals on your preferred vendor lists.
Give credit. Don't marginalize our contribution to your event or in the special event industry; we deserve acknowledgment and respect.
"Racial diversity is so crucial in the event industry because it has been absent for so long, and further perpetuating racism within our country and within every industry," says co-founder Todd Hawkins, owner of The Todd Group. One example of this, he adds, is in preferred vendor lists. "If you counted the number of Black event professionals who are on preferred vendor lists throughout the country, your search would provide less than 75," Hawkins points out. "That's unacceptable, and that is a prime reason why now is the time to change it."
Lauren Montgomery, the creative director of Collective Rentals and another co-founder of The Black Table, notes the added pressure of being a Black woman entrepreneur in this industry—and hopes the platform can help change that. "Being a Black- and female-owned business on the vendor side of the industry has opened up my eyes to how few Black females own product-based businesses," she says. "While there is more risk upfront and more overhead with this type of business, I would still love to see business development programs for females and minorities, because it is something we lack as a community."
The Black Table hopes to continue to grow its offerings, and eventually establish chapters throughout the United States. "The event industry is a diverse industry by nature, so why aren't the people who produce, supply, and support this industry more reflective of those who have events, produce events, own events, and attend events?" asks Hawkins. "For so long, Black event professionals have had to work 10 times harder to secure contracts, develop vendor relationships, and sustain their business beyond the Black community and clientele. But why?"
He adds, "We can compete; we are prepared and positioned to take on anything. Yet we see non-Black event professionals getting the majority of business and vendor priorities and relationships, simply because of the color of their skin and their clients. Time's up."
To learn more about The Black Table, head to their website or connect with them on Instagram at @theblacktable_.
Further Reading: 
Continuing the Conversation: Black Voices in Live Experiences
Diversity in Events: What It Means, Where We're Failing, and What Comes Next
Resources to Promote Diversity and Anti-Racism in the Event Industry