5 Lessons Learned From Washington's First Dîner en Blanc
The city hosted its first edition of the international pop-up picnic for 1,500 people.
October 2, 2014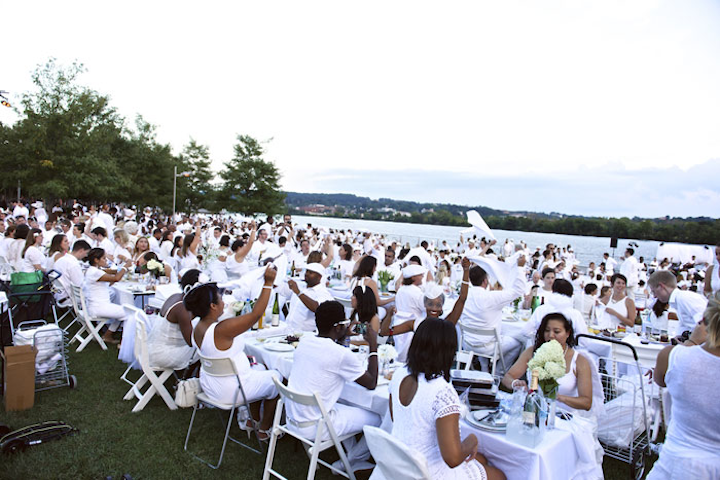 Photo: Surpass Visuals
The chic pop-up picnic known as Dîner en Blanc began in Paris more than 25 years ago and has since spread to nearly 40 cities across the globe. Washington, D.C., joined that list with its debut event on September 4 at Yards Park, drawing 1,500 attendees.
The concept requires that guests wear all-white clothing and tote their own food, table and chairs, tablecloths, dinner napkins, non-disposable dishes and cutlery, glassware, and decor. Part of the fun is that organizers keep the venue a secret, revealing it less than an hour before the event takes place.
Bryer Davis, one of the event hosts, shared how planners pulled off the first-year event and what they will change for next year.
1. Be Persistent
After attending Dîner en Blanc in New York in 2011, Davis wanted to bring the event to Washington. She contacted the international organization and found herself planning the event with two other people. But that initial team didn't work out, and the idea stalled. So Davis tried again, this time assembling her own team with her mother and business partner, Linda Davis of the Davis Group, and Justin Ross of Washington's Justin's Cafe, respectively. "It was a three-year process," she said. "The team we ended up putting together was very strong."
2. Think Big
For a first-year event, people could be forgiven for modest expectations. The international headquarters advised Davis to limit the crowd to about 1,000 people. But demand was so strong and the venue could hold more people, so the hosts asked to increase the total to 1,500 guests. "Before we officially launched, we had 100 Facebook likes and 400 people on a waiting list. Prior to the day of event, there were 8,000 people on our waiting list. It was a great crowd. I'm thrilled."
3. Keep Surprises Secret
The big surprise of the event is its venue, so Davis and her team worked out ways to limit the number of people who knew it. "We really kept the location tight. For certain vendors, we just said it was a 'corporate event' because they didn't need to know what it was."
4. Embrace Your Sponsors
One of the event's sponsors, Moët & Chandon champagne, came on through a deal arranged by Dîner en Blanc's international team. The company provided a seven-tier tower of Moët Ice Impérial as a decor piece. "They were able to choose five cities to participate in, and they chose Washington, D.C., as a first-year event, which we were totally flattered by," Davis said. "How many times did you see the champagne tower [on social media]? It was such a great photo op."
5. Keep Growing and Changing
Davis fully expects the event to return next year with even more guests. "By the nature of the event, the numbers will grow dramatically. We could be 2,500 or so," she said. "Our whole infrastructure changes with that many people. We also will look at vendors and revisit music and food choices so we can keep it new and fresh and interesting."
Featured Venues/Suppliers: