What to Expect at BizBash Live: New York
Registration is still open for event education sessions and entrance to the exhibit floor.
October 17, 2017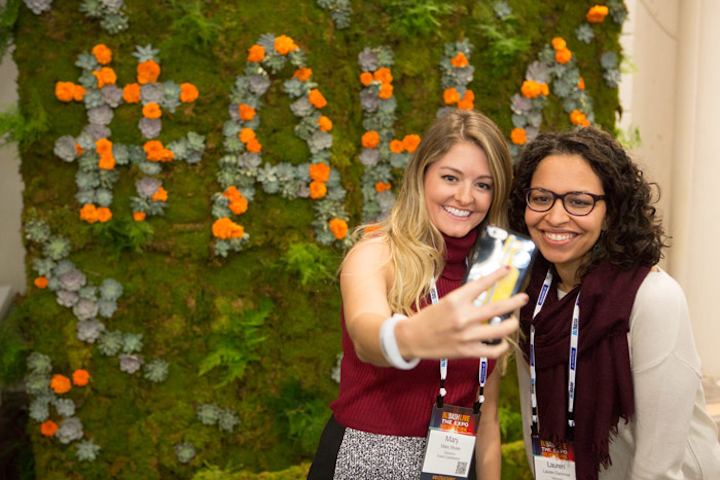 Photo: Shooting Stars Pro
BizBash Live: New York, an event designed to educate and inspire a variety of meeting and event professionals, returns October 25 to the Jacob K. Javits Convention Center.
Sessions during the Event Innovation Forum, a single-track education conference, and the Workshop Series of seminars will cover topics such as event design, nonprofit messaging, event security, and more. A new component, the Wedding Pavilion, will showcase an educational forum, a curated vendor group, entertainment, and tastings.
Registration for the Event Innovation Forum and the Workshop Series includes admission to the exhibit floor. The schedule for BizBash Live: New York, including morning and afternoon sessions, a luncheon, and after-party, is below; registration is available here.
8:30 a.m.
Registration Opens
9–9:50 a.m.
Workshop Session 1
Crushing Corporate: Building Your Personal and Professional Brand
Yoli Chisholm, STEAMRole.com
Beyond Hashtags: What You Need to Know About Social Media
Alex Plaxen, Little Bird Told Media
Daring Design: Creative Brainstorming to Craft Memorable Experiences
Liz Castelli, chief operating officer, Tinsel Experiential Design
Adette Contreras, chief creative officer, Tinsel Experiential Design
Erica Taylor, chief marketing officer, Tinsel Experiential Design
From the Ground Up: Evolving Your Event Skill Set
Josh Wood, C.E.O. and Founder, Josh Wood Productions
10–10:50 a.m.
Workshop Session 2
(Sessions Repeated From Workshop Session 1)
Crushing Corporate: Building Your Personal and Professional Brand
Yoli Chisholm, STEAMRole.com
Beyond Hashtags: What You Need to Know About Social Media
Alex Plaxen, Little Bird Told Media
Daring Design: Creative Brainstorming to Craft Memorable Experiences
Liz Castelli, chief operating officer, Tinsel Experiential Design
Adette Contreras, chief creative officer, Tinsel Experiential Design
Erica Taylor, chief marketing officer, Tinsel Experiential Design
From the Ground Up: Evolving Your Event Skill Set
Josh Wood, C.E.O. and Founder, Josh Wood Productions
11 a.m.–12:30 p.m.
Event Innovation Forum Session 1
The Power of a Message: How Nonprofits Can Motivate, Activate, and Inspire
Patricia Padilla, founder, 196
The Art, Science, and Magic of Experiential Storytelling
Christian Lachel, executive creative director, BRC Imagination Arts
How American Express Creates Partnerships That Enhance the Fan Journey
Deborah Curtis, vice president, global experiential marketing and partnerships, American Express
11 a.m.–5:30 p.m.
Exhibit Floor and Wedding Pavilion Open
12:30–1:30 p.m.
Networking Luncheon
1:30–3 p.m.
Event Innovation Forum Session 2
Create Your Brand Moment: How to Win in the Experience Economy
Albie Hueston, creative director for experiential, Refinery29
Kelly Markus, vice president for experiential, Refinery29
5 Things You Need to Know About Event Security and Emergency Preparedness
Sam Sherman, vice president of planning and production, First
Events as Brand-Builders: The Goop Perspective
Colleen Kennedy Cohen, director of events, Goop
3:45–4:45 p.m.
Wedding Forum
Weddings x Events: What's Hot and What's Not for 2018
Lauren Kay, deputy editor, The Knot
Ron Ben-Israel, chef and owner, Ron Ben-Israel Cakes
Kevin Denton, corporate mixologist, Pernod Ricard
Secrets From the Source: Preston Bailey on Successful Experiences
Preston Bailey, Preston Bailey Designs
5–5:30 p.m.
Event Style Awards Ceremony
6:15–8:15 pm
After-Party at Bagatelle
Featured Venues/Suppliers: