This Week in Los Angeles: a 'Grey's Anatomy' Art Exhibit, a Charcuterie Table Runner, the Splashiest Emmys Party Decor
West Coast bureau chief Claire Hoffman recaps the week's biggest event news.
September 21, 2018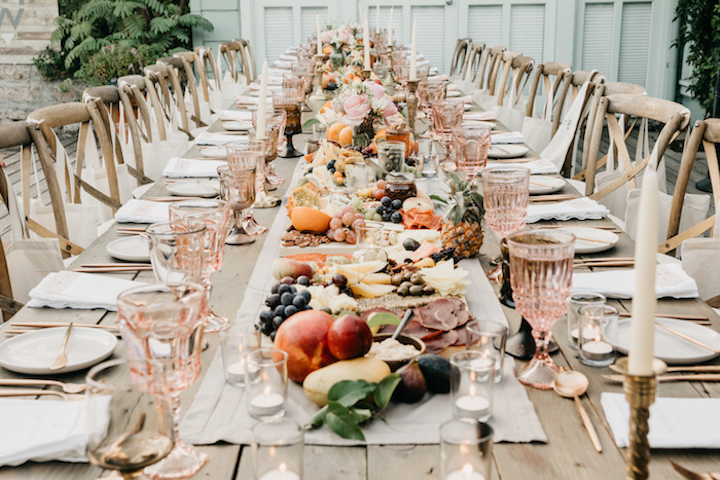 Photo: Christian Montoya
Welcome to BizBash's new Los Angeles-based column, where West Coast bureau chief Claire Hoffman recaps the week's biggest local news. Got a tip? Get in touch!
In Case You Missed It
We peeked inside this year's biggest Emmys parties, from HBO's Garden of Eden-theme blowout to Fox's geometric elegance to the Television Academy's starry decor. We also caught up with Warner Bros. Studios events sales manager Natalie Fulton, who discussed the biggest things affecting her job right now. 
In the News
Construction is about halfway finished on the new multibillion-dollar football stadium in Inglewood. LAist: "Besides the stadium for the Rams and the Chargers, the Turner-AECOM-Hunt joint venture will include a 298-acre 'urban village' that will include a 6,000-seat performing arts venue, 2,500 residences, 25 acres of public parks, and 2 million square feet of retail space. … The stadium will also host the closing ceremonies for L.A.'s 2028 Summer Olympics." https://bit.ly/2QMP48E
The L.A. Film Festival, which launched last night and runs through September 28, has changed venues and seasons in an attempt to recover its relevance. Variety: "The LA Film Festival is hoping to regain its place among top local events with more than 200 features, shorts, and music video screenings, representing more than 40 countries. It is also continuing to place a heavy emphasis on diversity in its competition film slate, with 42 percent of the films directed by women and 39 percent helmed by filmmakers of color." https://bit.ly/2NZkeeq
Governor Jerry Brown has signed a bill that legalizes street vending. Eater Los Angeles: "Also known as the Safe Sidewalk Vending Act, SB 946 requires cities and counties to maintain certain rules when interacting with street vendors. There's a tremendous bonus for anyone selling food on city streets: Sidewalk vending is no longer a crime." https://bit.ly/2QMuWnd
Moves & Milestones
Michelle Sussman Kelley has joined the Contemporary Catering team as a senior client experience manager. She previously worked in the wedding department at the Wynn Las Vegas.

Orange County-based exhibit design and marketing agency FGPG has named Nick Peery its new general manager. Peery is a 15-year veteran of the trade show industry, having previously held leadership roles at Velocity Event Services, Exhibit Options, and Absolute Exhibits.
Venue Buzz
Apron and chefwear company Hedley & Bennett rents its 16,000-square-foot downtown factory for events, and on September 12, debuted its new Test Kitchen Studio. The whimsical space is outfitted with a set of Samsung Chef Collection appliances and cookware from Le Creuset, plus Instagram-friendly wallpaper and space for custom chalkboard art; it's available for cookbook parties, chef demos, cooking classes, branded events, and more. The kitchen is part of the massive factory space, which can also be rented for events. It accommodates as many as 700 people in a colorful showroom and outdoor space, and has details such as treehouse-inspired offices, a rainbow-colored showroom with inspirational quotes, and even a swing and a zip line.
Overheard
"You wonder why I don't like to call you my girlfriend? It's because I want to call you my wife."
—Director Glenn Weiss, who proposed to his girlfriend, Jan Svendsen, while accepting an Emmy on Monday night. Weiss has won 14 Emmy Awards for directing and producing the Oscars, the Tony Awards, the Kennedy Center Honors, and more, and Svendsen serves as chief creative officer for the Charity Network.
On the Scene
Last night, we got a sneak peek at PopSugar and ABC's new pop-up art exhibit celebrating the 15th season of Grey's Anatomy. A partnership with THNK1994, the unconventional take on a premiere celebration features show-theme art, photo ops, and props; it's open to the public this weekend in West Hollywood.
What's Next 
Fall means benefits season, starting with the Jeremy Piven-hosted Face Forward gala Saturday night. Held at the Beverly Wilshire, the evening will feature a La Dolce Vita theme and a performance by Ne-Yo. The Beverly Hills-based nonprofit provides pro bono reconstructive surgery and emotional support to victims of domestic violence, human trafficking, and other crimes.
Meanwhile, the Los Angeles Philharmonic's 100th-anniversary celebration takes place on September 30. The event will mark the debut of Xite Labs, a new company from Vello Virkhaus, former owner of V Squared Labs, and Greg Russell, former owner of Tandem Digital Entertainment. The team will video map the Hollywood Bowl during performances from Katy Perry, Herbie Hancock, and the Youth Orchestra Los Angeles.
Featured Venues/Suppliers: