Summer Party Ideas: 7 Safe and Festive Ways to Host a Small, Outdoor Gathering
Want to host a small gathering this summer? Follow these best practices to keep your guests safe and socially distanced.
June 29, 2020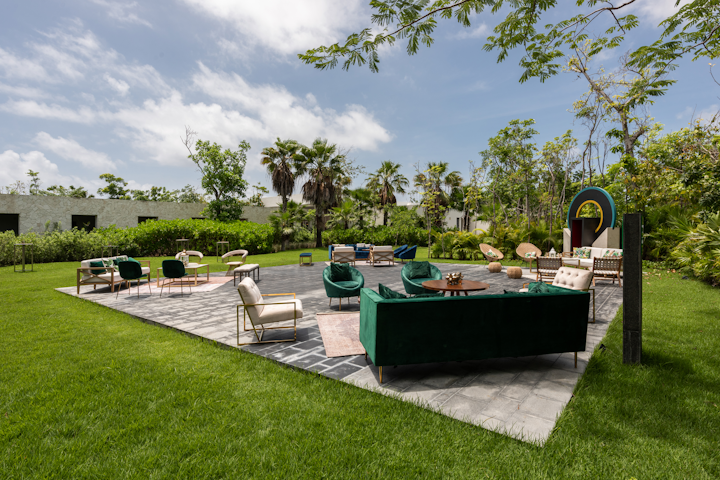 Photo: Courtesy of Andaz Mayakoba Resort Riviera Maya
As summer gets into full swing, people are understandably eager to gather for backyard barbecues and other outdoor events. But is it possible to do so safely amid the coronavirus pandemic? Before organizing anything, study up on local rules and regulations—an event hosted in Georgia, for example, may allow for more guests and looser restrictions than something in hard-hit Los Angeles, where officials are still discouraging most gatherings outside of your own household.  
If you do want to host a small, physically distanced gathering for Fourth of July or later in the summer, we rounded up some fun tips and best practices for hosting a festive outdoor event—while also keeping your guests safe.
1. Establish ground rules on the invites and as soon as guests arrive.
"Communication starts with the invite," says Alexandra Rembac, principal and creative director of Sterling Engagements, who recently launched a new division that's specifically dedicated to safe celebrations at home. "Assure guests of precautions made, limited guest count, and efforts to protect their safety."
Invites are also a chance to share logistical notes: Should guests bring their own face masks, or their own utensils, chairs, or blankets? Zaria Zinn, celebration expert at online invitation company Evite, notes that a digital invite may be a more sanitary option, and a quick way to set a theme and establish ground rules. "Turn new safety precautions into a themed activity that guests can participate in," she suggests. "For example, on an invitation for the Fourth of July, ask your guests to wear their favorite red, white, or blue face mask. Give away free hand sanitizer or other prizes to whoever is the most creative."
Pre-event communication should also tell guests how the layout will work, to avoid confusion and unnecessary physical interactions. "What time should they arrive? Is there a specific end time? Should they enter through a side gate? Should they be wearing masks? Is there assigned seating? Planning ahead and communicating your plans for every last detail is more important than ever," points out Steve Sheldon, co-founder and managing partner of Epic Entertainment Group.
Depending on your budget, branded masks, hand sanitizers, or picnic blankets can be a fun piece of swag at the door. Another idea, says Rembac, is color-coded bracelets that will let guests non-verbally express their level of comfort. "You set it up with a key explaining the colors: black or red means 'I'm distancing—see me, but don't get close to me.' White or yellow means 'We can speak six feet apart, but please be careful to stay in your lane!' Then gold or green means, 'We're golden; I'm okay with closer interaction,'" she suggests. "As the guidelines open up, I love these for ways to really support the comfort level of guests. If you mail invites out, you can even send the options with a card in advance."
Or, coordinate staggered arrival and end times for guests. "If you're determined to have a larger event, spacing people out in 'sessions' is a great way to keep everyone safe," says Sophia D'Angelo, founder and CEO of Boston Experiential Group. "Just split your guests up into different time slots, and make sure to sanitize consistently throughout the night."
Take a cue from weddings and consider assigned seating, too. "There's nothing wrong with planning, sketching, and providing a big seating arrangement board at your outdoor party," says Holly Clapshaw, marketing manager at Funktion Events, who adds that "having a seating arrangement opens the door to theme your outdoor party. For example, reference a favorite TV show with table names, allocate colors to different circles, or incorporate an overall theme like western or festival vibes."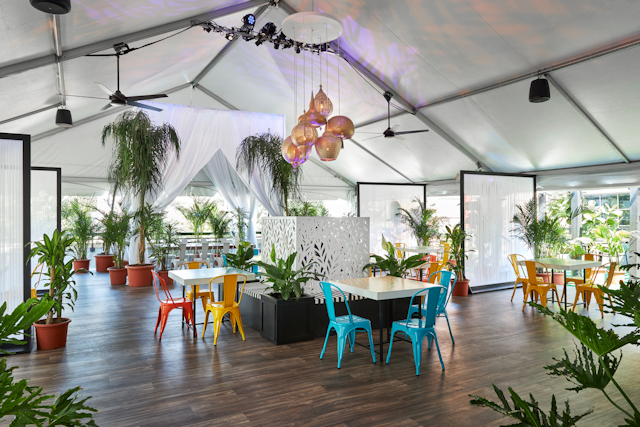 "We are using bell tents that are open all around the sides ... so that people can distance themselves but still be in a fun, cool, and chic environment," says Revolution Event Design & Production's Katie Kirby. The company is also using planters and sheer walls to create barriers between seating areas. "[We chose] sheer material so you could still see other people and get that community feel of being out and social—without the actual proximity challenges."Photo: Greg Powers/Revolution Event Design & Production
2. Use furniture, decor, and clear signage to promote physical distancing.
"Hosting an outdoor party is the perfect opportunity to play with different layouts," says Viridiana Trinidad, events executive at the Andaz Mayakoba Resort Riviera Maya. "Forget identical sitting arrangements; tables don´t have to have the same amount of chairs. You can set up by family members, or set up small and different environments depending on the theme of the party—for example, if it's a beach party, have a bonfire area, a teepee area, and a picnic area."
Picnics are likely to be a big trend this summer, says Shannon Falcone, director of special events at Power Home Remodeling. "This allows guests to easily spread out on their own picnic blankets throughout the designated event space. It's important to make sure that there are markers on the ground so that guests can easily spot and understand where each blanket should be placed. You can easily mark designated spots by utilizing signage, decorative plants, or even spray paint."
Kaleigh Northrup, owner and chief event producer of Kay Northrup Events, echoes that point, suggesting a "bring your own picnic" model. "Lay festive blankets across the lawn for guests to take their pick when they arrive. You can even color coordinate—a blue blanket with blue lawn pillows, blue disposable cups, blue plates, and blue cutlery. Guests can choose their favorite color, and unpack their own food and booze."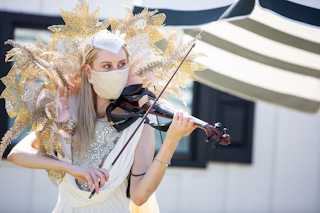 Consider a socially distanced entertainment option, like this masked violinist from Artists Creating Entertainment. See more: Can Socially Distanced Pop-Ups Help Bring Back Live Events?Photo: Maya Myers PhotographyIf you'd rather a more formal set-up with tables and chairs, "Make sure your seating is comfortable and versatile so guests can use one chair for eating, socializing, and relaxing throughout the outdoor party," suggests Clapshaw. And use small tables—either individual or one per family—and clusters of lounge furniture to keep guests in their designated spaces, with barriers such as plants or props between them. "I definitely take advantage of the space's existing components like plants, sections of the yard, and even pools to space people or groups," says Rembac. 
Another on-trend idea, adds Northrup, is a drive-in style party. "Guests can back their car up to the party location, pop the hatch, and set up their own picnic in the back of their car," she says. "Depending on the size of your yard, you could make a fire pit in the center and take turns roasting your own marshmallows."
No matter what type of seating arrangement and layout you choose, remember that "a one-way system is essential," says Clapshaw. "This includes everyone entering your outdoor party through one entrance and leaving through one exit. This will make channels of movement much easier to keep track of; it also gives you the opportunity to add hand-sanitizing stations throughout."
Related: The Future of Floorplans: What Will Physically Distanced Event Layouts Look Like?
3. Don't neglect the decor.
While budgets may be lower and guest counts may be smaller, it's still worth giving the event a sense of occasion. "After being cooped up inside our homes over the past few months, bold is better when it comes to design," says Falcone. "Colors and prints that are vibrant and invoke happiness and excitement are what people are longing for right now."
She adds, "To include a fun twist, add an attire guide for guests—they have spent the past few months planning and fantasizing about what their first outfits might look like outside of quarantine. Having a themed experience allows guests to feel excited in multiple regards, from dressing for it to packing for it to having an expectation for it before they even arrive."
Decor can also be used to promote social distancing. For Fourth of July parties, for example, "Use little flags six feet apart throughout the yard so people know what the distance looks like," suggests Zinn. "This decor would resonate throughout the summer as well." 
Related: 11 Event Decor Ideas and Products Designed to Keep Guests Safe   
Chef Sabrina Moller recommends individual food boards in single-serve or single-family portions.Photo: Courtesy of Platedate4. Use pre-packaged food and beverage.
Food and beverage is undoubtedly one of the biggest pain points in the world of COVID-19. To keep guests safe, "Individually boxed meals are the way to go," says Sarah Carroll, owner of Small Shindigs. "This lends itself well to a backyard party, and you can get really creative with displays like picnic baskets or vintage serving trays. For beverages, ask a bartender to make pre-mixed cocktails already poured into jars with lids—that way people can grab and go."
Katie Kirby, creative director of Revolution Event Design & Production, echoes that point, suggesting "Bento boxes, fun individualized containers, glam lunch boxes, personalized glasses, and masks with straw holes," she says. "We are making masks with a zipper for straw holes and they've been such a huge hit."
For an eye-catching catering option, food stylist and private chef Sabrina Moller, owner of Platedate, suggests individual food boards in single-serve or single-family portions. "Make a variety of boards for people to choose from. Each family grabs their board one at a time and brings it back to their picnic blanket," she suggests. "You could do a variety of different ones—burger boards, tacos, meatballs, skewer kabobs, veggie or fruit boards, cheese and charcuterie boards." Depending on budget, Moller also suggests hiring a food truck. "No one will have to come inside your home for food, including the chefs," she points out. 
Individually boxed, single-serve items also offer extra opportunities for branding, notes Melisa Imberman, owner of The Event Of A Lifetime, Inc. "Or just take advantage of it to enhance your colors or theme."
The same idea applies to beverages. Earlier this month, Cocktail Academy in Los Angeles launched the Lost Parrot Tiki Pop-Up, a "tiki bar in a bag" concept with five options for pre-batched cocktails and a link to an "island getaway" Spotify playlist; add-ons include Hawaiian-theme giveaways. The experience is delivered in an eye-catching, themed van, which can add a fun, interactive—and safe—option for outdoor parties. 
Related: 9 Creative Catering Ideas for Virtual Events and Small Gatherings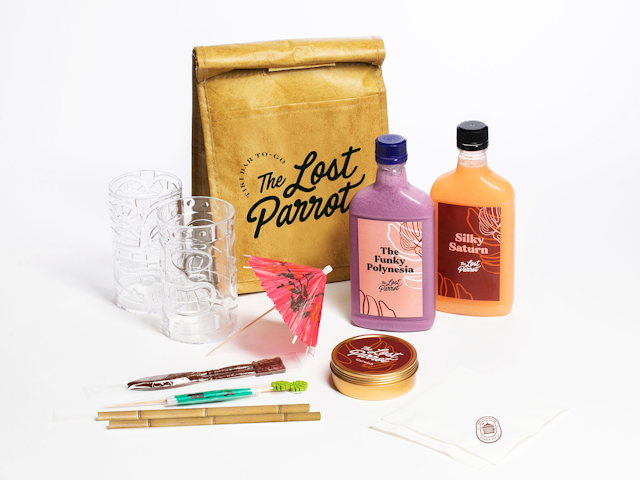 Cocktail Academy's "tiki bar in a bag" comes with pre-batched tiki cocktails for four, two tiki tumblers, straws and swizzle sticks, and more; pricing starts at $49.95.Photo: Scott Clark/Cocktail Academy
5. Use entertainment to foster a sense of connection.
As guests are seated apart and only mingling from a distance, entertainment may be more crucial than ever. Consider a physically distanced entertainer, and make sure everyone's seating arrangements offer a decent view. "By hiring entertainment as the focal point, it allows guests to be a part of an experience from their seat, which is a safe, social-distancing option," says Falcone.
Zinn notes that typical backyard games like cornhole can also be a fun, distanced option for summer parties. "Ask guests to use gloves so that they're not touching the same bags, or keep some disinfectant around so guests can disinfect the bags between games," she says. 
Another idea is to end the event with an outdoor movie. "I love the idea of setting up a big screen and playing a movie for everyone to watch under the stars," says Carroll. "It's something people don't get to do even in normal times, so it'll feel fun and different."
Think through other games that can be played as guests are seated six feet apart. "For people who want to host a small party, but still be cautious, a virtual game might be a good option," says Cal Muncy, owner of letsplayadrinkinggame.com, who calls out games such as Picolo and Jackbox Games. "Everyone plays the game together, but each person uses their own phone to play."
6. Still not comfortable gathering in person? Take it online.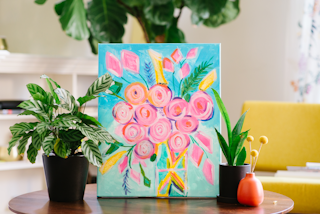 Glow Events has been hosting virtual picnics, where supplies for cooking, painting, and other group activities have been sent to attendees in advance.Photo: Courtesy of Glow EventsRemember that virtual events can still be a great way to bring people together in a celebratory way. Jennifer Leibow, director of events for Glow Events, has recently been planning "virtual picnics" for corporate groups. "Each event is hosted over Zoom and starts with a welcome to the entire company where leadership can kick off the festivities," she explains. "From there, guests move to individual Zoom rooms where they've pre-registered for activities based on their interests. These include everything from queso and margarita classes with a chef, wine tastings with a sommelier, painting with an artist, arts and crafts for kids, virtual escape rooms, and more."
Leibow notes that all activities are hosted by a live instructor, and ingredients and supplies are shipped to attendees in advance. "The event concludes with everyone coming back together for a musical performance and happy hour that they can all enjoy together," she adds. "These have been great ways for teams to feel connected."
7. Remember that people just want to be together. 
"Social interaction is more meaningful than ever," says Northrup. "Keep it safe and simple, and use the time to enjoy each other's long-awaited company."