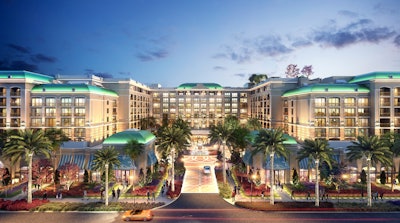 Rendering: Courtesy of Westin Anaheim
As hotels and event spaces begin to cautiously reopen after coronavirus-related shutdowns, we're here to round up the biggest news of the week—in one convenient place. Got a tip? Get in touch!
Here are six things you need to know this week.
1. Communicating cleanliness protocols is key.
According to the J.D. Power's 2020 North America Hotel Guest Satisfaction Index Study, which was released on July 22, cleanliness and safety protocols are the most important things to communicate to guests prior to arrival. "While the COVID-19 pandemic has certainly amplified the importance of hotel cleanliness, it has historically been an important focal point for hotel guests," noted Andrea Stokes, hospitality practice lead at J.D. Power, in a press release about the survey of almost 38,000 hotel guests. "The other critical variable for the industry right now is proactive communication with guests—both about the specific steps hotels are taking to protect guests and about any service and amenity limitations due to COVID-19. ...The ability of hotels to clearly manage guest expectations, both pre-stay and at the property, will be key to maintaining high satisfaction during this difficult period."
Among the many companies in line with these findings is Dream Hotel Group, which safely reopened six of its hotels this week including the Dream Hollywood, Dream South Beach, and Dream Nashville. The company developed a comprehensive health and cleanliness plan that includes mandatory face coverings; health screenings for all staff and vendors; no-contact check-in, payment, and food ordering options; and much more.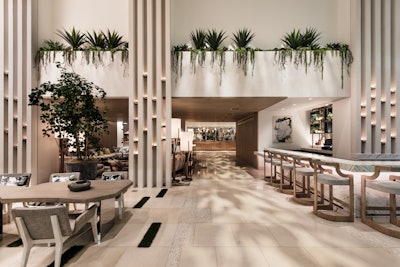 2. Venues are drawing an increasing amount of small meetings.
In accordance with local regulations, some event venues around the country are hosting an increasing number of small corporate groups. "The 40-person and the smaller group has become our new normal," says Pepper Dombroski, director of sales for The Broadmoor, a 784-room property in Colorado Springs, Colo. The 5,000-acre resort has 310,000 square feet of meeting space spread over more than 90 rooms. Guests are also opting to use the hotel's recently completed 125,000-square-foot exhibit center as an overflow dining area to ensure social distancing. "Because we have so much square footage, we're able to spread out our groups that are here in person and make everyone feel more comfortable and socially distanced," adds Dombroski.
The Wigwam in Litchfield Park, Ariz., is also drawing meetings with its new "Maximize Your Meetings" package, which creates a streamlined experience for groups as large as 50. The package starts at $90 per person (a discount from the usual rate of $150), and contracts allow for a one-time rebooking credit until Dec. 31. The 440-acre resort has a variety of indoor and outdoor spaces for socially distant meeting configurations, including a 12-seat room with garden views, the 1,344-square-foot Arizona Room, and an outdoor patio.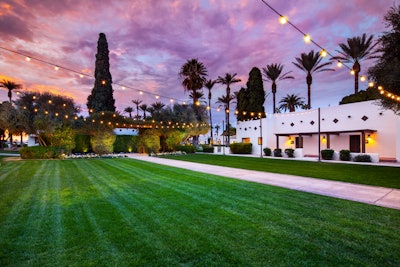 3. The senate's new relief package is being applauded by the hotel industry.
Senate Republicans introduced plans for the latest coronavirus relief package this week, and it's drawing praise from the American Hotel & Lodging Association (AHLA). The package reportedly includes several hotel industry priorities, such as additional funds for the Paycheck Protection Program and limited liability protection for businesses as they reopen.
"Hotels and hotel employees have been severely impacted by the pandemic," said Chip Rogers, president and CEO of AHLA, in a press release that also notes the hotel industry supported more than 1 in 25 jobs and contributed $660 billion to U.S. GDP prior to the pandemic. "We applaud lawmakers who have recognized this fact while crafting this critical legislation. We urge Congress to move swiftly to pass additional support directed at the industries and employees who have been most negatively impacted by this crisis."
4. New technology solutions are making venues safer.
New technology isn't just for shifting to virtual. LG Business Solutions, for instance, has debuted new offerings designed to improve safety and flexibility for both eventgoers and venue staffers. The tech company's new solutions include wellness kiosks, which include a thermal scanner for temperature readings, a motion-activation hand sanitizer dispenser, and options to provide necessary information to event attendees. The displays can also track when attendees enter and exit an event—reducing the need for check-in staff—and details on bathroom occupancy and cleaning status.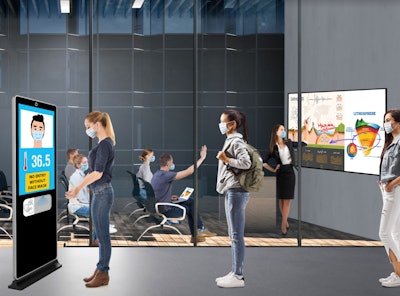 5. L.A.'s most infamous hotel may become a private club.
West Hollywood, Calif.'s iconic Chateau Marmont is likely becoming a private club and residential property by the end of 2020. Owner André Balazs told the Wall Street Journal that he had been considering the idea for years, and that economic struggles due to COVID-19 sped up his decision. The 63-room hotel has been a staple of movie scenes, celebrity gatherings, and award season parties since opening in 1929.
6. Venues keep dreaming up out-of-the-box virtual offerings.
In a fun—and distinctly Las Vegas—twist on virtual offerings, Graceland Wedding Chapel is now offering virtual Elvis-theme vow renewals and commitment ceremonies. Couples can invite up to 100 guests via Zoom; packages start at $279, and don't worry—they include a live performance by an Elvis impersonator. (Note: The ceremonies are not legally binding.)
Bonus: New and Upcoming Openings to Know About
In Colorado Springs, the new United States Olympic & Paralympic Museum opens this week. The facility features a 2,000-square-foot theater, a cafe, a spacious outdoor patio, and a 1,300-square-foot event venue. Every space can be reconfigured for accessibility needs; the theater can hold 26 wheelchairs, for example, while flexible seating throughout the property has built-in cane rests. All media and video content was also designed with inclusivity in mind; guests are given personalized RFID badges designed to activate features—such as audio descriptions—depending on any special requirements.
The Westin Anaheim is slated to open in October. The Southern California property will have 618 guest rooms, including 785-square-foot suites with balconies overlooking Disneyland, plus a 2,000-square-foot Presidential Suite. The hotel will also feature seven culinary experiences, a 24-hour fitness center, and more than 47,000 square feet of flexible meeting space—including the 16,000-square-foot Anabella Ballroom, 23 event rooms, and 18 breakout rooms.
OverActive Media, the owner of Toronto Defiant and Toronto Ultra, plans to build a new esports arena at Exhibition Place in Toronto. The venue will have between 7,000 and 10,000 seats, and it will reportedly host concerts and entertainment events in addition to tournaments. Maple Leaf Sports & Entertainment president Bob Hunter—who has helped develop arenas including Rogers Centre, Scotiabank Arena, and BMO Field—has been hired to oversee the project.
In Los Angeles, Century City's highly anticipated Fairmont Century Plaza is on track to open this fall. The hotel will feature 400 guest rooms, each with a private balcony, plus 63 private residences. Other highlights include a restaurant from James Beard Award-nominated chef Jason Franey, a rooftop pool with cabanas, and a 14,000-square-foot spa. Nearly 24,000 square feet of private event space will include a ballroom that seats 1,500.