Designer Linda Bergroth relied completely on eco-friendly materials when she created the space-within-a-space for Zero Waste Bistro, a pop-up installation presented by the Finnish Cultural Institute at this spring's NYCxDesign event. But even she had a moment during the design process when she realized just how different this café would be from the average restaurant.
"It was interesting, when I was drawing the kitchen, I said, 'You probably need some trash cans,'" Bergroth says. "And they were like, 'No, we don't have any trash.' And now it really [feels] real to me, that there's no trash."
Zero Waste Bistro only popped up for four days in New York City, and it was inspired by Helsinki's Restaurant Nolla, the first zero-waste restaurant in the Nordic region. Although the space may seem extreme, that ethos might be a clue to where restaurant and venue design is headed. (This is the summer that Starbucks vowed to ditch plastic straws, after all.) Here are a few examples of how architects, designers, restaurateurs, and hoteliers are pushing the boundaries of sustainable design.
What it Takes to Go Zero Waste
Without a garbage bin in sight, chefs at the Zero Waste Bistro pop-up relied on composting technology from Oklin. "The peelings, the chopping, the leftovers, everything was composted, and it's a very fast process. It turns to soil overnight," Bergroth explains.
Inside the pop-up's dining space, the blue patterned walls might have looked like wallpaper. A closer look, however, revealed that the vibrant texture of the ReWall's NakedBoard actually came from upcycled Just Water containers. Diners ate breakfast, brunch, and lunch on a 100-percent recyclable Durat communal table made from recycled plastics, and left with pulpable carton board takeout coffee cups from Kotkamills. The idea behind it all was to have visitors consider how to change some alarming facts around eating out: The Finnish Cultural Institute reports that in the U.S. alone, more than 58 billion disposable cups are discarded and sent to landfills every year.
Even though the message is serious, Bergroth explains she wanted the restaurant's look to buck stereotypes diners might have about recycled materials. "I wanted to make it fun and draw attention for a good cause; it doesn't mean if it's for a good cause it needs to be deadly serious," she says of the social media-friendly space.
Location, Location, Location
While Zero Waste Bistro transported diners to an all-blue dining room, some other eco-friendly venues try to literally bring the outside inside. That's the idea behind biophilic design, a concept that the eco-minded 1 Hotels believe is on the rise.
"We recognize people have an inherent love and affiliation for nature, and incorporate natural materials, natural light, vegetation, views, and other experiences of the natural world into our hotels. This results in each 1 Hotel being a place of refuge for our guests," explain Christopher Kochuba, vice president of design, and Hannah Bronfman, director of sustainability and impact, in an email.
Each 1 Hotels location is unique to its local context, and that includes the building materials selected, the indigenous plants used, and the integration of the hotel into its local economy. At 
1 Hotel Brooklyn Bridge, for example, the building is an extension of the waterfront pier, and salt marsh grasses and refuse shipping materials are integrated into the design. An upcoming 1 Hotel in China will even include an on-site farm that will be run and managed by the property and will provide food for the hotel's restaurant and catering programs.
[PULLQUOTE]
An on-site garden and green wall is also a feature at California's LEED-certified Portola Hotel & Spa's new restaurant, Jacks Monterey, which opened in 2017. Besides allowing bartenders to pick fresh mint, the garden with native plants "helps us give a sense of place if a guest is traveling to Monterey for the first time," says Puccini Group's Robert Polacek, one of the designers behind the project. The restaurant also features trees indoors (retained from the original DoubleTree Hotel) and works from local artists, such as sculptural pieces from a driftwood artist.
In San Francisco, the Perennial combats climate change in its kitchen through its own aquaponic greenhouse (even the menus are eventually fed to worms in the greenhouse). The two-year-old restaurant's dining room design is from woodworker Paul Discoe, who works exclusively with reclaimed lumber. "One thing that I think is not as common these days is building out of wood," says executive chef Anthony Myint. "It's kind of a shame, because I think that is the most eco-friendly building material out there."
Going Green Behind the Scenes
But diners might not even notice another green aspect of hospitality design. "We're finding that everything we're using is being manufactured in a somewhat sustainable way," says Griz Dwight, the principal and owner of GrizForm Design in Washington, D.C. "I don't think that's a key piece right now. I think really right now it's a lot of the energy systems that the hotels and restaurants are using." He calls out innovations in HVAC, LED lighting, and insulation as the most exciting sustainable features he is seeing lately.
At the GrizForm-designed, LEED-certified Farmers Restaurant Group restaurants in the Washington area, sustainability is addressed from all fronts—from heat recovery units to daylight sensors that adjust the lights inside accordingly.
The good news for the planet might be how accepted these systems are in 2018.
"Sustainability isn't one of those things that you have to push—I think it's mainstream," says Dwight. "Most of our clients are really concerned about it these days. Everybody is looking at how things can be better."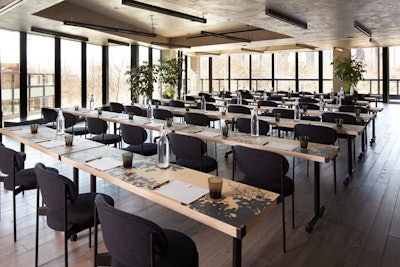 Photo: James Baigrie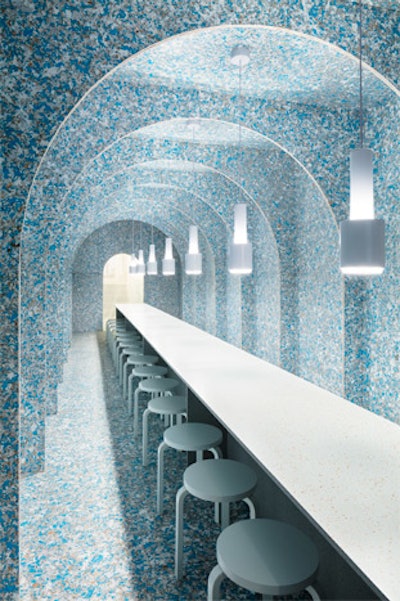 Photo: Nicholas Calcott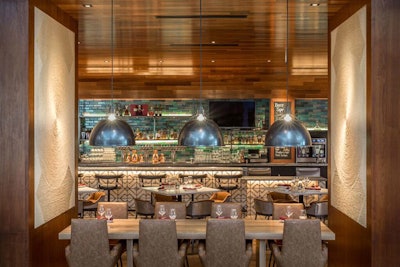 Photo: Courtesy of Portola Hotel & Spa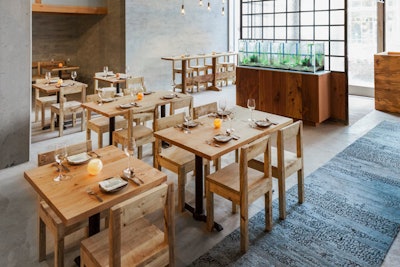 Photo: Helynn Ospina