Inside the BizBash Top 500: Four Event Pros on the Challenges Ahead and What Keeps Them in Events
Representing an agency, a destination marketing organization, a hospitality brand, and a mega conference, these event pros share insights into the meeting and event industry today.
October 30, 2018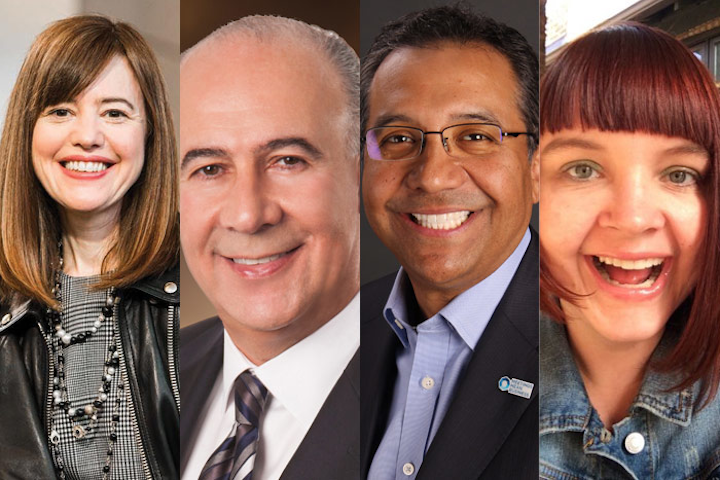 Photos: Jason Hook (George Aguel), Christopher Cote (Michael Dominguez), Courtesy of Pictured (All Others)
BizBash got people talking with the release of our first list of the Top 500 People in Events across North America. (See the full list here.) Here are insights from four industry pros who made the cut.
Michael Dominguez, chief sales officer, MGM Resorts International:
What do you love about your job?
I love that our industry is all about the human engagement. To be able to meet people from so many walks of life and to know that no two days ever look the same—it keeps me so excited about our industry. My job allows me to play my small part in shaping the lives and careers of so many of our talented team members. One of my leaders reminds me that I serve as his compass. So, what more could I ask for in a job?
How has your job changed in the last five years?
Not a surprise, but technology has allowed the pace of our business to move so quickly. But talent development is probably the biggest change as to the time, dedication, and focus needed if we are going to develop our diverse teams of today. I often say one of the biggest casualties of the great recession is that we lost the middle tier of meeting professionals and sales professionals. These were the levels that often did much of the necessary teaching daily.
What is the biggest thing affecting the hospitality industry today?
Time poverty continues to be the biggest challenge. We are tasked with doing so much and at a pace that can be just exhausting at times. That time poverty has impacted our time to just think and to connect what is happening around us with the long-term impact for the industry. As a leader, the consistent challenge is to remain strategic and not get drawn into the tactical day to day.

George Aguel, president and C.E.O., Visit Orlando:
You've been in the meeting and event business for more than 40 years with a long tenure at Disney and before that Gaylord/Opryland Resort complex in Nashville. How have you seen events change over the past, say, 10 to 15 years?
Changes in technology have impacted the way we do just about everything, including what consumers and planners look for and how we host meetings and conventions. Attendees continue to raise their expectations for events to offer more than Wi-Fi and convenient transportation. Attendees want to go beyond the ballroom and be entertained, educated, and engaged, yet at the same time they are being distracted by the technology in their pockets. Experiential meetings and events are critical to overcoming this challenge, as they immerse attendees in an unforgettable experience that outweighs the draw of their cell phone. We also see that attendees have an increasing desire to connect with a destination similar to how a local would. So they want an authentic connection to the community, which includes exploring and discovering local dining, hang-outs, and entertainment.

What do you see in the next five years as far as new and unique developments/activities for groups?
Planners want to create an event that is well-attended and leaves attendees feeling that they not only bettered themselves professionally, but that they also created great memories with their colleagues. Orlando has an advantage in that we continually invest in our destination, and planners know there is always something new for their events, as well as a reason to repeat their visit. Over the next five years, planners can choose from incredible new theme park experiences that are fun to engage in yet also serve as amazing backdrops for positive special events.
[PULLQUOTE]
What keeps you excited about the industry?
No matter the latest trends, the one thing that stays consistent is the importance of face-to-face meetings and developing those relationships that allow you to do business with friends as well. Connections are made so much stronger in person and that's the foundation of our industry. Coming from a long history of working for a creative company, I remain excited at observing the growing levels of creativity both from planners and from venues coming together to ensure that attendees have experiences that are engaging, memorable, and matter to them.
Shelley Elkins, senior vice president and executive creative director, Jack Morton Worldwide:

After 20 years of experience in such a creative field with all the awards you've won, how do you keep it fresh?
I never let my mind sit still. Just like I'm always planning my next vacation, I'm always looking for the next big thing to inspire me. And if I don't have it in front of me, I go out and get it. Complacency is the enemy of creativity. When I feel myself getting in a rut, I change something. Most of the time it's something small—the book I'm reading, the music I'm listening to, the way I travel to work. But other times I've made big moves—a new place, a new job, even a new city. Change is scary but it's also incredibly inspiring.
I also surround myself with inspiring people. People who challenge me. One of the many things I love about Jack Morton is our global creative council comprised of all the ECDs from around the network and chaired by our C.C.O., Bruce Henderson. We meet monthly via web conference and twice a year in person. I always return from the trip feeling renewed and ready for anything.

You're most proud when you get a note from a team member. What does it take to be a great mentor?
Investing time in the relationship. I'm talking devices-down, eyes-focused, ears-open. I do weekly one-on-ones with my team where we don't talk at all about the work. We talk about how they're feeling, what they're loving, what they're missing. It sounds simple but just taking time to listen makes all the difference in the world. We spend way too much time staring at screens and multitasking. Nothing beats a real, human conversation. This applies not only to mentorship but also client relationships.
Any company you would love to have as a client in the future?
More clients who are putting good back into the world. This could be a nonprofit such as LPCS Chicago (one of Jack's pro bono clients). LPCS is an agency working to empower individuals facing homelessness and poverty to secure stable housing and make sustainable life changes. We've been working with them for several years and were named their 2017 Partner of the Year. Or it could be a client such as CoverGirl who was willing to do something bold with our Rantin' & Raven program and make a statement.
Catherine Simmons, vice president of strategic events, Dreamforce:

How do you keep Dreamforce fresh each year to make it better and better?
Innovation is one of our core values and is truly at the heart of everything we do; this helps us create an experience that's impossible to forget. We rely on feedback from attendees to consistently improve and provide the best Dreamforce we can each year, and we also look to unexpected places for inspiration including Disneyland, the Grammys, and even the Super Bowl.
What are your plans for Dreamforce going forward?
Salesforce was born in San Francisco and we're looking forward to continuing to host Dreamforce in our hometown and taking advantage of Moscone's recent renovations. Like any world-class city, San Francisco is always opening new venues and we're constantly looking for ways to continue to integrate within our community.
How have you seen the event industry change?
Event technology and social media have massively changed the overall attendee experience, but the true value of events will always be the same. There is absolutely nothing that replaces the value of a face-to-face experience and bringing together your entire community.
This story appeared in the Fall 2018 issue of BizBash.
Featured Venues/Suppliers: