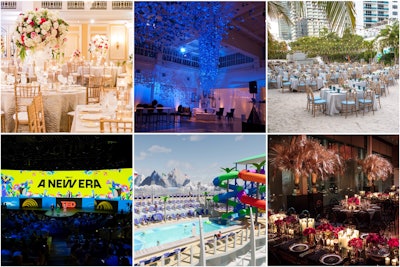 Photos, clockwise from top left: Procopio Photography, Courtesy of Kristin Banta Events, Courtesy of The Style Marc, Courtesy of BIG HQ, Courtesy of TED Conferences
This feature is sponsored by Hubilo, a leading virtual and hybrid event platform built to drive engagement, with clients including Deloitte, Coca-Cola, Amazon Web Services, and more.
From in-house planners at brands like TED, Pinterest, and REI, to world-renowned floral designers and forward-thinking event producers, to entrepreneurs who are collaborating with their peers to improve the industry as a whole, the innovators on this list are certainly ones to watch.
Click through the profiles below to learn how they each got their start in the event industry, how they stay inspired, what the concept of "innovation" means to them, and much more.
Adam Rosen
Associate Vice President for Cultural Relations & University Events, University of Southern California
Bram Goldstein
CEO, BIG HQ
Deanna Nwosu
Program Manager, Events and Recognition Content, REI
Erika Kulovitz
CEO & Executive Producer, akire productions
Jeff Consoletti
Founder & CEO, JJLA
Kristin Banta
Creative Director, Kristin Banta Events, Inc.
Marc Wilson
Founder & Creative Director, The Style Marc Inc.
Melva LaJoy Legrand
Owner, LaJoy Plans
Monique Ruff-Bell
Head of Conferences, TED Conferences
Seán Doyle
Director of Experiential Marketing, Pinterest
Tara Melvin
Founder & Principal Planner, Perfect Planning Events
---
About the list: Our Industry Innovators features are compiled by our editorial team using a variety of resources, beginning with sifting through dozens of public nominations and conducting internal research on all people nominated. The idea is to go beyond the biggest names in the biz—though it has plenty of those too—and dig deep into the industry professionals who are using truly innovative thinking to push the boundaries of live experiences.
While our features may be sponsored by standout companies, to ensure the list remains impartial, sponsors do not have the ability to review or curate any part of the list themselves.
If someone has previously been named a BizBash Innovator, they are not eligible for the list. Check out our full Industry Innovators Hall of Fame here, and head here to tell us who should make our future lists!