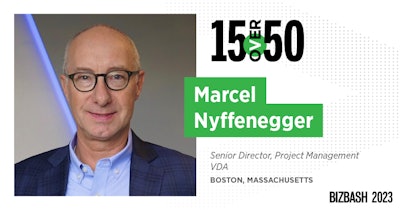 Photo: Courtesy of Marcel Nyffenegger
Marcel Nyffenegger, 59, is the senior director of project management for VDA, a Boston-based experiential marketing and event design agency with clients including Dell Technologies, Dana Farber Cancer Institute, and Harvard University.
A quote from his nomination: "Marcel's exceptional leadership has not only preserved the team during trying times, but has also made them more proficient in various aspects of the event industry. His dedication to fostering a strong and versatile team is a testament to his outstanding leadership skills."
How I got here: "My journey to this point has been a blend of unexpected twists and deliberate choices that have shaped my path in the events industry. Originally hailing from Switzerland with a background in mechanical and aircraft engineering, my path took an unexpected turn when I arrived in the U.S. on a sailboat cruising along the East Coast and met my wonderful wife. After navigating two years of transatlantic love, we decided to tie the knot, leading me to immigrate to the United States in 1992.
My entry into the events industry was fortuitous. Through a connection from my wife, I was introduced to VDA, at that time a small but mighty event production powerhouse seeking expertise in mechanical animation to aid in their scenic constructions. As fate would have it, this initial collaboration blossomed into a long-lasting partnership. Joining VDA in 1996 as a project manager marked the beginning of my event journey.
At VDA, my role extended beyond the mechanical aspects. I embraced opportunities to learn about lighting design, scenic installations, audio systems, and video production. The evolution was swift as I eventually stepped into the role of an executive producer for major VDA-designed events. My passion for the industry propelled me forward, and I was subsequently promoted to lead the project management team and its diverse departments: scenic, lighting, audio, and video.
What truly excites me now is the opportunity to mentor up-and-coming talents within our industry. I recognized the importance of fostering and empowering the next generation of event professionals, which led me to embrace mentoring roles. In my current role as senior director of project management at VDA, I also contribute to company-wide strategies and long-term planning, shaping the future of event production and management."
Greatest career accomplishment: "Over the years, I've had the privilege of orchestrating a diverse array of events, ranging from intimate executive meetings to sprawling tech industry user conferences. During my professional career, I have led teams of hundreds of staff for high-profile corporate events, directed cues for a wide range of shows, and worked with prominent brands such as CrowdStrike, PTC, MathWorks, and Vertex, among others. I particularly enjoyed orchestrating Northeastern University's commencement ceremonies at Fenway Park, which showcased my expertise in event logistics, production, and show management.
One of the highlights of my journey was serving as the executive producer for VDA's involvement in EMC and Dell Technologies' user conferences in Las Vegas. The massive infrastructure required for this event, including experiential activations, trade show booths, and interactive exhibits, was a major undertaking. The magnitude of the task was clear as I managed over 50 members of the VDA staff, 300 local crew members, and a complex logistical operation involving more than 30 trucks. The feeling of accomplishment when the show opened and to see all the attendees' reactions was truly overwhelming and humbling.
In essence, my career's pinnacle lies in the ability to craft remarkable event experiences that resonate with both attendees and clients. Each event is a unique journey, and I take immense pride in playing a central role in their success and lasting impact."
A specific improvement I've made: "Among my accomplishments, I have helped address a significant challenge within our organization, namely sourcing and nurturing project manager talent. In an industry where the unique skill set required isn't easily defined by a traditional college degree, finding the right individuals has proven to be a complex task. Over time, I've played a pivotal role in not only identifying promising talent but also in providing them with the guidance and mentorship necessary for growth. Witnessing these individuals evolve from newcomers to adept project managers and event producers, capable of handling increasingly substantial events, has been deeply fulfilling and rewarding to me.
Beyond talent acquisition, I've taken it upon myself to explore innovative approaches to event management, operations, and logistics. The dynamic nature of pre-planning demands creative strategies to remain within budgets while minimizing waste and maximizing revenue. By consistently seeking fresh methods, I've contributed to our team's ability to enhance our impact on events, leaving a lasting impression on attendees and stakeholders alike."
The biggest change I've observed in the industry: "Observing the industry's transformation since my beginnings, two defining events have reshaped our landscape: the 2007 recession and the recent COVID-19 pandemic. Both compelled us to rethink event timelines and execution.
The recession ignited resource optimization, efficiency, and strategic thinking, leading to innovation within budget constraints. The pandemic accelerated a shift towards compressing lead times, challenging us to expedite processes while maintaining quality. The industry had to rethink how we manage the shorter timeframes to get everything designed, planned, built, and implemented. I see these moments as catalysts for growth. They've honed my ability to navigate uncertainty, fostering innovation and resilience."
What I do outside of work: "I find my passion in offshore sailboat racing. I am part of two esteemed U.S. East Coast racing teams. This pursuit serves as my personal recharge, offering not only the thrill of the sport but also cherished moments with friends. Beyond sailing, my wife and I are also explorers at heart, often navigating the Massachusetts north shore with our powerboat. I am also a member of the Marblehead Yacht Club, and currently serve as Vice Commodore and volunteer on the Regatta Committee.
Travel is another cornerstone of my life, providing opportunities to explore new horizons and return to my Swiss homeland to reconnect with family and friends."
The career advice I'd give my younger self: "Reflecting on my fulfilling career in the events industry, I'd offer my younger self this pivotal advice: Embrace the power of curiosity and seek out a company that fosters internal growth. The events realm, complex and often challenging to articulate, demands individuals who are not only passionate but also driven to ask questions and learn.
Having been fortunate to work at VDA, led by David G. Breen, who champions internal development, I've witnessed firsthand the value of a supportive environment. Finding a company that believes in your potential is paramount. I count myself fortunate to have found such an environment, one that has fueled my growth and allowed me to flourish."
---