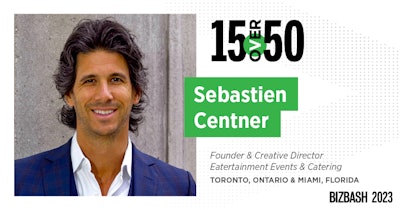 Photo: Bruce Gibson
Sebastien Centner, 51, is the founder and creative director of Eatertainment Events & Catering, a full-service event management and catering company based in Toronto. The company, which executes more than 1,000 events per year, recently opened its U.S. division, based in Miami.
A quote from his nomination: "With decades of experience under his belt, he is continuously innovating and pushing boundaries. Eatertainment is widely known as the city's most creative catering agency—and his creative flair is to thank!"
How I got here: "I sort of got here by accident, actually. I grew up on the heels of my French mother, who loved hosting and never shied away from filling her table with friends old and new. My parents were economists who fell into the restaurant business, and while I originally left to work in tech, hospitality was always where my heart was.
I came back to the business, but found restaurants too repetitive—so I expanded our company first intocatering, then full-service events, and, eventually, into a creative agency with production, planning, and catering divisions. I can never sit still for too long, so the event business was a perfect fit as I get to do something new and exciting every day—then once we've pulled it off, I get to move on to the next new and exciting project."
Greatest career accomplishment: "I don't think I can really say I have a single greatest career accomplishment given we've done so many massive projects—and frankly, at each of these moments, I felt that I had reached the pinnacle of my career, only to embark on the next one that turned out even bigger (and usually crazier).
We've dropped BMW executives into cages with great white sharks in Capetown, raced planes over the Hudson River for Red Bull Air Race in New York, hosted 100,000 guests for outdoor events, and taken over a Formula 1 track in Istanbul for the better part of a year—and I can honestly say that I have no doubt our next one will be even bigger. At 51, I still feel 25 (most days), so perhaps my greatest career accomplishment is still being as excited about my next event as I was about my first event."
A specific improvement I've made: "As a founder and entrepreneur, it can be a lonely road at times, but I thrive in a team environment, and I think the biggest impact I have had on our company is being able to work with anyone in the company to help them, and Eatertainment, grow and improve. I try to lead by example, and I am tremendously passionate about this industry, so there is nothing that makes me happier than being able to pass on that passion to the next generation of event professionals."
The biggest change I've observed in the industry: "Technology is 100% the biggest thing I've seen change in the industry. From how we manage our events to how we interact with guests, from how we measure the success of programs to even how we prepare the food. Technology is everywhere and is changing everything, every day. In a business like ours, technology can make your job easier, help your company run better, and make you more profitable."
What I do outside of work: "Visiting my adult sons in Miami and New York, playing the odd game of padel, traveling the world looking for new ideas for our events, and spending as much time as possible with my wife of 28 years and partner, Sheila (on a beach preferably, me with a cocktail, her in a bikini!)."
The career advice I'd give my younger self: "You can't do everything yourself. Learn to delegate and empower those around you. It may not be easy at first, but it will pay off—and eventually, you'll need to anyway, so you might as well start young!"
Connect with Centner on LinkedIn, and on his personal and company Instagram accounts.
---