Top 10 Innovative Brands 2017: #4 Google
The tech company has reinvented existing events while launching new consumer activations.
June 14, 2017
Tech companies aren't usually known for hosting personable, down-to-earth events. But recently Google has been aiming to change that. The Mountain View, California-based tech giant, whose umbrella company Alphabet is ranked 36th on the Fortune 500, has made it a priority to focus on its B-to-B and consumer audiences by reinventing existing events and introducing first-time events and activations that always maintain the brand's DNA, which Google creative director Philip McDougall describes as "humble, warm, human, purposeful, and playful."
McDougall led the inaugural Google Cloud Next, a conference that showcased cloud-computing concepts. The event, which took place in March in San Francisco, ended up attracting upwards of 11,000 people from a variety of enterprises around the world. Google's Events and Experiences team partnered with brand experience agency Sparks to turn virtual concepts into live experiences, which resulted in 20 interactive exhibits. They included a drawing game that demonstrated how computers recognize bad art and a station that showed how cucumber farmers can use Google's TensorFlow platform to efficiently sort the vegetables.
"Our goal was making sure that in the enterprise space, which can sometimes be a little more traditional, we brought out our Google DNA. People want unexpected, little bits of innovation and whimsy that reminds them of all the things they know about Google," says McDougall.
For the 10th anniversary of the developer conference Google I/O in 2016, the event was revamped with a new venue—Shoreline Amphitheatre in Mountain View—and a music-festival-inspired atmosphere. The parking lot contained numerous festival-like elements, including geodesic domes for breakout sessions, shipping containers that emitted colored smoke, and an art tent that hosted tech sessions and demonstrations of products including Google's Tilt Brush, a 3-D VR painting app. The event also featured decorative, vintage-like "art cars" that served as musical stages at night.
The 2017 conference in May returned to Shoreline and highlighted global outreach through its I/O Extended events, which are hosted by local developer communities around the world and include live-streaming sessions, hackathons, code labs, and more.
According to Amanda Matuk, the executive producer of I/O, historically Google hasn't focused on consumer-facing activations, opting to cater to developers and its B-to-B audience. In the past year, however, the brand targeted consumers at events that showcase products in innovative ways.
One of the standout activations at the Panorama music festival in 2016 was the Google Play Music Block, a giant LED-powered multimedia block that featured changing visuals of animated designs, music videos, and performances based on festival sets and fan interactions. While the block itself served as a popular photo op, attendees could go inside to interact with stations including a headphone jack wall, which allowed them to listen to playlists and view the festival from the structure's second-story roof. The activation also included live graffiti demonstrations.
McDougall explains that the brand's consumer activations focus on finding a balance between purposeful and playful. "With the Google Play Music Block, we approached it in a way where it was designed to not be all about us. We didn't want to put a huge glowing sign up. We wanted to stand out by fitting in," he says.
Other consumer experiences included Google Block Party, a pop-up in New York and Los Angeles that showed off Google Home and Google Play Music. The activation featured the technology in tiny homes inspired by three YouTube personalities, designed by Grow Marketing. For Google Pixel, a holiday pop-up in New York, the brand handed out tiny sweaters designed to fit smartphones.
Back to the Top 10 Innovative Brands list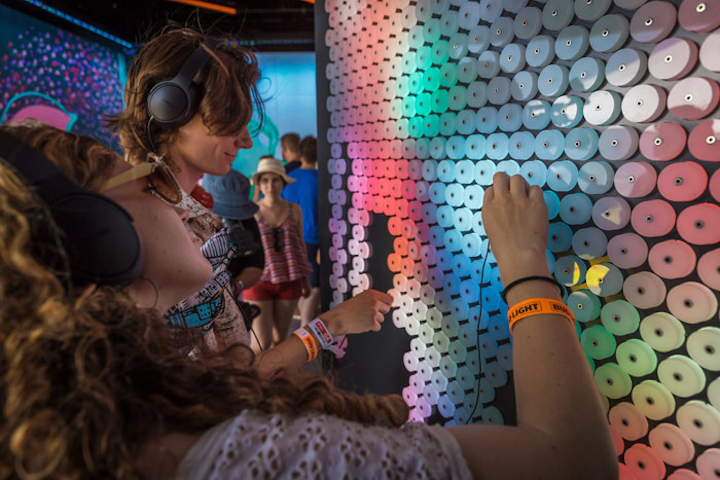 Photo: Courtesy of Panorama Music Festival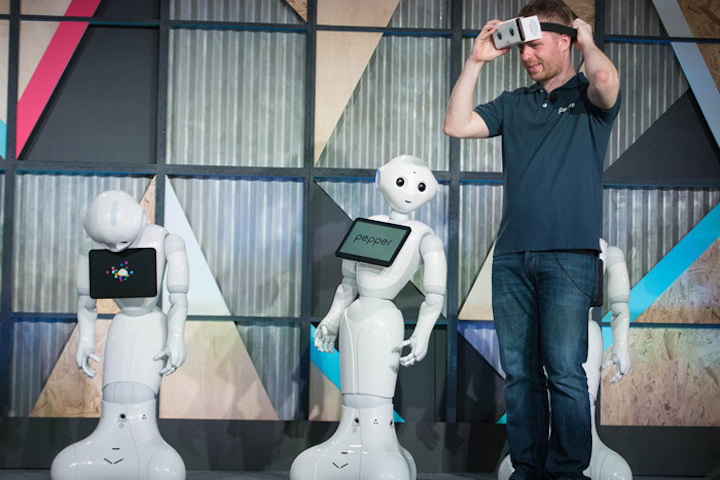 Photo: Courtesy of Google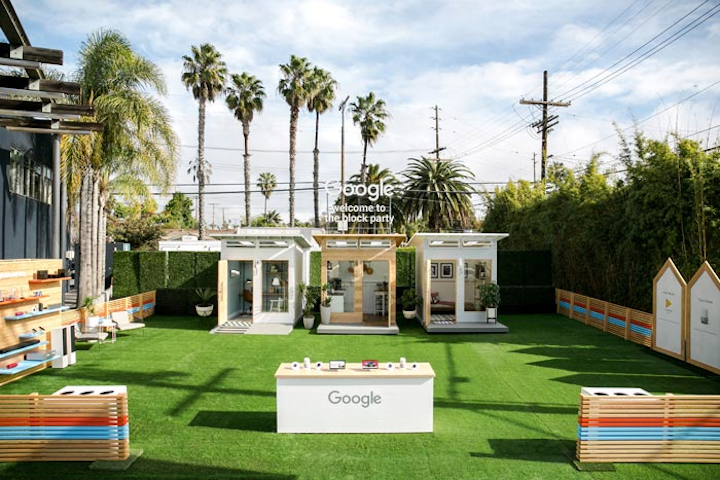 Photo: Courtesy of Google
Featured Venues/Suppliers: